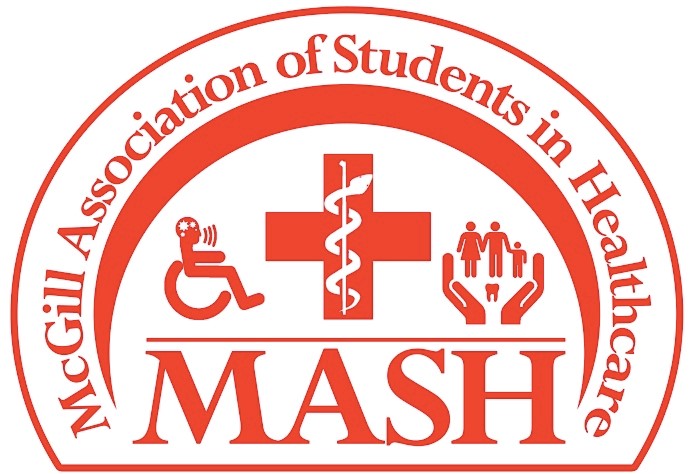 A new student initiative aims to bring together diverse student groups across campus with a shared interest in health care.

Health care today requires a collaborative effort by a team of professionals from diverse fields to provide the best standard of patient care. Despite this reality, students training in the various health care disciplines have little interaction with their interprofessional (IP) colleagues until they commence their careers.

A student-led initiative known as the McGill Association of Students in Healthcare (MASH) is looking to change that status quo. Now entering its second year, MASH is enhancing the IP experience for McGill students through offering a platform where student leaders in healthcare can stand as equals, and advocate, network, and learn together from their shared interests and experiences.

Changing the Student Dynamic
The origin of the initiative can be traced back to Spring of 2016. Alex Magdzinski (NGSA President 2016-2017) one of the initiators of the initiative recalled, "Many of us [the founding members] were at the Forum de la Relève Étudiante pour la Santé au Québec (FRESQue) first annual summit founded by David Benrimoh (McGill Medicine Senator 2015-2016). We found there was an incredible level of interest among us to increase interprofessional collaboration on campus".  Vanessa D'Aquila (NUS President 2016-2017) followed, "I knew that I wanted to join forces with other student leaders to promote collaboration between our various student associations, because it was evident that various programs within the faculty of Medicine were still working in silos".  Xin Mei Liu (MSS President 2016-2017) added, "In medicine you feel like you are in between undergraduate and graduate worlds and not really belonging to either. So I thought, 'Well, a place where we really belong is healthcare because that's what we signed up for.'" During the Summer of 2016, Alex, Vanessa, and Xin were joined by Alison Kutcher (NGSA VP External 2016-2017) to recruit 19 student healthcare representatives who united behind the cause of IP.

Getting Everyone Together
As luck would have it, at around the same time the newly-appointed Vice-Dean of Education Annette Majnemer was also becoming aware that the time was ripe to advance and expand interprofessional efforts in the Faculty, which has been led by the Joint Curriculum Committee (JCC) since 2005.  Comprised of  members representing each of the Faculty of Medicine's schools (Liliane Asseraf-Pasin, Physical Therapy; Melanie Mondou, Medicine; Cynthia Perlman, Occupational Therapy; Margaret Purden, Nursing; Kelly Root, Speech Language Pathology and Mark Daly, the former Director of Education at the MUHC) the JCC led the development and implementation of a formal interprofessional education curriculum for all students entering the health professions programs at McGill's Faculty of Medicine. In 2013-2014 three courses were formalized and are now part of the core curriculum for students in these programs, with a cadre of 200 facilitators from the academic and clinical settings helping to deliver 24 sessions to approximately 2,000 students annually.  The Office of Interprofessional Education (OIPE) evolved from the JCC in 2016 with significant support from Dr. Majnemer and is embarking on a significant expansion of the program to align with the strategic plan for education in the Faculty. The MASH members appreciated this initiative and the IPE classes, thus, led by MASH member 4th year medical student Maria Lopez-Laporta they established an IPEA subcommittee within MASH to provide direct feedback to the OIPE. Dr. Majnemer was equally delighted by MASH's initiatives. After meeting with the MASH founders, she approved funding for the group to help advance their interprofessional mandate.

MASH currently has members from 27 different health student associations or groups based at McGill. They represent students studying everything from dentistry to biostatistics to social work to nutrition. The leadership is divided between five coordinators interested in promoting interprofessionalism, who are appointed each academic year this year's being Sunny Jeong (2nd year BSc Nursing), Dinela Rushani (Joint 2nd year medicine and PhD epidemiology), Yasi Xiao (4th year medicine), Mrityunjaya Arjun (2nd year physiotherapy), Ali Alias (2nd year physiotherapy). MASH is governed by a flat collaborative structure with each professional group being allotted one vote. Additionally, a representative from a different discipline chairs each monthly meeting. Furthermore, non-voting membership is extended to student groups who have a mission to promote IP collaboration. Through this diverse alliance, MASH has established a rich forum for networking, interaction and collaboration at McGill and beyond.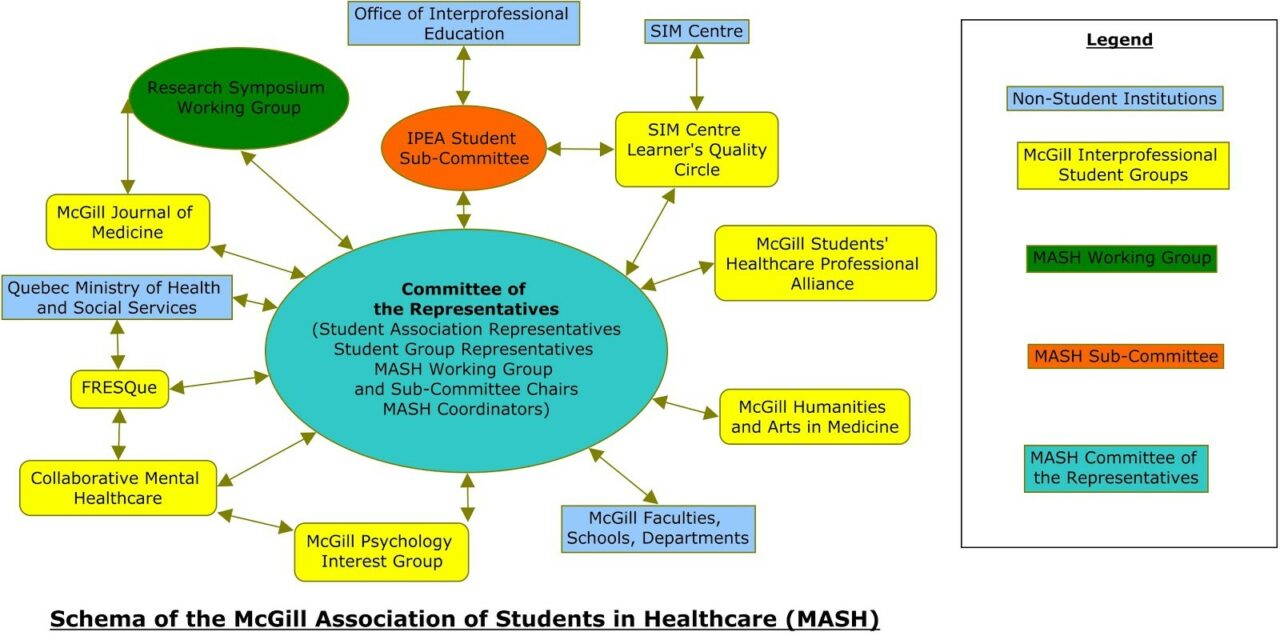 A big part of MASH's mandate is to get healthcare students connected and learning from one another "When we're sitting at the same table, when we're engaged in discussion and organizing initiatives together, you really see that we each have our own unique areas of expertise which synergize incredibly when united. In the real world, this translates to better patient care, " says Alex.

Vanessa feels that a huge opportunity is lost when students are largely segregated from their peers in other programs, "We are able to better understand each other's roles by working alongside one another, and by forming a mutual respect through effective communication."

Xin adds that the administrative divisions between the faculties hamper valuable learning opportunities. "It doesn't really make sense to think about interprofessional work in the clinical setting if you're missing key members of the team, like the social worker," she says. MASH is hoping to expand to even more disciplines with a less obvious connection but nevertheless an interest in health care, including Science, Arts and Education. "We wanted to really step out of those boundaries because to us it didn't really make sense. Administrative groups must exist because we're an institution and we need to organize ourselves somehow. But in terms of actual interprofessionalism, it was a barrier. We're still finding the best way to work together."

Advocating for All Health Students
MASH has been involved in an initiative to extend the hours of the medical library so students working late shifts could have better access; they also raised issues such as streamlining student access to the various hospitals they train in, suggesting a solution as simple as giving them one ID for all sites. MASH has further represented the interprofessional voice within the Faculty of Medicine through sitting on the interprofessional space committee and attending meetings for the professional schools in the Faculty of Medicine. They've had positive feedback from Dr. David Eidelman, Vice-Principal (Health Affairs) and Dean of the Faculty of Medicine, who congratulated them on raising these issues and encouraged them to continue to keep him informed so that he can help improve the student experience.

In their role as student representatives, MASH also met with Dr. Arvind K. Joshi, who was appointed by Quebec Health Minister Gaétan Barrette to oversee talks of a proposed merger between the MUHC and the West-Central Montreal Health organization and the West Island health authority. The merger idea has since been shelved, but being part of the soul-searching process was an important moment in MASH's journey. The consultation was not just about the merger, it was about what student leaders and future health care professionals envision their healthcare system to be; being a part of this discussion was a huge step forward for MASH.

What's on the Horizon
MASH, now in its second year in existence, is hitting its stride. The group has much better recognition on campus and is starting to put into action some of the IP notions that motivated them in the first place.

One initiative between medical and physiotherapy students will see the creation of a workshop on topics of common interest, such as musculoskeletal issues, led by students to promote interprofessionalism. The Medical Students' Society and the School of Physical and Occupational Therapy Graduate Student Association will develop the workshop jointly.

MASH will also help tackle an issue that is affecting students from the School of Communication Sciences and Disorders. New Quebec regulations require these students to acquire a Criminal Record Check in order to do their placements, which is posing a problem for out-of-province and international students in the program.

Another initiative led by current MASH member and MSS President (2017-2018), Liang Chen, is the The MASH Interprofessionalism Shadowing Program. It is a student-led project that provides students with shadowing opportunities between PT/OT, Dentistry, Nursing, and Medicine. This would allow, for example, a PT student to shadow a nurse, dentist, or physician to better understand how these healthcare professionals work together and to provide experiences of real-life infield IP collaboration.

One of MASH's key goals – producing and sharing research on interprofessionalism – will soon be realized. On March 13th from 17h00 to 20h00 in the Bellini Atrium, MASH and the McGill Medical Journal (MJM) will host their first Research Symposium at McGill where students from any discipline are invited to present their health-related IP research (FB event: https://www.facebook.com/events/171089363506141/).

For more information about MASH please visit https://www.facebook.com/MASH.McGill/

For more information about the MASH-MJM Research Symposium, please contact mjm.med@mcgill.ca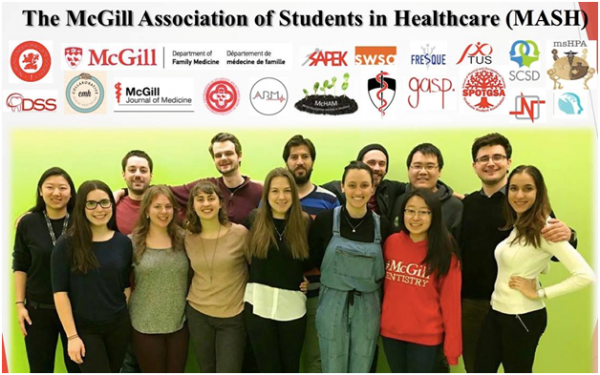 *Medicine Students' Society (MSS); Nursing Graduate Students' Association (NGSA); Epidemiology, Biostatistics, and Occupational Health Students' Society (EBOSS); Social Work Association of Graduate Students (SWAGS); Association of Residents in Medicine (ARM); Nursing Undergraduate Society (NUS); McGill Students in Healthcare Professional Alliance (msHPA); School of Physical and Occupational Therapy Graduate Student Association (POTUS-GSA); Graduate Association of Students in Psychology (gasp); Collaborative Mental Health (CMH); Dentistry Students' Society (DSS); Physio and Occupational Therapy Society (POTUS); School of Communication Sciences and Disorders Graduate Students' Society (SCSD-GSS), Student Association of Physical Education and Kinesiology (SAPEK), Social Work Student Society (SWSA), Department of Educational and Counselling Psychiatry (DEPE), McGill Psychiatry Interest Group (McPig), McGill Arts and Humanities in Medicine (McHam), McGill Journal of Medicine (MJM)
March 6, 2018