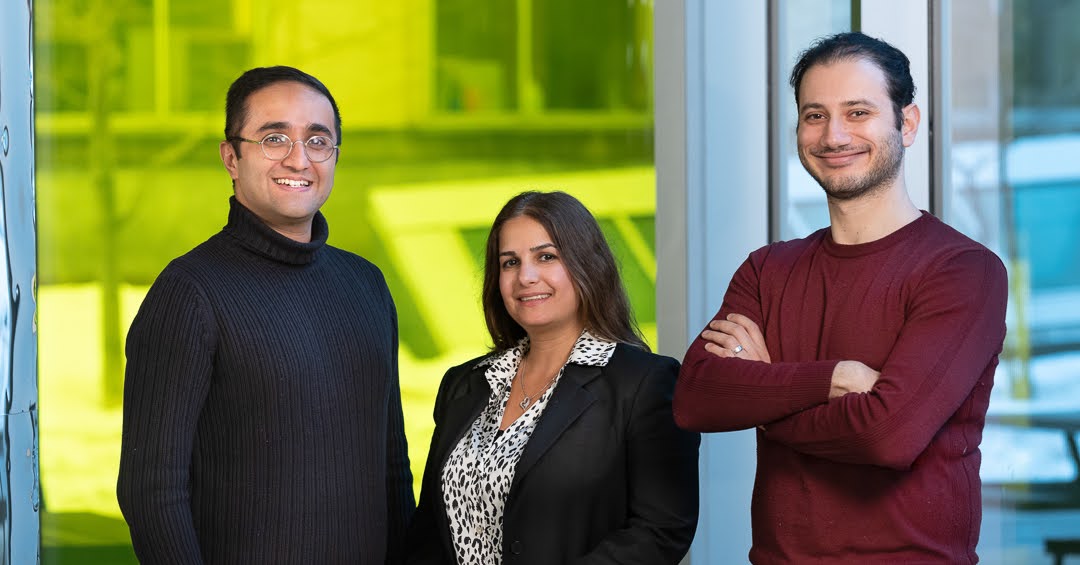 Respiratory infectious diseases are among the most common causes of death worldwide and impose a significant burden on the healthcare industry, making early diagnosis and monitoring a key priority for the World Health Organization.
Timely and accurate detection of a respiratory virus is crucial for the control of an epidemic situation as well as early therapy of infected cases. While the COVID-19 pandemic has exposed significant gaps in the field of rapid point-of-care diagnostics, it has also sparked novel development in accessible testing devices.
McGill startup Beeta Biomed Inc. has responded with an innovative solution that shows great promise. This team of researchers from the Department of Bioengineering at McGill University, led by Sara Mahshid, PhD, Assistant Professor, Sahar Sadat Mahshid, PhD, P.Eng., Roozbeh Siavash Moakhar, PhD, and Tamer Abdelwahab, PhD student, is developing point-of-care diagnostic technologies to support rapid interventions in infectious diseases.
"Diagnostic tests can detect either the SARS-CoV-2 virus or the antibodies that our body produces after getting an infection, or antibodies that develop after vaccination. Currently, the RT-qPCR [reverse transcription quantitative real-time polymerase chain reaction, commonly referred to as a PCR test] remains the gold standard in quantitative detection of viral nucleic acids. However, it involves a lengthy protocol and relies on trained personnel to operate complex equipment. Once collected, the samples need to analyzed in centralized facilities," explains Mr. Siavash Moakhar.
A faster, more cost-effective option
By contrast, Beeta Biomed's prototype, QolorEX (formerly known as SALIVERA) is a novel medical diagnostic and molecular testing device that is faster, simpler, and much less costly than the PCR methods for respiratory infections.
"With our innovative point-of-care technology, we can collect and analyse samples in one single device. The individual spits into an autonomous cartridge, which is then inserted into an imaging system. In less than ten minutes, the results are displayed on a computer screen or smart phone. There is no need to ship samples and there is no need for professional personnel. We can also differentiate between different variants inside the device," explains Prof. Mahshid in this video.
QolorEX is based on a simple spit collection that can target molecular diagnosis of respiratory infections like COVID-19 and Influenza A/B via colorimetric detection of RNA in the saliva of the patients in a multiplex and automated fashion.
The team developed plasmonic colorimetry microfluidic in 2019 in Professor Mahshid's Bioengineering Lab, receiving support from the MI4 Emergency COVID-19 Research Funding, the Natural Sciences and Research Council of Canada (NSERC) Alliance COVID-19 grant, and the Canadian Institute of Health Research (CIHR)-COVID-19 grant. The process was validated with 300 microfluidic devices deployed for the detection of Influenza A & B as well as SARS- CoV-2 and its variants, and pre-clinical validation with 33 saliva of COVID-19 patients demonstrated specificity of >99%.
"Our fully-automated system could benefit Canadian and global healthcare systems by helping to prevent the spread of pandemics like COVID-19 in the future.  It is similar to rapid antigen tests in terms of cost but offers more reliable results, making it an ideal diagnostic tool to use in congregated settings such as military bases, government agencies, hospitals, clinics, prisons, long-term care facilities, airports and schools," says Mr. Siavash Moakhar.
Leveraging the McGill innovation network
QolorEX is gaining momentum and has garnered several prizes at McGill to support development of this innovative concept. They were awarded the MI4 Innovation Prize at the 2022 McGill Clinical Innovation Competition (CLIC), the McGill Innovation Fund (MIF) 2021 Launchpad Award, and the 2022 William and Rhea Seath Award (WRSA) in Engineering Innovation.
"The support of the McGill ecosystem has provided our team with a solid understanding of the business fundamentals to help us develop a roadmap to commercialize and market our concepts. In particular, one-on-one advisory sessions with Michael Avedesian, PhD, has provided an incredible resource to our startup business," says Prof. Mahshid, who attended the CLIC Preparatory Workshops as well as the Health Sciences Lean Startup Program offered by the Dobson Centre for Entrepreneurship in partnership with the Faculty of Medicine and Health Sciences.
Another important resource that Beeta Biomed is leveraging as part of the CLIC prize package is access to the Clinical Innovation Platform (CLIP). This unique incubator offers regular workshops and networking events, facilitates connections with other health technology companies, and shares updates on various funding opportunities in addition to providing a physical space for startups to grow. "We appreciate this dynamic environment which offers modern co-creation spaces, collaborative working areas, meeting rooms and labs," says Mr. Siavash Moakhar.
Focus on the horizon
Beeta Biomed is purposefully moving forward with the goal of making QolorEX a gold standard test.  "Over the next 12 months, we plan to partner with a manufacturing company to develop the first-generation commercial prototype of QolorEX. This version will then be validated in the hospital setting by testing on patients and comparing with the results of RT-qPCR test. Next, we will work on acquiring the regulatory clearance to scale-up and market our product," concludes Mr. Siavash Moakhar.
With a solid understanding of the challenges and opportunities that clinical innovators face, Beeta Biomed founders have the following advice to share with aspiring clinical innovators:
"With any project, there are limitations and risks that need to be addressed to ensure the project's ultimate success. Startup companies must constantly be innovating to compete with companies that have been in business for a while as well as newcomers. It's important to step back from the everyday minutia and focus on the horizon — on new opportunities and innovations that will help us meet and exceed the company's sales and business goals, as well as marketing and communication goals. Never forget to build your network with all stakeholders as soon as possible. It is never too early to contact venture capitalists and investors. Stay aware, plan ahead, network, and enjoy your entrepreneurial journey!"