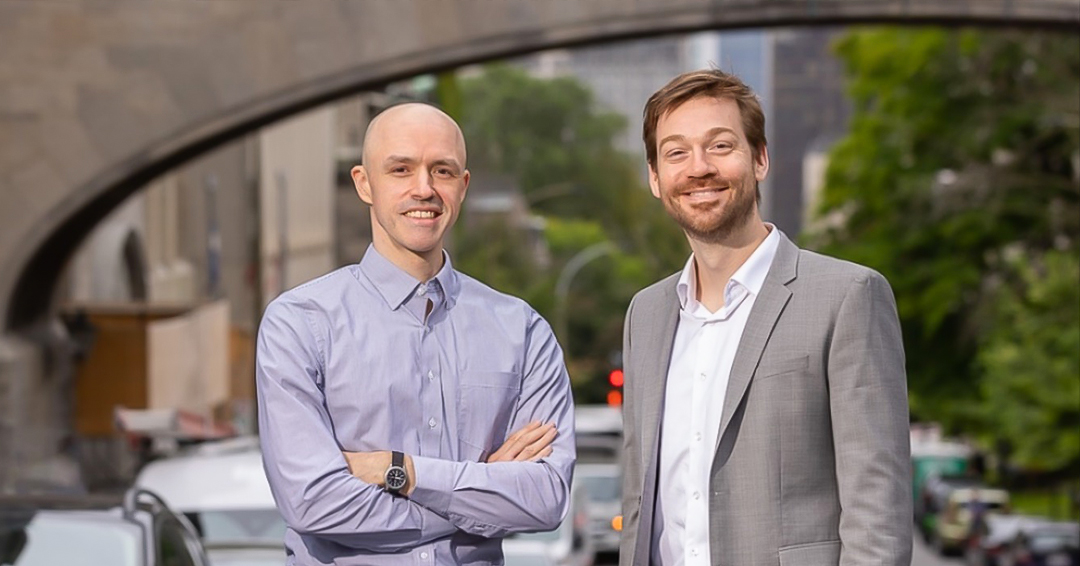 The McGill Clinical Innovation Competition (CLIC) was launched five years ago by the Faculty of Medicine and Health Sciences to inspire innovative thinkers to conceive and develop promising ideas with the potential to have a direct and positive impact on healthcare. To date, over 35 forward-thinking start-ups have received expert services and support from this annual competition, thanks to the generosity of sponsors and partners in the McGill innovation ecosystem.
"I believe that the McGill CLIC is a great opportunity for professionals and students from different backgrounds to work together. Health sciences, business and engineering can utilize the expertise and viewpoints of each stakeholder to generate new ideas and solutions to improve patient care and save lives," says McGill alumna, Marika Zelenka Roy, BEng'61, who established two prizes in partnership with CODE LiFE The Montreal General Hospital Foundation.
AFX Medical won the Marika Zelenka Roy Innovation Prize at the 2022 McGill CLIC. This award recognizes the best solution to an unmet clinical need for the care of a patient with the highest likelihood of success in being translated.
Neuropsychiatrist Simon Ducharme, MD, Associate Professor in the Department of Psychiatry at the Douglas Mental Health University Institute and The Neuro (Montreal Neurological Institute-Hospital), is one of the co-founders of AFX Medical, created to leverage artificial intelligence (AI) for the development of products that improve clinical care in brain disorders. He explains how innovative deep learning methods can be used to develop algorithms that will detect and track brain metastases on magnetic resonance imaging (MRI) with a high degree of accuracy.
What clinical need does your solution aim to solve and why is this important?
In the field of radiology, early detection of small anomalies like cancerous lesions on MRI scans is an important component of the daily activity of radiologists. When it comes to brain imaging and cancer patients, radiologists are asked to read MRI scans at different times of the patient's care: at first to identify potential cancerous lesions in the brain, including brain metastases that come from a primary cancer in another organ that has spread to the brain, then to follow-up on those lesions after they have been treated (either locally or systemically).
One patient can have numerous brain metastases in his/her brain (more than a dozen) and the challenge radiologists face is to detect all the brain metastases without missing any—in particular the small ones, smaller than a pea—and to be able to assess their evolution (like their size) over time, after the patient has received treatment. This task is time-consuming and error-prone.
We are proposing a software solution that will help the radiologists to automatically detect and measure all the metastases. This software is considered a medical device and will provide the radiologists with the brain metastases characteristics, like their number, size and localization in the brain. That information will be a support for better treatment decisions and tracking of those lesions between treatment sessions.
 What led you to develop this concept? 
In the field of medical imaging research, there are a lot of advanced technologies and new methods being published by peers, but those new techniques almost never reach clinicians in real life. This creates a feeling of frustration as you don't understand how—even though the research is flourishing, with dozens of articles being published on promising new lesion detection tools—no actual products are being put on the market.
At AFX Medical, we have medical advisors working with cancer patients, and this need for better cancerous brain lesion detection (especially smaller lesions), and their follow-up across time, has been raised as a major problem in need of a technical solution.
How will your clinical solution change or impact patient care?
By allowing clinicians to automatically detect smaller lesions and track them over time, they will select more appropriate treatment plans for their patients, such as more local radiation therapy treatments that have fewer side effects than less specific whole brain radiotherapy treatment plans. We further hope that his product will lead to less repeated interventions on the patients due to missed metastases. Overall, our solution aims to offer a better treatment course for cancer patients and reduce workload for doctors.
What resources offered by CLIC and the McGill ecosystem did you find particularly helpful, or are you most excited about, with respect to developing your concept?
We are looking forward to growing our network of clinicians and potential research partners within the McGill ecosystem to keep developing our products.
AFX Medical is currently working in "virtual office" mode, and the office and meeting space at the Clinical Innovation Platform (offered as part of the CLIC prize package) is a nice option for us to have when it comes to gathering the team.
What are some of your plans moving forward?
We are in the final steps to finish our first software prototype and we are planning to test it in a "real life" clinical setting to assess its performances and clinical value. We are confident that our solution will help radiologists to be even better at detecting small brain metastases, allowing them to choose the best treatment for their patients while saving time.
Moving forward, we are also getting ready to submit our product to the health regulatory authorities to get approval in order to start offering our product to the market.
What advice would you give to aspiring clinical innovators?
One of the most important pieces of advice is to be well aware of the clinical reality and to listen carefully to potential users' opinions and feedback. It is easy to develop a product that might end up being too complex or not useful to healthcare professionals even though its technology is revolutionary.
Overall, patience and tenacity are key, along with the ability to acknowledge when it is time to shift direction or gears.