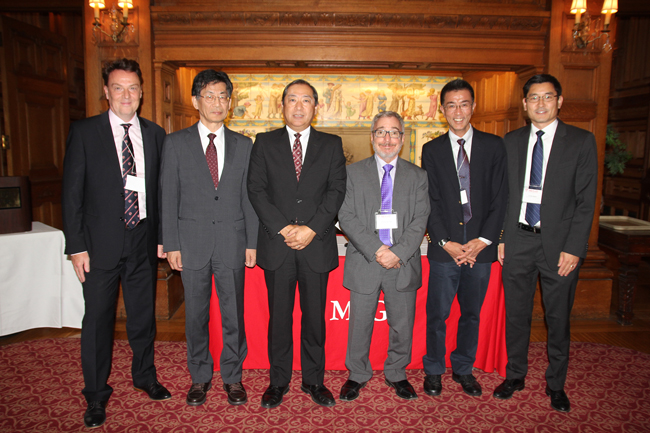 By Neale McDevitt. McGill Reporter
On Sept. 26, McGill entered into a formal partnership with Japan's National Institutes of Physiological Sciences (NIPS) with the signing of a Memorandum of Understanding (MOU). The signing, which took place at the Faculty Club, marked McGill's first such agreement with an Asian partner and the first MOU signed by NIPS with a North American institute.

NIPS is an inter-university national research institute based in Okazaki, Japan. As a leading research institute for understanding human physiology with a strong emphasis on neuroscience research, it is a natural partner for McGill.

The purpose of this MOU is to further strengthen the world-class neuroscience research being done at both institutes. At the core of the partnership will be collaborative exchange, training opportunities, and bi-directional access to key infrastructure and expertise to promote cutting-edge neuroscience research.

Mr. Hideaki Kuramitsu, Consul General of Japan in Montreal, was on hand for the signing ceremony, an indication of the importance of the new partnership.

"The signing of this MOU will lead to further cooperation between the two most notable research organizations in their respective countries. They are the pride of both nations in matters of fundamental research and innovation," said Mr. Kuramitsu. "Your mutual cooperation and the exchanges will not only contribute to a better understanding of both countries, it will also contribute to fundamental research across the Pacific.

"Just last year, Prime Minister Justin Trudeau had a meeting with Japan's Prime Minister Shinzō Abe. On that occasion, they agreed that a better collaboration between Japan and Canada in innovation and science would lead to economic growth and increased trade," continued the Consul General. "This MOU is a tangible result of this objective and a significant achievement… It is my hope that this deep collaboration between NIPS and McGill University will continue for years to come and achieve many successful results."

Building on complementary strengths
Research at NIPS will complement the advanced neuroscience research being done at McGill within areas of cellular and molecular neuroscience, neurodevelopment, cognitive neuroscience and brain imaging.

The MOU is the first step in creating a collaborative partnership between institutions, a partnership that will get only get stronger. "[This MOU] builds the foundation for a much longer relationship that will only grow over time," said Phil Oxhorn, Associate Provost (International), at the signing.

On top of McGill professors and trainees benefiting from access to the cutting-edge infrastructure at NIPS related to physiology and imaging, it is also hoped that the partnership will strengthen potential joint applications to international granting agencies.

For Dr. Keiji Imoto, Director-General of NIPS, the MOU signing brought back fond memories. "I did post-graduate clinical training in Canada. It was amazing two years… [people were] so generous to accept me, even though I did not speak English very well at the time," he said. "I am very proud if I can contribute to more of this cooperation between Canada and our Institute, especially cooperation between our researchers."

From dinner conversation to formal agreement
The seed of this important partnership was sown some two years ago, as an informal discussion between researchers. "Both myself and Dr. Yoshihiro Kubo from NIPS were on the editorial board of an international science journal," said Dr. Derek Bowie, of the Department of Pharmacology
and Therapeutics. "All the editors would meet 2-3 times a year to discuss journal matters, and afterward we would go out to eat and discuss all sorts of things.

"Yoshihiro and I started talking about international partnerships – and kept talking about it for some six months. Last year, he came to McGill and during his stay, we realized that this partnership could be much bigger than our research group," continued Bowie. "I then teamed up with Dr. Keith Murai, the Director of McGill's Center for Research in Neuroscience, and together we built a strong foundation for this partnership over the last 12 months. What started off as a dinner conversation between researchers has ended up with the signing of the MOU."

Bowie points out that in recent years, McGill has enjoyed great success after entering similar partnerships. "One that is best known is the Brain McGill partnership with the University of Oxford and the University of Zürich. The collaboration with both Oxford and Zürich has led to number of high impact papers in the last few years. This MOU with NIPS is building on the model of success."

October 6, 2017