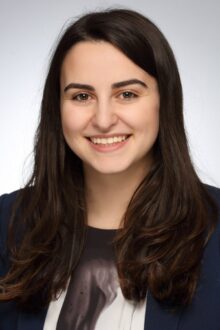 Dr. Aline D. Khatchikian, a second-year resident in Diagnostic Radiology at McGill University, was appointed Chair of the Canadian Association of Radiologists' (CAR) Resident and Fellow Section, and is expected to be the Resident Representative on CAR's Board of Directors following the next annual general meeting. Dr. Khatchikian, whose chairmanship began on April 18, is the first resident physician from Quebec or McGill to hold this position.

Dr. Khatchikian completed her MD in 2018 at Université Laval. Described as a citizen of the world, she has extensive international experience delivering advocacy training sessions to medical students in multiple countries including Switzerland, Brazil, Mexico, Peru, and Uruguay.

In 2015, Dr. Khatchikian was appointed Regional Public Health Director for the Americas' Region of the International Federation of Medical Students' Associations, leading projects in over fifteen countries. In 2017, she organized the Youth Pre-World Health Assembly on human resources for health, in collaboration with the World Health Organization. That same year, she became Board Member of the Quebec Medical Association. In 2018, she received the Canadian Medical Association Award for Young Leaders in recognition of her advances in global health and medical education. She is currently pioneering the first global outreach network for Canadian radiologists and interventional radiologists, to address the gap in access to medical imaging worldwide.

As Chair of the Resident and Fellow Section, Dr. Khatchikian will work with radiology residents, fellows and medical students across Canada to promote the value of radiology and ensure a smooth transition to practice. She will focus on developing a national database for elective and fellowship opportunities, in addition to a medical student mentorship program. Above all, she will encourage her peers to become engaged in local, national and international advocacy projects as CAR members.

Congratulations Dr. Khatchikian!

April 23 2020