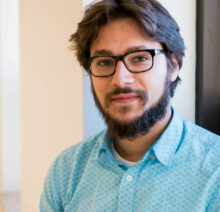 Dr. Yassen Tcholakov, a first-year Public Health resident at McGill who completed his undergraduate medical training at Universite de Montreal was presented with a Forces Avenir Undergraduate Personality Award during a gala held in October 2015.

"I am very grateful to have had this recognition of my engagement," says Dr. Tcholakov. "It is great to see that value is given to all the time and energy that I have deployed in projects that I hope benefit my community and the world. I also believe that there are many more individuals beyond those that receive awards that would definitely deserve them. I think that it is the responsibility of all faculties at all educational institutions to recognize the diversity of activities in which their students engage beyond the curriculum delivered by the schools, and to support and facilitate the development of their students' passions."

Dr. Tcholakov got involved in global health from the beginning of his undergraduate studies,

through various medical education projects aimed at increasing the capacity of future doctors to better respond to the needs of their most vulnerable patients, projects dealing with climate change and health and the importance of the involvement of the health care sector, and projects dealing with the ethics of international partnerships and international electives in which many students from health care fields are involved.

While pursuing his undergraduate medical degree, Dr. Tcholakov obtained a master's degree in international health from Copenhagen University. He has taken on leadership positions of student groups and works with the Major Group of Children and Youth (MGCY) and YOUNGO, a group representing the world's youth at the United Nations, where he has spoken about climate change, sustainable development and health.

"I got involved in projects which, I judged, would make our world a better place," he says. "They have been enjoyable, allowed me to make valuable acquaintances and I learned more than I could have imagined."

Congratulations Dr. Tcholakov!