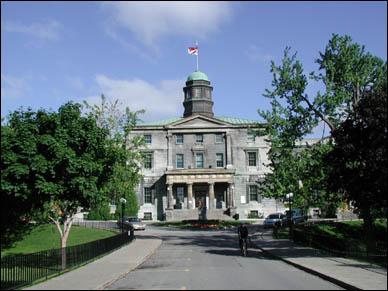 McGill ranks third in coveted national employer survey
Inaugural Randstad Canada rankings presented at Toronto gala
McGill University is delighted to be ranked third in a survey of Canada's most attractive employers, Michael Di Grappa, the University's Vice-Principal (Administration and Finance) said on October 1.

McGill joined other iconic Canadian organizations, Research in Motion, Air Canada, Bombardier Inc. and IBM Canada Ltd., in the Top 5 in the inaugural Randstad Canada rankings of the country's leading employers.

"McGill continues to work very hard to provide a stimulating and attractive working environment," Mr. Di Grappa said. "Along with our standing as one of Canada's Top 100 employers in the past couple of years, we are very proud of this recognition of our efforts, despite limited resources, to be not only a University highly ranked as an academic and research institution, but as an employer of talented, dedicated employees at every level."

Randstad Canada provides human-resources services. The Randstad rankings were based on surveys with more than 7,000 Canadians who were either employed or looking for work.

"RIM, IBM, McGill, Air Canada and Bombardier each have such an influential impact on our day-to-day lives, and will continue to shape our future, here and around the world through technology, transportation and education," Randstad Canada president Jan Hein Bax said in a statement. "With global skills shortages continuing to intensify, the insights from the survey will help employers to find out why potential candidates choose one company over another and what factors determine the attractiveness of an employer. It is our aim to contribute to the world of work through this global program."

The announcement was made Thursday night at an exclusive gala at The Carlu in Toronto, where senior executives from many of Canada's biggest companies were in attendance. The evening was hosted by Liza Fromer, broadcast journalist and host of Global TV's The Morning Show, and featured employer branding guru Simon Barrow, Darrell Bricker, CEO of Ipsos-Reid and John Wright SVP of Ipsos-Reid; and a special performance by Juno-Award winner Molly Johnson. This marks the first year the Randstad Award for employer branding has been awarded in Canada, in addition to 11 other countries internationally. First launched in Belgium in 2000, the Award has become a coveted industry accolade.

About McGill University
Founded in Montreal, Que., in 1821, McGill is Canada's leading post-secondary institution. It has two campuses, 11 faculties, 11 professional schools, 300 programs of study and more than 36,000 students, including 8,300 graduate students. McGill attracts students from over 150 countries around the world, with more than 7,200 international students making up 20 per cent of the student body. Almost half of McGill students claim a first language other than English, including more than 6,200 francophones.
Read about it: Randstad's release