Professor Samira Rahimi is using real-time AI technology to track, monitor, and predict COVID-19 symptoms among high-risk seniors in Montreal and Toronto.
Source: Research & Innovation

The number of COVID-19 patients and deaths continue to rise in nursing homes in North America. Long-term care (LTC) facilities in Quebec and Ontario have been facing the rapid spread of COVID-19 among residents and staff, and currently, over 80% of the reported COVID-19 related deaths in province of Quebec and over 70% of the reported COVID-19 related deaths in province of Ontario are from public and private nursing homes.

Monitoring residents for symptoms of COVID-19 can prove difficult due to the limited availability of personal protective equipment (PPE) for staff, the vulnerable status of LTC residents, and chronic understaffing. As a result, one of the central challenges facing LTC facilities during the pandemic is identifying and isolating presumptive COVID-19 cases in a timely manner to prevent outbreaks and reduce staff exposure. There is currently a critical need to use technologies such as remote monitoring systems and Artificial Intelligence (AI) to track, examine, and predict COVID-19 cases in our most vulnerable population – the elderly.
Serving the elderly is "a privilege"
"The elderly are a source of wisdom and knowledge, and are an important part of our society," says Professor Samira A. Rahimi, Assistant Professor in McGill's Department of Family Medicine and affiliated scientist at the Lady Davis Institute for Medical Research of Jewish General Hospital. "Serving them and leading a project that could contribute in keeping this at-risk population of our society healthy and safe is a privilege for me."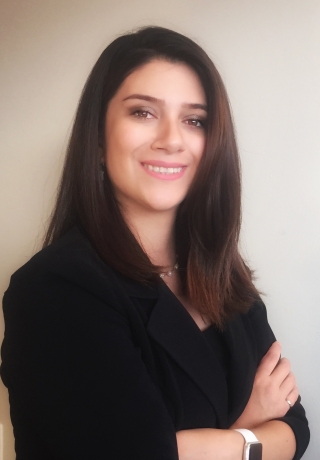 Professor Rahimi has teamed up with scientists in Toronto to co-implement her project, AiCoV19: AI-empowered Real-time COVID-19 Symptom Monitoring and Prediction among Senior Residents. The study is the first of its kind to utilize AI and Internet of Medical Things (IoMT), which is a combination of medical devices such as wearable technologies and computer networks that are connected through the internet to provide real-time interaction between care providers and patients.

Professor Rahimi's team is collaborating with a healthcare technology company at the forefront of developing wearable technologies and secure platforms for high-risk populations. Her team will use these wearable devices along with AI to track, monitor, and predict COVID-19 symptoms among high-risk seniors in LTC facilities.

IoMT along with AI could provide substantial assistance in prevention, early detection, and management of COVID-19 in vulnerable populations. For example, if incoming data shows a sudden change or deterioration of vitals in an individual, like fever or shortness of breath, the intelligent system will quickly alert appropriate care providers to take action.

The AiCoV19 project will soon be implemented at LTC facilities in both Quebec and Ontario, where they will begin monitoring high-risk residents.

Professor Rahimi's AiCoV19 project was among 11 projects funded by 
Roche Canada
's 
COVID-19 Open Innovation Challenge
, which received over 800 project applications nationally. The funding program's mission is to support the community in bringing forward innovative ideas to address some of the biggest challenges and issues of the COVID-19 pandemic. Roche Canada is a global pioneer in pharmaceuticals and diagnostics, focused on improving access to medical innovations and advancing science to improve people's lives.
"Roche Canada developed this innovation challenge because we believe that it will take minds from many different sectors and industries to come together and solve the issues we face because of the pandemic," said Mike Duong, Head of Personalized Health Care at Roche Canada. "Our goal was to encourage new ideas, and make it easier for those already in development to come to life. We hope the AiCoV19 project will make a positive impact on the management and prevention of COVID-19 in long-term care homes and we look forward to championing this important work."

"I am extremely grateful for all of the support we continue to receive from our collaborating LTC facilities" says Professor Rahimi. "In particular, I would like to thank the wonderful team of clinicians at the Goldman Herzl Family Practice Centre under the phenomenal leadership of Dr. Mark Karanofsky."

June 3 2020