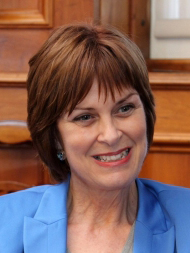 McGill Principal appointed to illustrious advisory board of New York Academy of Sciences; Professor Heather Munroe-Blum's commitment to research and education recognized.

The mission of the Academy is to promote the resolution of society's global challenges through science-based solutions, to support scientific literacy and to advance scientific research and knowledge.

The Academy invited Professor Munroe-Blum to join the President's Council in recognition of her significant contributions to the promotion and advancement of scientific research and higher education, both at McGill and internationally.

"We welcome Heather Munroe-Blum, who has committed to furthering the important global initiatives of the Academy, to our President's Council. Her career-long devotion to science and capacity building in STEM [science, technology, engineering, and mathematics] education closely mirrors the mission of the Academy, where we believe she will be an invaluable addition to our prestigious group of leaders," said Ellis Rubinstein, President and CEO of the New York Academy of Sciences.

"I am truly honoured to be invited to participate in the work of this leading scientific organization," said Prof. Munroe-Blum. "As Canada's most international university, McGill is uniquely positioned to build closer connections with institutions across the globe. It's been a privilege, over the course of my career, to be given the chance to foster the scientific exploration, education and collaboration that translate into discoveries that result in tangible benefits to society, locally, nationally, and internationally."

A distinguished psychiatric epidemiologist, Heather Munroe-Blum has dedicated her career to the advancement of higher education, science and innovation, in Canada and internationally, advising governments and other organizations on the role that universities and research play in advancing international competitiveness and enriching societies.

Prof. Munroe-Blum serves on the Board, the Internationalization Committee, and the Membership Committee of the Association of American Universities, and chairs the Association of Universities and Colleges of Canada's Standing Advisory Committee on University Research. She is a member of the Science, Technology and Innovation Council of Canada, the U.S. National Research Council's Committee on Research Universities and the Canada Foundation for Innovation.

McGill University and NYAS are both dedicated to helping the research community use its expertise to find solutions to global challenges. McGill researchers working in fields ranging from oncology to molecular biology and chemistry are already members of the NYAS "Scientists Without Borders" program, a web-based collaborative community dedicated to generating, sharing, and advancing innovative science and technology-based solutions to the world´s most pressing global development challenges. Future collaborations between the two institutions are currently envisioned in the fields of Alzheimer's disease and dementia, nutrition science and smart communities.

The New York Academy of Science has over 25,000 members in 140 countries. Its members include research scientists from universities and industry, as well as representatives from business, government, and public policy organizations. Throughout its history, the Academy's membership has featured leaders in science, business, academia, and government, including U.S. Presidents Thomas Jefferson and James Monroe, Thomas Edison, Louis Pasteur, Charles Darwin, Margaret Mead, and Albert Einstein.

For more information: The New York Academy of Sciences<http://www.nyas.org/>

Related coverage
The Gazette
September 19, 2012