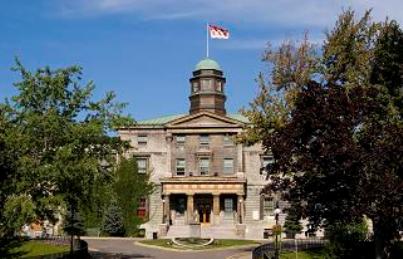 McGill University in Montreal, Quebec, has placed among the top 20 universities globally for the sixth consecutive year in the QS World University Rankings. McGill University is the top-ranked Canadian school for the ninth consecutive year. In the 2012 rankings, released today, McGill is listed in 18th place, compared with 17th in 2011 and 19th in 2010.

"We are pleased by McGill's continued strong performance in these rankings," said Principal and Vice-Chancellor Heather Munroe-Blum. "It is a tribute to the talent, dedication, and hard work of faculty, staff and students throughout our university. We are also delighted that three great Canadian schools are now listed in the top 50 of this world ranking, with two in the top 20."

QS World University Rankings, launched in 2004, are based on six factors: academic reputation (40%), employer reputation (10%), student/faculty ratio (20%), citations per faculty (20%), proportion of international faculty (5%), and proportion of international students (5%).

For the full rankings, visit: www.topuniversities.com

Founded in Montreal, Que., in 1821, McGill is Canada's leading post-secondary institution. It has two campuses, 11 faculties, 11 professional schools, 300 programs of study and more than 37,000 students, including 8,300 graduate students. McGill attracts students from over 150 countries around the world, with more than 7,200 international students making up 20 per cent of the student body. Almost half of McGill students claim a first language other than English, including more than 6,200 francophones.

The Guardian
The Telegraph
September 14, 2012