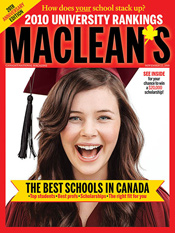 "For nearly 200 years, McGill has strived to deliver a top-notch education, conduct cutting-edge research and make meaningful contributions to the broader communities within Quebec, Canada and globally," said McGill Principal and Vice-Chancellor Heather Munroe-Blum.

The Maclean's rankings and surveys measure a number of aspects of a university's operation. McGill was a leader in a number of areas, including:

• First in student awards for the 12th consecutive year

• First in scholarships and bursaries as a percentage of budget

• First in reputational survey

• McGill students had the highest average entrance grades (89.5 per cent)

Read the complete McGill press release.

Click here for more information on the Maclean's rankings.Interview with Heather Munroe-Blum.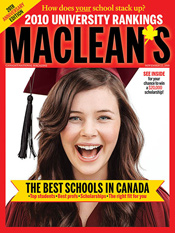 « Depuis près de 200 ans, l'Université McGill s'efforce d'offrir un enseignement de qualité supérieure, de réaliser des recherches de pointe et d'apporter une contribution significative aux collectivités du Québec, du Canada et à l'échelle mondiale », a déclaré la principale et vice-chancelière de l'Université McGill, Heather Munroe-Blum.

Les enquêtes et les classements du magazine Maclean's permettent de mesurer un certain nombre d'aspects du fonctionnement d'une université. L'Université McGill s'est démarquée dans plusieurs domaines, en obtenant notamment :

• le premier rang à l'égard des bourses d'études, et ce, pour la 12e année consécutive;

• le premier rang pour la somme consacrée aux bourses d'études en tant que pourcentage du budget;

• le premier rang pour la réputation;

• la note moyenne d'admission la plus élevée chez les étudiants (89,5 pour cent).

Lire le communiqué de presse complet de McGill.
Cliquez ici pour de plus amples renseignements sur le classement du magazine Maclean's.Entrevue avec Heather Munroe-Blum