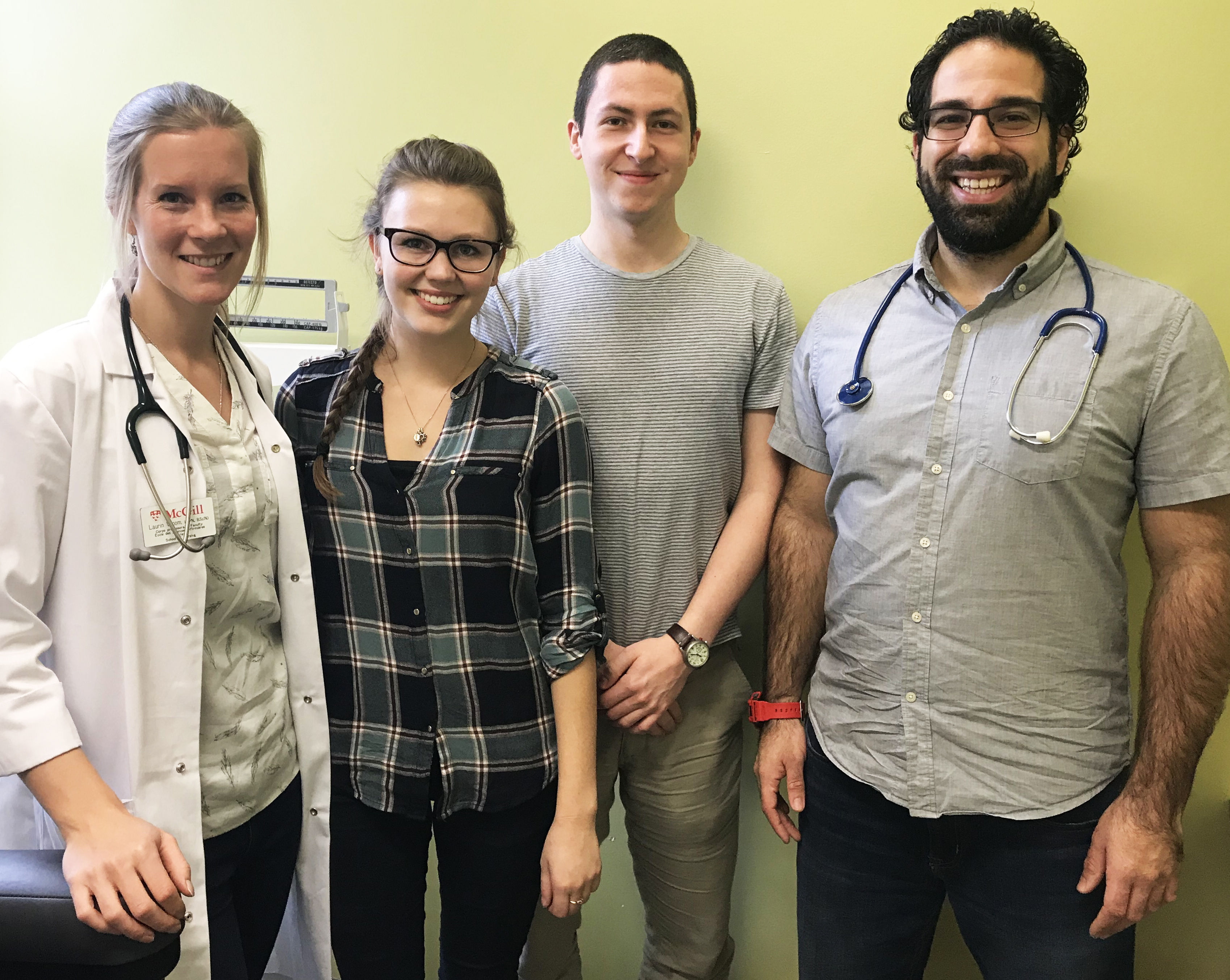 By Christina Kozakiewicz, Ingram School of Nursing

According to a 2015 census, there are just over 3,000 homeless people living in Montreal. This number does not account for those who are dealing with hidden homelessness, such as temporarily living with friends or family or other short-term accommodation.

In addition to the many challenges and stresses of homelessness—such as meeting immediate survival needs for food, water, clothing and shelter from the elements—taking care of health needs might seem insurmountable.

"There can be a lot of barriers to accessing health care services when you're homeless," says Laurin Vroom, Ingram School of Nursing (ISoN) nurse clinician and instructor overseeing students at the new McGill nurse-led clinic at Accueil Bonneau, one of Montreal's longest-standing outreach organizations for the homeless and at-risk. "You may have experienced discrimination, or there may be mental health issues present, which is why everything we do here is based on the therapeutic relationship."

Since September, therapeutic relationships are being forged every week, between McGill Nursing students and Accueil Bonneau residents, who are being provided with direct health care services, including having their blood pressure taken, blood sugar tested, and having head-to-toe physical assessments.

"This is a new initiative that we're really excited about," says Francoise Filion, ISoN professor, and project lead for the partnership between McGill and Accueil Bonneau.

In addition to the nurse-led clinic, McGill Nursing students are promoting health among residents, such as sharing information about how to prevent colds and the flu. On November 22, a group of students led a special information session for residents, targeting foot care. Tables were set up with pamphlets and pictures, with students welcoming residents and answering their questions. "It's really rewarding, getting to interact with people," says Katherine Heron. "And I love that we're taking nursing out of the hospital context and into the community."

Promoting health in communities is a pillar in the ISoN curriculum, reinforcing the notion that nurses' vital work extends beyond hospitals or other clinical sites, into schools, organizations, and other community settings.

"Half of what we do is health promotion," says Laurin. "Again, with that therapeutic relationship as the basis for everything."

"It's been really interesting to get to know the Accueil Bonneau residents, learning about their past and what led them to where they are," says Nursing student Xavier St-Germain Roy. "Listening to them and providing for their needs is a really rewarding experience."

Watch CTV report.
Related coverage
24 heures | Des étudiants infirmiers prêtent main-forte à l'Accueil Bonneau

Journal de Montréal | Des étudiants infirmiers prêtent main-forte à l'Accueil Bonneau

The Gazette | On the streets of Montreal, a 'tiny shelter' makes a 'huge difference'

November 24, 2017