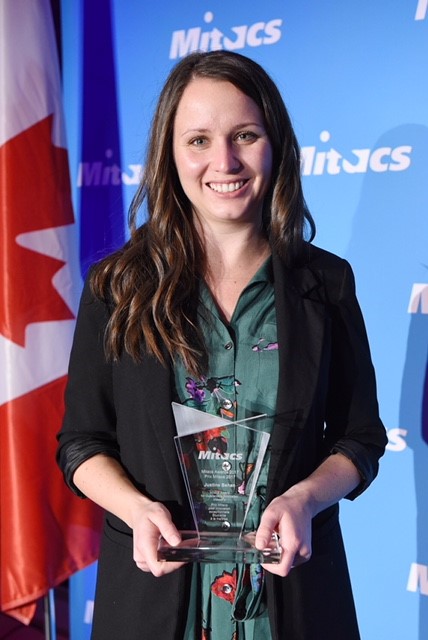 By Christina Kozakiewicz, Ingram School of Nursing

Mitacs is a national, not-for-profit organization specializing in the design and delivery of research and training programs, working with universities, companies and governments to support industrial and social innovation in Canada. On November 21, 2017 Mitacs held their 7th annual awards ceremony to recognize five up and coming researchers from across Canada, among them, Justine Behan, graduate of the Ingram School of Nursing (ISoN), McGill University.

Justine received the Mitacs Master's Award for Outstanding Innovation for her ethnographic study aimed at improving the lives of children living with cancer in India. Her work involved collecting data at three different study sites in New Delhi, with the goal of acquiring a better understanding of how young cancer patients participate in decisions, discussions, and actions when it comes to their health and health care. While parents and health care professionals often act as intermediaries when a child is ill, Justine, spoke directly to children living with cancer—ranging in ages from three to 17—and observed them receiving various aspects of their care, including chemotherapy and radiation.

Her work was supervised by a multidisciplinary and international team, including ISoN professors Dr. Franco Carnevale and Dr. Argerie Tsimicalis; Dr. Sameer Bakhshi, Consultant Pediatric Oncologist and Associate Professor, Department of Medical Oncology, All India Institute of Medical Sciences; and Dr. Ramandeep Singh Arora, Senior Consultant, Paediatric Oncology, Max Super Specialty Hospital, New Delhi. Bani Bhattacharjee, RN, All India Institute of Medical Sciences, was also a part of the team and assisted with the data collection. Justine's project provided much-needed empirical findings to spearhead childhood ethics research specific to pediatric oncology in India.

This project was conducted in collaboration with CanKids and VOICE.

Congratulations Justine!

November 24, 2017