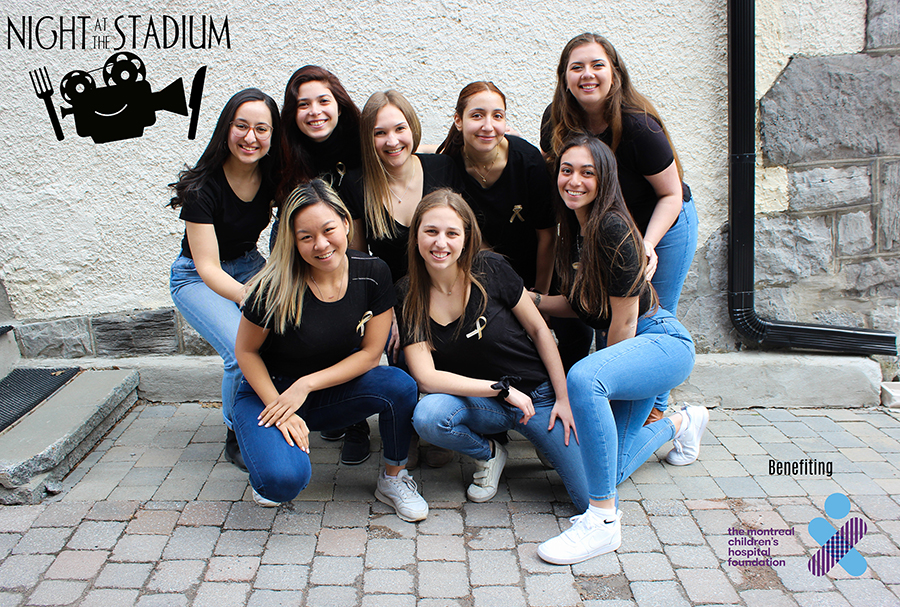 By McGill medical students Kailas Gryte & Laurel Walfish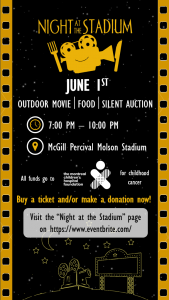 For the past few years, groups of McGill medical students have come together to raise funds and awareness for childhood cancer in Canada. On June 1, 2019, this year's committee will host
Night at the Stadium
, an outdoor movie night at the Percival Molson Memorial Stadium, home to the Canadian Football League's Montreal Alouettes. This fun-packed event will feature a movie screening under the stars, delicious food from Le Cheese Truck and Gaufres & Glaces, as well as a silent auction. The best part? All funds raised, as well as a portion of the food vendors' profits, will go to the Montreal Children's Hospital Foundation to benefit the oncology department and help children suffering from cancer.
According to the Canadian Cancer Society, childhood cancer is the most common disease-related cause of death in Canadian children. It is responsible for more deaths than asthma, diabetes, cystic fibrosis and AIDS combined. Yet, despite close to 1,400 children being diagnosed with cancer in 2012, childhood cancer receives only 5% of cancer research dollars in Canada, according to Kids Cancer Care. These striking facts, combined with a common passion for making a difference in children's lives, fueled this year's committee to support this cause.

Some among the Night at the Stadium committee have experienced firsthand the important work done by the oncology department at the Montreal Children's Hospital. "My close friend was diagnosed with leukemia at a very young age," explains first-year medical student and committee member Michelle Stoopler. "The impact the oncology department at the Montreal Children's Hospital made on my friend and her family's lives inspired me to be part of this event." Third-year medical student and fellow committee member Oana Jumanca, describes how her perception of pediatric cancer and illness dramatically changed after working in the pediatric hematology-oncology department. "I was inspired to get involved with the fundraiser in order to give back a small amount of joy to these families and to help give them hope through challenging times."

The team behind Night at the Stadium is hopeful that the event will attract members of the wider McGill community and their loved ones, families connected to childhood cancer, and anyone in Montreal interested in supporting this important cause.

How can you get involved? Bring your family and friends to the Molson Stadium on June 1 to enjoy an outdoor movie and delicious food! Tickets are $20. If you want to contribute but cannot attend, donations are also welcome.

To purchase tickets, make donations and find out which movie will be featured, please visit: https://www.eventbrite.ca/e/night-at-the-stadium-tickets-60977609672?aff=eac2

For more information, visit the event's Facebook page.

May 16, 2019