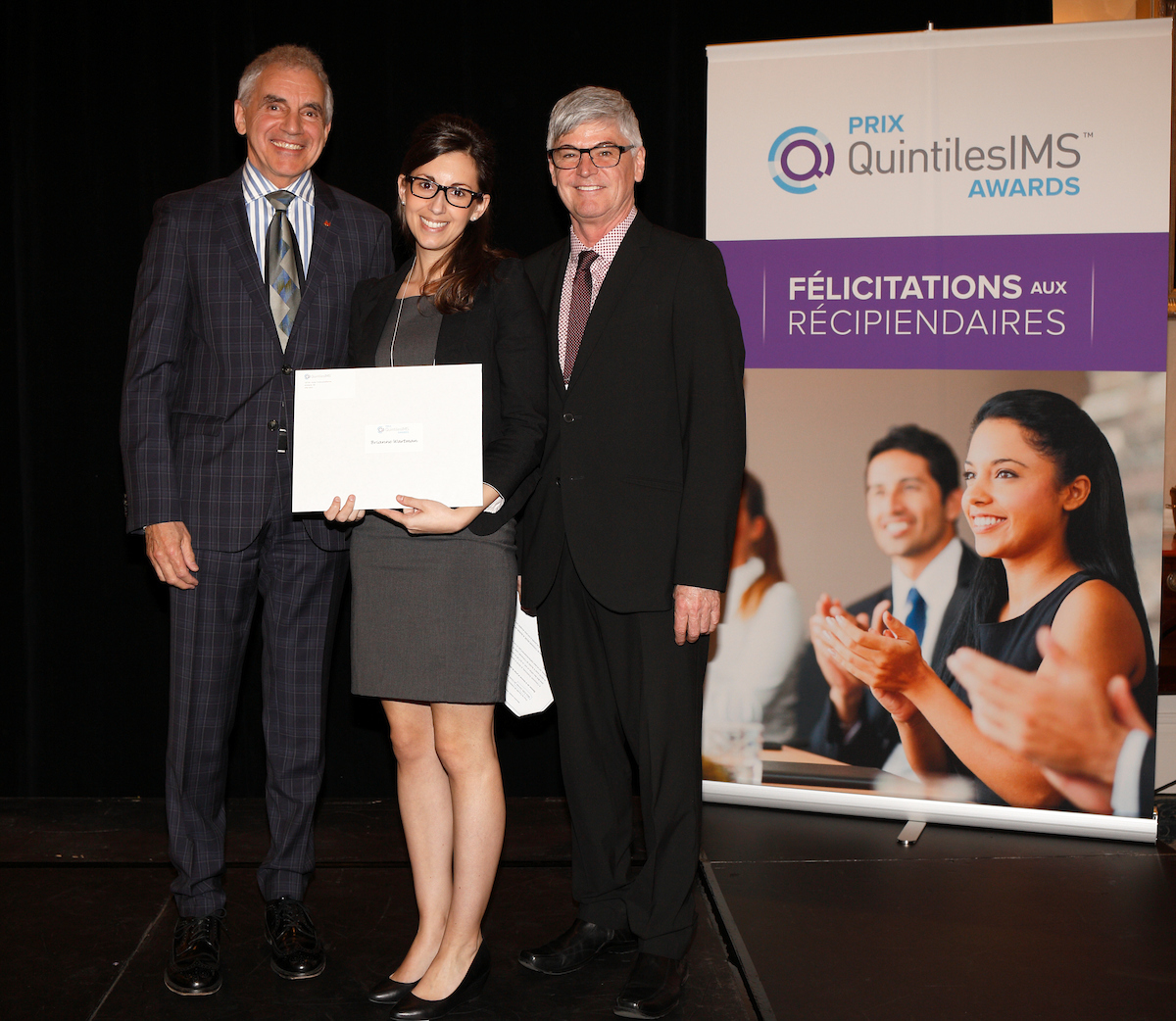 Second-year McGill medical student Brianne Wartman was among five students awarded scholarships last month from QuintilesIMS for distinction in their pharmacology studies.

"I am very grateful to QuintilesIMS and to McGill University for being selected for this award. It underscores the passion I have for pursuing a career in medicine and recognizes the important role that pharmacology will play in that career," notes Brianne on being selected for this award.

A native of Nova Scotia, Brianne moved to Ottawa at the age of 18 to pursue her undergraduate studies at Carleton University where she graduated with Highest Honours in 2009 with a Bachelor of Science in Integrated Science with a concentration in Health Science and a minor in Psychology.

While at Carleton Brianne was awarded a senate medal for outstanding academic achievement. During this time she also began volunteering in a Neuroscience lab and fell in love with research. This experience altered Brianne's plans, as she had originally intended to apply to medical school but instead began graduate studies that saw her fast-track to a PhD in Neuroscience, which she completed in 2014.

During the final year of her PhD, Brianne came to the realization that she still had a desire to pursue a career in medicine. "I decided that if I were to dedicate more time to schooling, I wanted to become the best physician I could, and equip myself with the tools that I believed would allow me to effect positive change in the health care system," says Brianne.

She applied and was accepted into the five-year joint MDCM/MBA program at McGill in 2014, where the first year of the program focuses on MBA studies, which she will continue to work towards completing while navigating through medical school.

During her MBA studies Brianne was awarded the Guizetti Gendron MBA Leadership Award. Since being a part of the McGill faculty of Medicine she has been Co-Vice President of Events for the McGill Student Interest Group in Neuroscience (2015/2016) and Co-Vice President of the McGill Student Chapter of the Association of Women Surgeons (2016/2017).

"During my time at McGill I have been very fortunate to surround myself with a group of brilliant and inspiring colleagues and friends," says Brianne.

Congratulations Brianne!

May 4, 2017