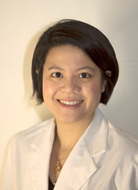 McGill Medical student Tianwei (Ellen) Zhou is the recipient of the 2017 Dr. Robert and Sharon Francis Canadian Medical Hall of Fame (CMHF) Award, one of 16 student awards announced by the CMHF on September 22.

The awards recognize second year medical students with an established track record of community leadership, superior communication skills and demonstrated interest in advancing knowledge. Each recipient receives a cash prize of $5,000 and a travel subsidy to attend the 2018 Canadian Medical Hall of Fame Induction Ceremony in London, Ontario on April 12, 2018, where they will have the opportunity to meet CMHF Laureates, and interact with health leaders from across the country.

Born in Guangzhou, China, Ellen obtained her BSc degree at McGill and is currently a fourth year MD-PhD student (McGill). Her PhD thesis focuses on Retinopathy of Prematurity (ROP), a blinding eye disease that affects many premature infants. Her studies revealed, for the first time, that ROP is not a static disease but a dynamic progression with detrimental impact on patients' vision. This notion highlights the importance of longitudinal follow-ups for infants with former ROP to prevent long-term sequelae. She has been a Section Editor of Journal of Eye Science since December 2016.

Ellen has been the Finance Committee Chair and is the current Vice-President of the Clinician-Investigator Trainee Association of Canada (CITAC). During her tenure, she secured funding for the annual general meetings and advocated for the continuation of MD-PhD scholarships from the Canadian federal government. Fueled with her passion for medicine, Ellen and her colleagues launched the "Journeys Through Health" Art Exhibition at the new Royal Victoria Hospital. It is the first time in Montreal that a student group has collaborated with a healthcare institution to organize an art exhibition. This Exhibition is also a finalist in the prestigious Forces AVENIR award, which promotes community building in Quebec.

The Canadian Medical Hall of Fame (CMHF) partners with donors, MD Financial Management and Canada's medical schools to recognize these young leaders who exemplify qualities of CMHF Laureates: perseverance, collaboration and an entrepreneurial spirit.

"We set out to establish a medical student award of excellence that would hold the kind of recognition that membership in the CMHF does for our 125 Laureates," said CMHF Board Chair Dr. Bryce Taylor. "The demonstrated knowledge, skill and extraordinary commitment of our Award recipients are truly outstanding, and these future leaders are genuinely deserving of this prestigious honour."

"MD congratulates all of the 2017 Canadian Medical Hall of Fame Award recipients," said Allison Seymour, MD's Executive Vice President of Member and Community Engagement. "At MD, we understand the financial challenges students can face as they progress through medical school. That's why we're proud to support these awards, which help students financially while also recognizing their leadership achievements. Last year's winners were a testament to the level of achievement among Canadian medical students, and we are committed to doing our part to support these students on their journey to becoming Canada's future health leaders."

Applicants submitted a 1,000 word essay describing why they should be considered for the Award and articulating the qualities and impact of the CMHF Laureate who inspires them most. Three letters of support were also required, including a non-academic reference describing their community impact. Canada's faculties of medicine/health sciences facilitated the review of applicants and each had the opportunity to recommended one award recipient.

Congratulations Ellen!

Source: Canadian Medical Hall of Fame
September 22, 2017