By Earl Zukerman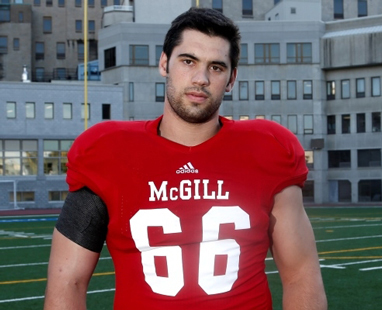 Laurent Duvernay-Tardif, an offensive lineman on the Redmen football team, has added another honour to his impressive, ever-growing resumé. As announced today, the third-year medical student was named to the CIS Top Eight Academic All-Canadian for the 2012-13 season.

The elite group will be honoured at Rideau Hall in Ottawa later this fall.

Every year, a growing number of CIS student-athletes are recognized as Academic All-Canadians, having maintained an average of 80 per cent or better over the academic year while competing for one – or more – of their university's varsity teams.

McGill leads all universities with 18 honorees since this award was initiated in 1993. Rounding out the top producing institutions is Alberta with 12, followed by Dalhousie (11), Manitoba (11), UBC (10), Laval (9), Montreal (7), UNB (7) and Toronto (7).

In 2012-13, a record 2,695 students achieved the prestigious status, eclipsing the previous mark of 2,617 set a year ago.

Among these outstanding individuals, one female and one male student-athlete from each of the four CIS regional associations are selected annually to make up the Top Eight.

Joining Duvernay-Tardif as the other conference nomination from the Réseau du sport étudiant du Québec is Montreal Carabins soccer player Émilie Chamard another medical student.

Duvernay-Tardif has been dominant since the day he joined the Redmen in the fall of 2010. Named McGill's most outstanding lineman in his sophomore season, he exploded on the national scene a year ago when he was voted team MVP and a first-team all-Canadian at offensive tackle. After suiting up in the CIS East West Bowl last spring, the 6-foot-5, 305-pound co-captain was listed as the top-rated prospect for the 2014 CFL Draft by the league's Scouting Bureau earlier this fall.

Read the full story in the McGill Reporter.

Related coverage
Montreal Gazette
October 21, 2013