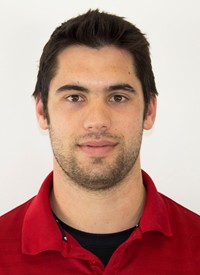 Laurent Duvernay-Tardif, an offensive tackle from McGill University, is expected to become the 10th player in CIS football history to be selected in the National Football League draft, later this week.

A native of St. Hilaire, Que., the 6-foot-5, 315-pound standout is projected to go in the middle to later rounds of the draft, which kicks off Thursday night with the first round and resumes on Friday (rounds 2-3) and Saturday (rounds 4-7).

Should his name be called over the next three days, Duvernay-Tardif would become the third CIS player to be drafted by an NFL team over the past six years, after Akiem Hicks of the Regina Rams (New Orleans, 3rd round, 2012) and Vaughn Martin of the Western Mustangs (San Diego, 4th round, 2009).

The only previous McGill star selected by an NFL squad was current Calgary Stampeders defensive lineman Randy Chevrier, who was picked in the seventh round by Jacksonville in 2001 and ended up playing in 13 NFL regular season games as a long snapper with Dallas and Cincinnati before embarking on a long and productive CFL career.

Duvernay-Tardif earned numerous honours during his four seasons with the Redmen, including a pair of first-team all-Canadian selections, the J.P. Metras Trophy as the top down lineman in CIS, as well as the RSEQ conference nomination for the Russ Jackson Award for combining football with academics and citizenship. Last fall, the medical student was selected as a Top Eight Academic All-Canadian out of over 11,000 CIS student-athletes.

One of two CIS players invited to take part in the prestigious East West Shrine Game in Florida last January, the 23-year-old impressed scouts from nine NFL teams at his pro day workout in Montreal on March 27. He is also ranked No. 1 by the CFL's Scouting Bureau heading into the league's May 13 draft.

Following is a list of CIS players drafted into the NFL, as well as a list of former CIS players currently on NFL rosters.

NOTE
: Another McGill star also played in the NFL, namely long-snapper
Jean-Philippe Darche
, who had a productive nine-year career after signing as a free-agent with the Seattle Seahawks in 2000. He played in Super Bowl XL with Seattle in 2006, then moved on to play for Kansas City from 2007 to 2008.
CIS PLAYERS DRAFTED INTO NFL
2012: Akiem Hicks (DE / Regina), by New Orleans, 3rd round, 89th overall

2009: Vaughn Martin (DE / Western), by San Diego, 4th round, 113th overall

2001: Randy Chevrier (DE / McGill), by Jacksonville, 7th round, 241st overall
1998: Jerome Pathon (WR / Acadia), by Indianapolis, 2nd round, 32nd overall

1995: Mark Montreuil (CB / Concordia), by San Diego, 7th round, 237th overall

1992: Tyrone Williams (WR / Western), by Phoenix, 9th round, 239th overall

1986: Mike Schad (OG / Queen's), by LA Rams, 1st round, 23rd overall

1982: Dan Feraday (QB / Toronto), by Cincinnati, 12th round, 333rd overall

1976: Brian Fryer (REC / Alberta), by Washington, 8th round, 234th overall

CIS PLAYERS CURRENTLY ON NFL ROSTERS
Stefan Charles (Regina): Buffalo – Defensive tackle

Cory Greenwood (Concordia): Detroit – Linebacker

Akiem Hicks (Regina): New Orleans – Defensive end

Israel Idonije (Manitoba): Chicago – Defensive end

Vaughn Martin (Western): Detroit – Defensive tackle

Jon Ryan (Regina): Seattle – Punter

Related coverage
Le Soleil
(in French)
May 8, 2014