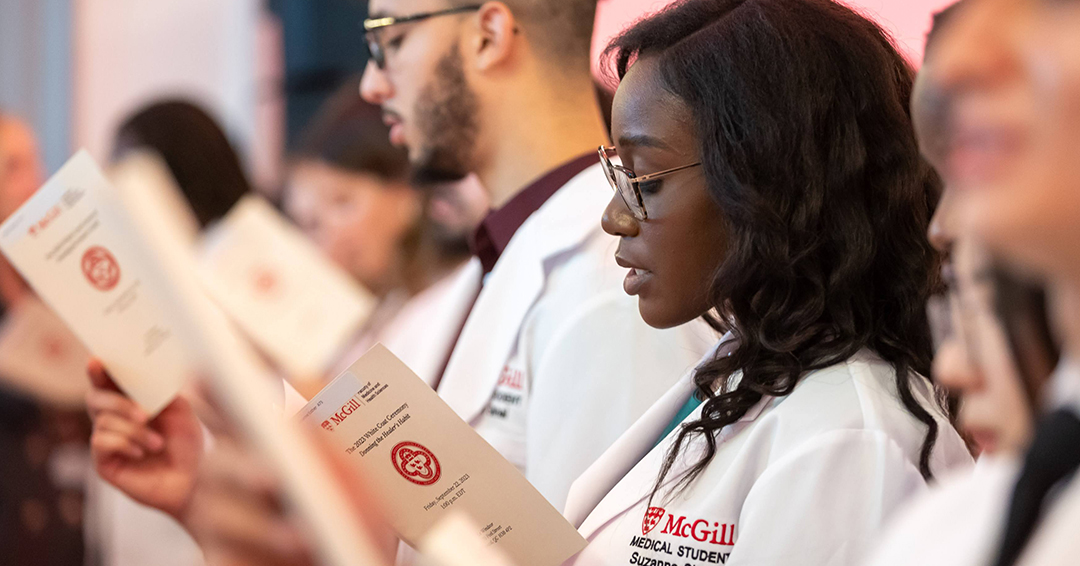 The White Coat Ceremony marks second year medical students' transition out of the classroom and into hospitals and clinics, where they will play an active role in patient care. 
Now in its 22nd edition, the ceremony, officially called "Donning the Healer's Habit," took place at the Windsor Ballrooms on Friday September 22, 2023. Over 200 students and 400 guests, as well as Faculty of Medicine and Health Sciences leadership and Osler Fellows, who help the students they are mentoring into their white coats on stage, were in attendance. 
Following a rendition of Mozart's String Quintet in C major by the I Medici di McGill Orchestra, several Faculty leaders took the podium to share their wisdom.  "The white coat is a symbol of knowledge and humanism, uniting into an integrated whole that guides how you act – in caring for patients, supporting healthcare team members, pursuing a better understanding of health and disease," Lesley Fellows, MDCM, Vice-Principal (Health Affairs) and Dean of the Faculty of Medicine and Health Sciences, told the students. "The white coat reflects the two important facets of an excellent physician:  what you know and who you are."  
Danyèle Lacombe, MD, Vice-Dean and Director of Campus Outaouais, emphasized the human face of medical practice. "Behind every medical file, there's a patient, a family, a story," she told them. "Do not underestimate the impact that you will have on your patients' lives as physicians." 
Frederic Braun, MDCM, benefactor of the ceremony and a graduate of the Class of 1972, was a special guest at this year's ceremony. He recounted the impact that McGill has had on his career as a pediatric neurologist and urged the Class of 2026 students: "Remember what McGill has given you: a degree recognized all over the world, a degree to be proud of."  
"Although the white coat is an important symbol of your growth, your professionalism and the trust that people place in you, it's not a cloak to cover up who you are," keynote speaker Jessica Otte, MD, Associate Professor, Department of Family Practice, University of British Columbia, reminded the future physicians. "Instead, it is a reminder that your medical training adds to your skills as a physician, and that you are human under it all." 
Other speakers included Joanna Caron, MDCM, Physicianship Component Director (Montreal Campus), and Mina Zeroual, MD, Course Director, Physician Apprenticeship for Campus Outaouais, who reinforced the importance of the white coat ceremony. "You are now no longer 'just' students," she said, "but physicians-in-training about to start working in the clinical environment, treating patients. This is both a privilege and a responsibility."  
As is tradition, following the donning of the white coats, class pledges were recited in English and French, led by Class of 2026 presidents Taylor Morganstein (Montreal Campus) and Hélène Rukundo (Campus Outaouais), who gave concluding remarks to their fellow students. 
Congratulations  to the MDCM Class of 2026! 
Click on any photo below to launch a slideshow. Photos by Owen Egan and Joni Dufour.
Related 
Click here to view the White Coat Ceremony recording.