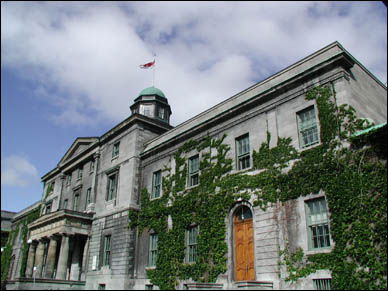 Takes top spot among Canadian schools and places 11th globally

McGill University has made an impressive move up to 11th place among the world's top universities for clinical, pre-clinical and health education in the 2011-2012 Times Higher Education (THE) rankings. Last year, McGill placed 19th in the same category.

"McGill has been at the fore of medical science research while innovating and maintaining a leadership position in health science education," said McGill Principal and Vice-Chancellor Heather Munroe-Blum. "As Canada's leading medical research university, it is gratifying to be consistently recognized among the world's best."

Shaping the next generation of doctors and scientists – the best and brightest trained also as humanists in the Sir William Osler tradition – is at heart of all we do at McGill's Faculty of Medicine and in its community of outstanding teaching hospitals," said Dr. Samuel Benaroya, Interim Vice-Principal of Health Affairs and Interim Dean of Medicine at McGill. "We are very proud to be recognized internationally for these efforts and the dedication of our faculty members."

The University of Oxford, topping the list, is among eight British universities in the top 50 and is followed by Harvard University in the number two spot. Five other Canadian universities were included the top 50.

Most recently, McGill also placed 1st in Canada among Canadian medical-doctoral universities in Maclean's magazine's annual rankings and placed 28th globally in the recently published Times Higher Education World University Rankings for 2011. Earlier in the year, McGill also ranked 17th in the world in the 2011 QS World University rankings.

On the Web:
http://www.timeshighereducation.co.uk/world-university-rankings/2011-2012/clinical-pre-clinical-health.html