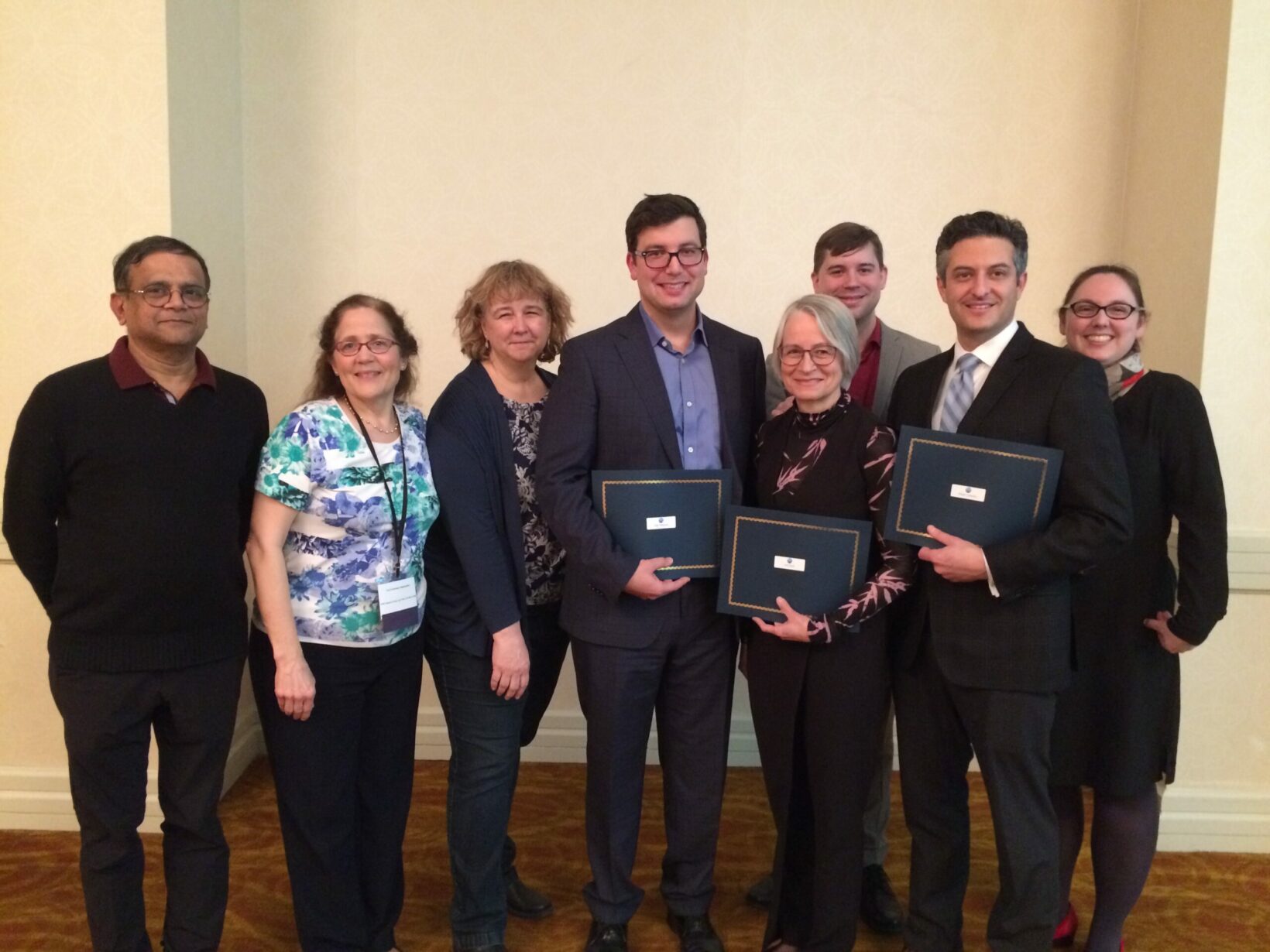 By Matthew Brett

The Faculty of Medicine had a strong presence at the annual Canadian Conference on Medical Education (CCME) hosted in Niagara Falls, April 13-16, where students, residents and faculty members showcased research and innovations in health sciences education.

The CCME is a major medical education conference in Canada, drawing health science educators from across the country and internationally. McGill University was well-represented at the conference with contributions from a range of health sciences disciplines and fields of study.

"The Faculty's expertise in health sciences education research has always been dynamic and that was really on display at the conference this year," said Dr. Annette Majnemer, Vice-Dean, Education at McGill's Faculty of Medicine. "I was delighted to see an excellent showing from our students, residents and graduate trainees in particular. These young scholars and the work they are doing is having an impact here and now."

Raising the profile and value of evidence-based and learner-centered education are core goals of the Faculty's Education Strategic Plan. The newly launched Institute of Health Sciences Education (IHSE) also had a dynamic presence at the conference.

Three McGill faculty members awarded Certificate of Merit 
Three McGill faculty members were honoured with a CAME Certificate of Merit Award during the Canadian Association of Medical Education (CAME) Annual General Meeting, which took place during CCME.

An attending physician in the Department of Neurology & Neurosurgery at the Montreal General Hospital, Dr. Stuart Lubarsky is an Assistant Professor of Neurology and a Faculty member at the IHSE.

Excelling as a teacher, educator, role model, and educational researcher, Dr. Lubarsky is focused on examining clinical reasoning and assessing competence in undergraduate and postgraduate trainees. Working with Dr. Robert Sternszus, Dr. Lubarsky helped create the new Foundations in Medical Education elective and is active on a number of education-based initiatives and research projects.

"It's humbling to receive this award and I am happy to help shape educational initiatives at McGill University," said Dr. Lubarsky. "It really is an exciting time at the university and some great work is happening around education." 

Dr. Fady Mansour, Residency Program Director, Obstetrics and Gynecology, also received a Certificate of Merit and stressed the importance of excellent teaching. 

"As medical educators, we have the opportunity to influence future generations of doctors," said Dr. Mansour. "Our trainees are our legacy. We must be role models and a source of inspiration. The work of an educator requires patience. It can be challenging but we must persevere and motivate residents to acquire the necessary skills. To quote Dr. Robert Kinch in a letter he wrote to me prior to his passing: 'Teach them, cherish them, and launch them.'" 

Dr. Gail Myhr
, an Associate Professor of psychiatry, received a Certificate of Merit for her teaching work as well.
"As a psychiatrist and cognitive behavioural therapist, I have the privilege of not only teaching students the theoretical basis of mental disorders but also helping them acquire important skills in psychiatric assessment and psychotherapy," said Dr. Myhr. "These skills require trainees to use themselves, as human beings, to facilitate a person's recovery from mental illness. This is a mysterious process. Teaching forces me to confront what it is I myself don't fully understand. As such, it is a humbling experience."

Students and residents shine at #CCME19
McGill students were well represented at the conference, presenting on topics ranging from flipped classrooms to students-as-partners educational governance models.

Some of the students presenting worked with Dr. Beth Cummings, the Associate Dean for Undergraduate Medical Education at McGill, on their research projects and presentations.

"This experience will shape my future as a clinician-educator," said Philippe-Antoine Bilodeau, a fourth-year medical student at McGill University who presented at the conference. "The professional relationships I formed and consolidated at CCME will allow me to continue existing partnerships and form new ones."

Students, residents, and faculty members gave a practice run of their presentations to members of the IHSE leading up to the conference in a mock-CCME format. This helped them prepare for the conference and identify potential critiques or areas that need strengthening.

New Institute makes public debut
The conference was the first public event that members of the new IHSE attended together, following the Board designation of the new Institute this winter.

The Institute, which replaces the existing Centre for Medical Education, is the first of its kind in Canada—serving as an academic hiring and teaching unit that can provide graduate programs in health sciences education.

"We were delighted to showcase the depth and breadth of our educational work at CCME," said Dr. Yvonne Steinert, Director of the Institute. "Our Institute members shared compelling research findings and educational innovations during CCME and it was great to have our faculty members there as a team."

The annual conference is organized in partnership with five of Canada's leading health organizations – The Association of Faculties of Medicine of Canada (AFMC), the Canadian Association for Medical Education (CAME), The College of Family Physicians of Canada (CFPC), the Medical Council of Canada (MCC), and The Royal College of Physicians and Surgeons of Canada (RCPSC).

The next CCME conference will take place at the University of British Columbia, April 18-21, 2020.
April 26, 2019