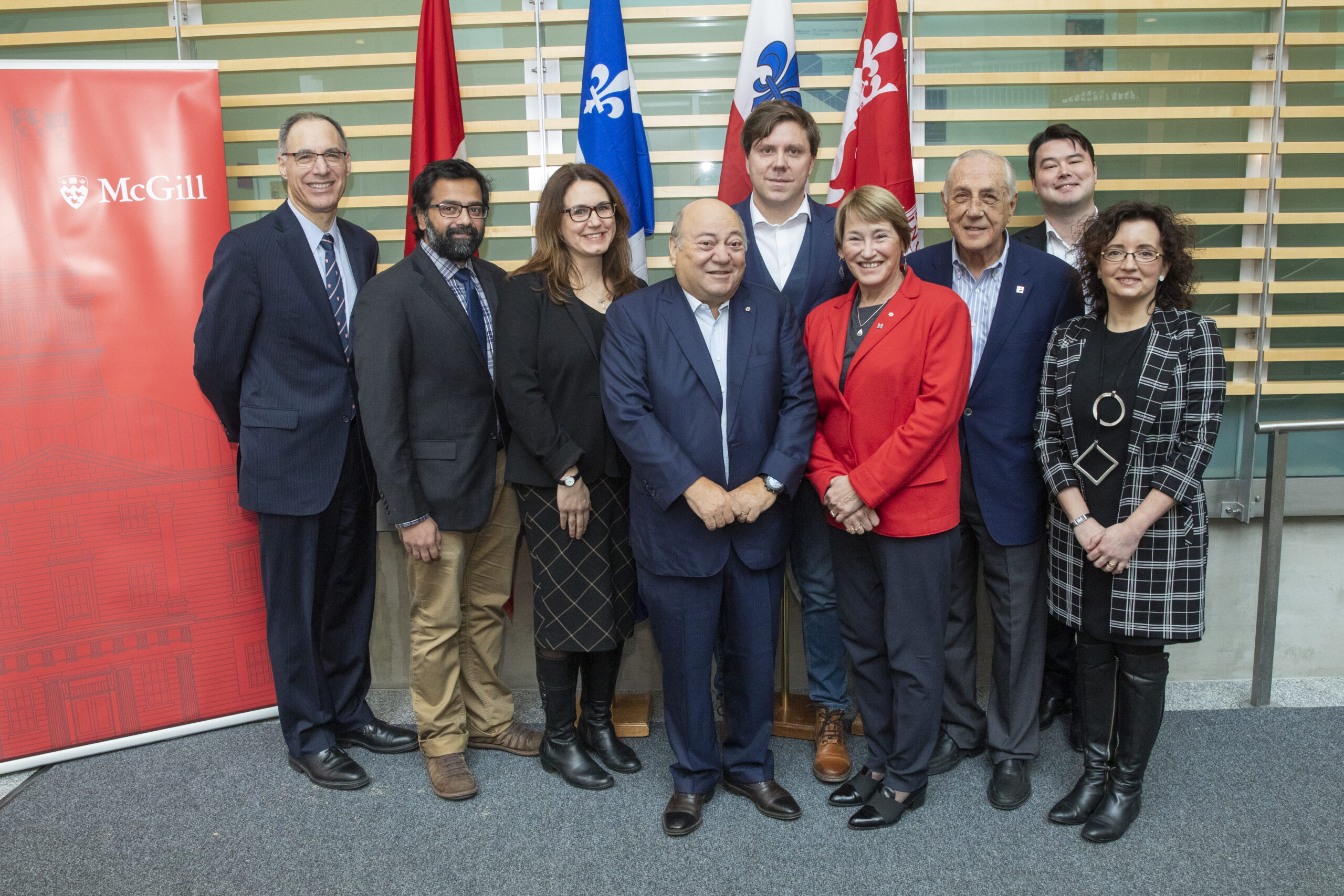 By Philip Fine and Diana Colby

Since opening its doors in September 2008, the McGill University Life Sciences Complex (LSC) has played host to collaborations and advances tackling diseases from autism and Parkinson's disease to schizophrenia, Alzheimer's and epilepsy. On Wednesday, December 5, it played host to a day-long celebration and presentations marking its 10th anniversary.

Under the LSC's atrium's signature high ceiling, with magnified images of cells under the microscope colouring its walls, close to 200 people gathered to pay tribute to 10 years of achievements, the visionaries behind the exceptional complex and the scientists who are bringing their dreams to life.

At the centre of the celebrations were Francesco Bellini and Morris Goodman, after whom two of the four LSC buildings are named, together with members from their families. Also present were Principal and Vice-Chancellor Suzanne Fortier, VP and Dean of Medicine David Eidelman and Dean of Science Bruce Lennox.

Francesco Bellini, who donated $10 million to build the Life Sciences Complex, conveyed his appreciation during the morning's Symposium, beginning with a bit of humour: "I am very happy and I'm very sad," he said. "It's a beautiful building. It's very successful. I'm sad that I'm 10 years older…

"They have implemented what essentially was the goal," he continued. "To have scientists work together, not one in one building and one in another. Here, they can talk to each other, they can exchange ideas. And that's what I'm very proud of," said the trained scientist and founder of BioChem Pharma, the company behind the antiretroviral drug 3TC.

That philosophy was echoed by Symposium presenter Dr. Alanna Watt, whose lab is dedicated to the plasticity of neuronal circuits. One floor below her office is Dr. Lisa Münter, Assistant Professor in Pharmacology. The two would chat from time to time, like many do along the LSC's hallways. Münter, who studies neuronal diseases, was interested in a particular gene also implicated in cerebellar aging, an area that Watt studies. Over coffee, she offered data to Watt, who was really pleased to receive information she might not have otherwise obtained had she been in a building where scientists worked in isolation. "Here, you're completely immersed in a diverse group of different labs and different expertise. We've benefited so much from that," says Watt.

Also presenting during the morning Symposium were Dr. David Thomas, Professor of Biochemistry and one of the original champions of the Life Sciences Complex together with Drs. Michel Tremblay, Paul Lasko, Alvin Shrier and Philippe Gros. Thomas was joined by LSC PhD student emcees and five Principal Investigators, representing each of the five research themes found within the LSC, who delivered fascinating overviews of their work (pictured above).

Celebrations continued into the afternoon and early evening with poster sessions and more scientific presentations by Michel Tremblay on The McGill Regenerative Medicine (MRM) Network, by Anne-Claude Gingras from Lunenfeld-Tanenbaum Research Institute, Mount Sinai Hospital, and by several students.

Congratulations to Dr. Carmen Lampron, Director of the Life Sciences Complex, Dr. Silvia Vidal, Theme Lead for Complex Traits, and the steering committee who worked diligently to put together the day's events, and to all within the LSC and the visionaries behind it on this milestone!

***

Med eNews will mark the 10th anniversary of the McGill University Life Sciences Complex with articles spotlighting each of the five themes – Cancer Research, Cell Information Systems, Chemical and Structural Biology, Complex Traits and Developmental Biology – beginning Monday and continuing throughout the week. To view the morning Symposium in the meantime, click herePhotos by Paul Fournier