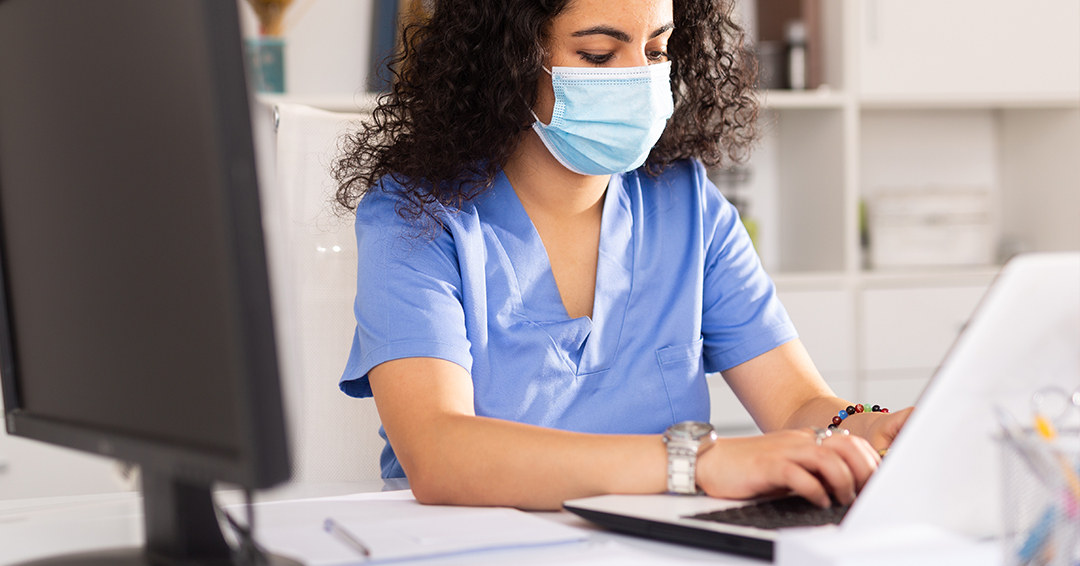 Creating new opportunities through more flexible undergraduate nursing education
CEGEP-trained nurses throughout Quebec now have greater access to a Bachelor of Nursing degree thanks to a new online program developed by McGill's Ingram School of Nursing (ISoN) and Teaching and Learning Services (TLS), with the support of a $1 million donation from the Doggone Foundation.
The Bachelor of Nursing (Integrated) (BNI) Online allows nurses to complete their degree no matter where they live in the province. It is the first fully online Bachelor's program at McGill University, and the first online undergraduate nursing program in Quebec.
Annie Chevrier, Program Director, BNI-online modality and Director, Online and Continuing Nursing Education at ISoN, says the program meets an important need in the province. "The BNI Online follows the same core curriculum as our on-campus BNI program, giving nurses across Quebec the access and opportunity to continue their education and obtain an undergraduate degree with the same high-quality academic standard as the on-campus program." In a province as large as Quebec, that has significant implications.
Doubling the number of undergraduate nursing graduates
There are 75 students in the first BNI Online cohort, with some living as far away as Saguenay—Lac-Saint-Jean, Côte-Nord, and Îles-de-la-Madeleine. Enrolment for 2022 and 2023 will be 125 and 145 students respectively. "In a few years, thanks to the online modality, we will double the number of students graduating from ISoN with a BNI degree," says Ms. Chevrier.
"Nurses who obtain bachelor degrees are then able to pursue graduate degrees, which will open doors to leadership and policy development opportunities, and help advance high-quality care for patients, their families and Quebec communities."
Combining expertise
To make this new program possible, Ms. Chevrier worked closely with Maggie Lattuca, Manager–Online Programs Portfolio in TLS to ensure the right people from each unit were involved. "For each course in the BNI Online curriculum, ISoN assigned a Content Expert and TLS assigned an Instructional Designer," says Ms. Lattuca. The two work closely to ensure that the academic quality and course objectives are met, and that the course design and materials follow best practices for online learning. "We reconceptualized what they do in the classroom for an online environment," says Ms. Lattuca. "We also developed or brought in technology that allows students to practise certain skills online that are usually done in person." TLS and ISoN have already started designing the BNI Online courses for the Fall 2022 term.
Ms. Lattuca emphasizes that the pandemic has highlighted a key difference between remote learning and online learning. "Many BNI Online students have just come from CEGEP, where remote learning was standard this past year," she says. "Remote learning is a strategy that kept things going through the pandemic, and there was no real choice involved," she says. "But online learning is planned well in advance and designed to provide a full learning experience equal to an on-campus program. And unlike remote learning, students self-select for online learning based on their needs or preferences."
Working virtually to create a virtual program
When the COVID-19 pandemic was declared in March 2020, everyone involved in the project had to rapidly change their work processes. "We all adapted very quickly, and essentially shifted to working virtually for a year and a half to complete the development of this virtual program," says Ms. Chevrier.
Dr. Anita Gagnon, Associate Dean and Director, ISoN; Dr. Laura Winer, Director-TLS; Dr. Christopher Buddle, Associate Provost (Teaching and Academic Programs); Gillian Nycum, University Registrar and Executive Director-Enrolment Services; and the Doggone Foundation all played a very important role in the project meeting its deadline. The Analysis Planning and Budget Unit of the Office of the Provost & Vice-Principal (Academic), as well as Batchimeg Zuend, Director of Finance, Faculty of Medicine and Health Sciences, and Daniel Baril, Associate Director, AEC-11 and their team analyzed the original proposal to ensure its financial viability, and their work helped secure the approval and associated funds for the project from Provost and Vice-Principal (Academic) Dr. Christopher Manfredi. "It's really a testament to the strong McGill community that even with so many additional issues related to the pandemic, everyone consistently supported the program so we could launch this September, as planned," says Ms. Chevrier.
"Increasing the accessibility of the Bachelor of Nursing is of such strategic importance to Quebec," adds Dr. Buddle, who oversees the University's strategy for online learning. He sees the BNI online as ground-breaking for the University. "McGill is committed to using the best pedagogical approach to teaching our programs, and the development of the BNI online illustrates how we can do this with online tools."
Ms. Chevrier and Ms. Lattuca agree that the collaboration between the team members from ISoN and TLS was at the heart of the project's success. "It's a visionary project and I think everyone agrees it's been a privilege to be part of this journey," says Ms. Chevrier.