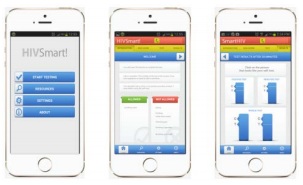 A mobile phone app that enables self-diagnosis of HIV/AIDS whose development was led by Dr. Nitika Pant Pai, Associate Professor in the Department of Medicine at McGill University, is among six Canadian innovations showing evidence of early promise for improving global health that will "transition-to-scale" thanks to new support from Grand Challenges Canada, funded by the Government of Canada.

The new investments, matched by a wide range of partners, will enable the innovators to advance the development of their technologies and deploy them further throughout the developing world. The investments build on significant results from seed projects also funded by Grand Challenges Canada.

The new funding, totalling CDN $5 million, will be doubled by partners in the six projects, creating a total investment of $10 million.  Since launching in 2010, Grand Challenges Canada has supported a pipeline of over 700 innovations in more than 80 countries, including 70 "transition-to-scale" investments. "These Bold Ideas with Big Impact show how innovation can accelerate international development to save and improve the lives of the world's poorest and most vulnerable people," said Dr. Peter A. Singer, Chief Executive Officer of Grand Challenges Canada. "Canadians are an innovative people – as these Canadian innovators demonstrate."

HIVSmart!: A smartphone app-based HIV self-testing strategy to identify undiagnosed cases of HIV
Sympact-X and the Research Institute of McGill University Health Centre (RI-MUHC) / Montreal, QC (Implementation Countries: South Africa) $1 million
A smartphone app-based HIV self-testing strategy making HIV self-testing a reality will scale up in South Africa thanks to a new investment catalyzed by Grand Challenges Canada.

A repayable grant provided by Grand Challenges Canada, which is funded by the Government of Canada, will be matched by a range of partners, including Grand Challenges South Africa, the South Africa Medical Research Council's Strategic Health Innovation Partnerships program, South Africa's Department of Science & Technology, Orasure Technologies, the Research Institute of McGill University Health Centre (RI-MUHC) and the University of Cape Town.

Dr. Nitika Pant Pai who is also a medical scientist, RI-MUHC, is leading the scale up this self-testing technology, called HIVSmart!. Dr Keertan Dheda, Professor in the Department of Medicine, University of Cape Town will co-lead the transition-to-scale project in South Africa.

Five out of 10 people infected with HIV worldwide do not know their status. While treatment for HIV is universally available, stigma, discrimination, privacy, and confidentiality concerns are barriers to seeking conventional HIV testing in healthcare facilities.

Undetected, untreated HIV is a significant health challenge for individuals with HIV and for the general public. Undiagnosed individuals pose a strong risk to transmit the disease to others, such as their partners and children.

With initial funding from Grand Challenges Canada's Stars in Global Health program, Professors Nitika Pant Pai (McGill University) and Keertan Dheda (University of Cape Town) evaluated HIVSmart!, a smartphone and web application-based strategy that engages, interprets and links self-testers to counselling and clinical care. HIVSmart! is used in conjunction with an approved HIV self-test kit, offering a de-stigmatized, private and confidential testing option for individuals who suspect they are infected with HIV.

The pilot project in South Africa showed that all of the 251 healthcare workers who self-tested positive for HIV sought counselling and care thanks to HIVSmart!. A majority (91% of participants) rated HIVSmart! positively because of the privacy it offered, ease of use and the non-invasive, painless nature of oral HIV self- testing.

In 2013, the HIVSmart! strategy won the international 2013 Accelerating Science Award Program (ASAP) for innovation from Google, PLOS and the Wellcome Trust. Dr. Pai's pioneering work on oral HIV testing has been published in PLOS Medicine, The Lancet ID and PLOS One.

The scale-up of HIVSmart! aims to improve and save the lives of about 300 individuals who are estimated to be found to be HIV positive and linked to counselling and care, and 1500 lives will be improved through enhanced access to testing and improved linkages to clinical care and retention, thereby reducing the risk of transmission and infection in the communities.

This new funding will support the implementation of the program in South Africa, measuring and evaluating its impact and cost-effectiveness. With the support of South African partners, the strategy will be made available to many populations within Sub Saharan Africa.

Click here to access the full news release.
July 21, 2016