JOIN US AT THE MEGA FAMILY EVENT OF THE SUMMER!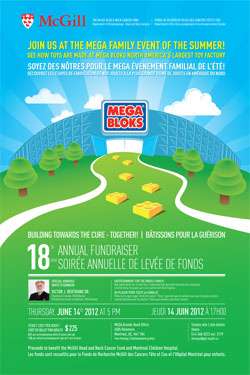 We look forward to seeing you at this year's McGill HEAD & NECK CANCER FUND Gala Fundraising Event, honouring Victor J. Bertrand Sr., Chairman & Founder, MEGA Brands, Thursday, June 14, 2012.

This year's event features entertainment for the whole family! The festivities begin at 5:00 p.m. at MEGA Brands Head Office with a "red-carpet" entry hosted by Hollywood-based Montreal-born Shira Lazar. This will be followed by a special factory tour and supervised kids party with exclusive toys and games. At 6:30 p.m., the adult Gala officially begins with an "evening dinatoire" and entertainment by young Montreal talent, Cole Gurman and Jessika Bertrand.

A unique auction will also be held with an array of prizes to help raise money for this important cause, including: a special getaway to Florida, a day of racing instruction at Mont Tremblant, a walk-on opportunity in an upcoming movie starring Michael Douglas, special jewelry, exquisite paintings and Hockey shirts signed by NHL stars.

Proceeds will benefit the McGill Head and Neck Cancer Fund, as well as a special project supported by MEGA BLOKS for the Montreal Children Hospital.
It's a Date!
Tickets info
514.340.8222

ext. 3179

idouagui@jgh.mcgill.ca
 Location
MEGA Brands Head Office

4505 Hickmore

Montreal, QC, H4T 1K4

Free Parking