Attention McGill Faculty Members:
Call for Project Submissions

Global Health Scholars (Undergraduates) 2020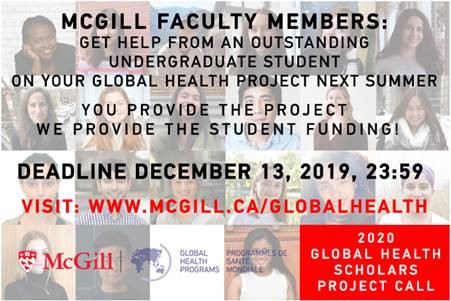 A unique opportunity for McGill & affiliated hospital Faculty Members to get student help on a summer research project.  
The Global Health Scholars Program for undergraduates pairs an outstanding McGill undergraduate student with a faculty member to help on an International, Northern Canada, or Montreal-based global health research project during the summer of 2020.

Student applicants will be matched to faculty mentors based on the skill set, interests, and needs of the mentor. The faculty member will make the final decision on which student is selected for their project. The chosen students will receive $2,500-5,000 for the project which goes to cover travel costs (if required) and a stipend.

More information | ApplyDeadline: December 13th, 2019, 11:59PM
December 4 2019