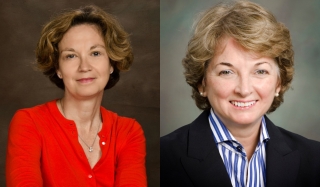 The McGill Faculty of Medicine would like to congratulate Dr. Ann E. Clarke and Dr. Lucie Lessard for winning the Royal College 2012 Regional Awards:
2012 Mentor of the Year
Ann E. Clarke MD, MSc, FRCPC

Dr. Ann Clarke is a Professor in the Divisions of Clinical Immunology/ Allergy and Clinical Epidemiology in the Department of Medicine, McGill University, Montreal.

The Mentor of the Year Award was established to recognize Fellows of the Royal College in each region who have had a significant impact on the career development of students, residents, and/or Fellows, while demonstrating their ability to be an excellent role model.

Dr. Clarke received her Medical Degree at Memorial University of Newfoundland, Canada and completed a Residency in Internal Medicine and Fellowship in Clinical Immunology and Allergy at McGill University.  She pursued a Post-Doctoral Fellowship at Stanford University, obtaining a Masters degree in Health Services Research.

She was a Chercheur National of the Fonds de la Recherche en Santé du Québec and an Investigator of the Canadian Institutes for Health Research.  She has received research support from the AllerGen Network of Centres of Excellence, the Canadian Institutes of Health Research, the Arthritis Society, the National Cancer Institute of Canada, and the National Institutes of Health.  She has mentored numerous trainees and has over 180 publications.

Dr. Clarke is an established investigator in the epidemiology and outcomes of atopic and autoimmune rheumatic diseases.  She is leading a major food allergy initiative within the AllerGen Network of Centres of Excellence; her specific focus is on the nationwide prevalence of food allergy and factors initiating its development.  She is particularly interested in exploring these areas in vulnerable populations of Canadians.  Her research team has also assembled large registries of children with food allergies and anaphylaxis that serve as a resource for epidemiological, clinical, and genetic studies.

Dr. Clarke also has a particular interest in systemic lupus erythematosus, the prototypic autoimmune rheumatic disease.  She is the co-director of the McGill University Health Centre Lupus Clinic, one of the largest such clinics in North America.  She is one of the lead investigators in an international consortium evaluating the risk of malignancy in lupus and factors mediating this susceptibility.  She has received the Dubois Award from the American College of Rheumatology, recognizing her contribution to lupus research.

2012 Prix d'excellence

Lucie Lessard MD, CSPQ, CSPQ, FRCSC, FRCSC, FACS
Dr. Lucie Lessard is the Chief of the Division of Plastic and Reconstructive Surgery at the MUHC, McGill University, an Associate Professor and a Plastic Surgeon who specializes in Craniomaxillofacial surgery, trauma, cancer breast reconstruction and hand/microsurgery.

The Prix d'excellence / Specialist of the Year award was established to recognize Fellows of the Royal College who have made significant contributions in providing outstanding care to their patients and the community in which they practice. The recipient must have demonstrated a long-standing commitment as a medical educator to students, residents or practicing health professionals.

Dr. Lessard obtained her Medical Degree at l'Université Laval in Quebec City.  She also studied Music and has a Bachelor Degree in piano.  She moved to Montreal for an internship at the Jewish General Hospital, McGill University.  Dr. Lessard's initial interest was in head and neck anatomy and was accepted in a surgical specialty, ENT-Head and Neck Surgery, at McGill.  During her General Surgery rotation, she was fascinated by microsurgery and Craniomaxillofacial Surgery.

Dr. Lessard was then accepted at Harvard – Brigham & Woman's Hospital, Boston Children and studied under Dr. Joseph E. Murray who was Chairman at the time (Dr. Murray won the Nobel Prize of Medicine in 1990 for the first transplant in the world).  Dr. Lessard also trained with Dr. Paul Tessier in Boston while he came to the Division to operate twice a year for 2 months.  She later trained in Craniofacial Surgery under Dr. Johansson and Dr. Lauritzen in Sweden, and Dr. Tessier again in Paris.   She is double-Board Certified in ENT and Plastic Surgery from the Royal College and was an examiner in Plastic Surgery at the Royal College for several years.

Dr. Lessard is the first woman in a leadership position as a Chief of a Plastic Surgery Division in Canada and at McGill.  She is the current President of the Group pour l'Avancement de la Microchirurgie (GAM) of the Canadian Society of Plastic Surgeons and has been a spokesperson for microsurgery throughout her career.

Dr. Lessard has trained close to 100 residents in Plastic Surgery from all around the world and continues to represent McGill nationally and internationally.  She has been invited as Guest Speaker/Visiting Professor at the national and international level such as recent presentations at the Mayo Clinic (US), Kuwait, India, and Brazil.

September 6, 2012