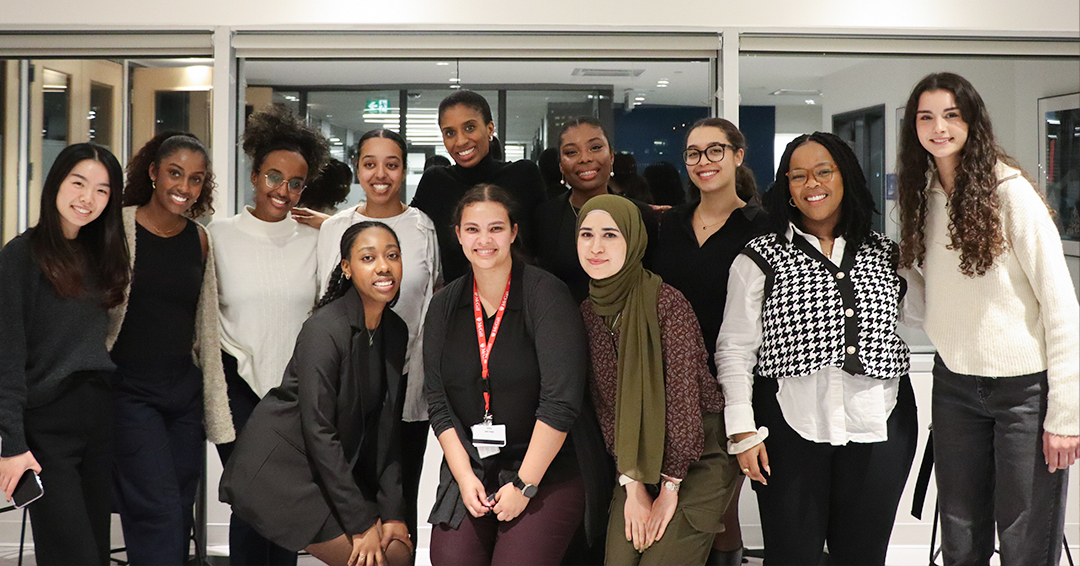 When McGill BSc(N) student Bryana Jean-Jacques was invited to start a McGill Chapter of the Canadian Black Nurses Alliance (CBNA), she was intrigued by the possibility and honoured to have been asked, but hesitant to take on this monumental task alone. Fortunately, she found a willing partner in fellow BSc(N) student Ernissa Daniel. With the support of Ingram School of Nursing (ISoN) Faculty Lecturer Anne-Laurie Beaubrun, the pair established the McGill CBNA Chapter in September 2021. Faculty Lecturer Rose-Stacy Devalice signed on in 2022. 
Historically, Black nurses in Canada have been undervalued, discriminated against, and under-represented in positions of leadership. Determined to change the landscape for Black nurses, in the summer of 2020, Ovie Onagbeboma founded the Canadian Black Nurses Alliance (https://canadianblacknursesalliance.org/). The mission of this non-profit organization is to serve, mentor and empower Black Canadian nurses through the power of community.  
Here at McGill, Bryana, who serves as President of the CBNA McGill Chapter and Ernissa, who is Vice-President, take this mission seriously. They have been working hard to create a supportive environment and a sense of belonging for Black nursing students. "This is a safe space for students to advocate for themselves and for the health needs of Black communities," explains Ms. Beaubrun, a CBNA member who serves as both a mentor and an advisor to the students. 
As Ernissa points out, Quebec's Black population is composed of many different communities. "While we are not monolithic and each community has its own heritage, we share common concerns such as dealing with discrimination and racism." Adds Bryana, "Our generation is quite open-minded and their questions usually come from a place of curiosity."  
The reality of discrimination in health care was examined in depth earlier this month at a special screening of the film The Color of Care, attended by people from the McGill community and beyond. In conjunction with Black History Month, this event was co-hosted by the Black Medical Students' Association of Canada and the Canadian Black Nurses Alliance in partnership with McGill's Social Accountability and Community Engagement Office and the School of Population and Global Health's Equity, Diversity, and Inclusion Anti-Racism (EDIAR) Committee. 
According to Bryana and Ernissa, another important goal of the McGill CBNA Chapter is to educate fellow nursing students and the broader community about issues in health care that affect Black communities. For example, the assessment of skin conditions is different for patients with darker skin, yet curriculum materials rarely address these differences.  
To that end, the McGill CBNA Chapter has created a partnership with Centre Toussaint (https//centretoussaint.com), a Haitian community centre in Montreal. In March, the group will offer specially tailored maternal-child health workshops at the Centre on topics such as post-partum depression, common infant health problems and healthcare resources. Attendees will be asked to provide feedback, with the goal of developing and expanding upon the program to better cater to community needs. 
Bryana and Ernissa are excited to announce that with the guidance of Professors Beaubrun and Devalice, they will present their abstract entitled "Student-Led Maternal Workshops for Black Communities" at the upcoming International Council of Nurses' Conference, which will be held in Montreal this July.  
"Bryana and Ernissa have shown tremendous enthusiasm, leadership and initiative. We are really proud of them," concludes Ms. Beaubrun.  
The McGill CBNA Chapter welcomes new members. To learn more, visit their Instagram page 
https://www.instagram.com/cbna.mcgill/?hl=fr 
For more information about the CBNA, visit https://canadianblacknursesalliance.org/