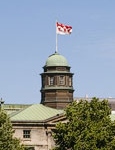 Dear colleagues,

As summer draws to a close, I'm very excited to announce two new resources that were recently developed to help students – particularly new students – better navigate the University: the McGill App and AskMcGill. These tools have also been developed to make your life easier. Hopefully, now that students can easily access answers to their basic questions, they will reach out to you for more critical advice.

As both tools will be continually enhanced to meet the evolving needs of students and also based on feedback from the McGill community, your comments and suggestions are particularly valuable at this time. In fact, more robust versions of both tools, which will feature additional information and resources for current students, will be launched in early October 2014.  We invite you to learn more and tell us what you think!

McGill App

The new McGill App is the official campus app for prospective, new and current students. It includes easy access to University events, calendars, contacts, timetables, maps, study tools and more.

Download the McGill App by searching for "McGill University" for iOS at the Apple App Store or at Google Play for Android and give us your feedback. Please note that the McGill App is not supported on BlackBerry devices.

AskMcGill
AskMcGill
,
a collaborative initiative brought to you by
McGill Student Life and Learning
and the
School of Continuing Studies
,
is McGill's new interactive question/answer online platform where prospective, new and current students can ask a wide variety of questions about McGill in everyday language and obtain accurate and consistent answers.
Take a look
! Again, we welcome
your
feedback
.
I take this opportunity to wish you a happy, healthy, and successful start to this new academic year and to thank you for your continuous dedication to our community.

Best regards,

Ollivier Dyens

Deputy Provost (Student Life and Learning)