Five McGill students are in the running for a spot in the inaugural cohort of Canada's first comprehensive leadership-based scholarship for master's and professional studies.
Source: McGill Reporter


Fifty students from across the country, including five McGill students, have been named finalists for the inaugural McCall MacBain Scholarships, Canada's first comprehensive leadership-based scholarship for master's and professional studies. The scholarship enables students to pursue a fully funded master's or professional degree at McGill University while connecting with mentors and participating in an intensive leadership development program.

The inaugural finalists come from 28 Canadian universities from coast to coast. Their work on campus and in the community has included organizing climate action groups, editing and running student journals, volunteering with artificial intelligence and robotics projects, establishing anti-racism initiatives, providing support for community members in vulnerable situations, and working on several public health, data, and educational projects related to the COVID-19 pandemic.

Finalists were chosen based on their character, community engagement, leadership potential, entrepreneurial spirit, academic strength, and intellectual curiosity.

"There is no typical McCall MacBain Scholar," said Natasha Sawh, Dean of the McCall MacBain Scholarships. "We look for potential in students from all walks of life, with different academic and volunteer interests. What unites them is the inner drive to learn, lead, and make a positive impact in other people's lives."
Meet the McGill finalists
Three current McGill students, and two recent graduates, are among the 50 finalists:
A materials engineering co-op student, Sinan Abi Farraj (BEng'21) manages the daily operations of his faculty's peer tutoring service. Over the past two years, he helped expand the service by introducing weekly group tutorials and increasing student outreach. Sinan has also volunteered his time to organize student elections, help run a space technology club, and teach refugees in Lebanon. This year, he also assisted an environmental organization in researching a textile recycling solution. Sinan is applying for a master's degree in chemical or materials engineering.
Somaya Amiri's (BA'20) experience as a refugee student, starting university after only a few years of formal education, inspired her to start a student group to support other immigrants and refugees on campus. She has also volunteered with McGill's comparative health club for four years, during which she organized a 150-person conference on women's health. Somaya graduated with a Bachelor of Arts (Honours) in Political Science from McGill University as a Loran Scholar. She is working in Ottawa as a parliamentary intern and aims to study law.
Having experienced war and loss, Mustafa Fakih (BEng'21) decided to pursue a career in healthcare to give back to his community. Since 2017, he has been volunteering as a first aid responder with St. John's Ambulance. He has served as a representative for several student associations at McGill and was a board director of the Students' Society of McGill University (SSMU). He now leads the Muslim Students' Association. A bioengineering student, Mustafa helped start a biodesign team and taught computer-aided design to fellow team members. He hopes to pursue his next degree in medicine or engineering.
Janson Kappen (BSc'21) co-leads Montreal Beyond Me, a club pairing 50+ volunteer mentors with children with special needs. He recently completed 700 hours of training to become a personal support worker at a long-term care facility for seniors with Alzheimer's and volunteers with another campus organization. Janson also participated in the novice-varsity rowing team at McGill. He is completing his bachelor's degree in pharmacology and hopes to continue his studies in neuroscience, pharmacology, or medicine.
Zeytouna Suleiman (BSW'20) has been involved with the Muslim Students' Association at McGill for several years, most recently as vice-president of internal affairs, and co-chaired the equity committee of the undergraduate student government. She works part-time at both a local women's shelter and a resource centre for victims of domestic violence. Recently, Zeytouna started a company building tools to facilitate the client referral process for health and social service workers. Having worked at a legal information clinic and a youth protection agency, she hopes to start the BCL/JD program next year so that she can continue to help address the needs of vulnerable community members.
The interview process
More than 735 people applied for the McCall MacBain Scholarships, and 132 participated in regional interviews with local leaders in November before the 50 finalists were selected. Up to 20 McCall MacBain Scholars will be chosen after final interviews, which take place from March 11 to 13, 2021.

The interview process involves conversations with a diverse group of Canadian leaders, including members of McGill's alumni community.

Marcia Moffat, BSc'91, co-chair of the Made by McGill campaign and one of the regional interviewers in November, describes the interview as an opportunity for holistic personal reflection. "Students get a chance to discuss their whole selves, instead of trying to fit their experiences into a particular job description or role. As interviewers, we look for courage, integrity, and leadership potential through the lens of different lived experiences. We do that by listening to what students have to say about the path they've taken and where they want to go from here."

Several dozen McGill alumni volunteered as regional interviewers, including Ram Panda, MEng'71, MBA'77, Chair of McGill's Board of Governors; Omar Masood, BEng'08, President of the Calgary Alumni Association; and Inez Jabarpurwala, BA'89, MA'91, MBA'01, Immediate Past-President of the McGill Alumni Association, among others.

Finalists who are not selected as McCall MacBain Scholars will be eligible for a $10,000 entrance award for their studies at McGill.

This year, the McCall MacBain Scholarships program also granted 28 awards of $5,000 each to promising candidates who distinguished themselves at regional interviews. Among the regional award recipients were three McGill students.

The scholarships are the result of the 2019 landmark gift of $200 million (Canadian), the single-largest gift in Canadian history at that time, by John and Marcy McCall MacBain.

The McCall MacBain Scholarships will expand internationally over the next decade, with nearly 300 McCall MacBain Scholars selected by 2030.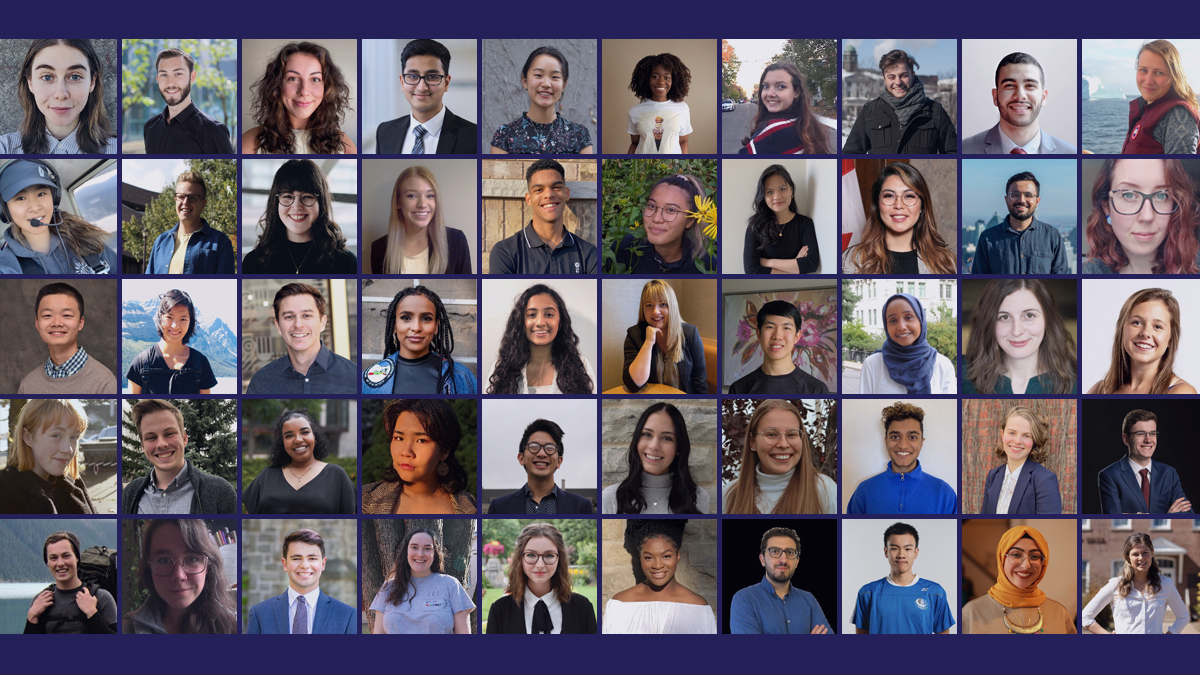 February 15, 2021