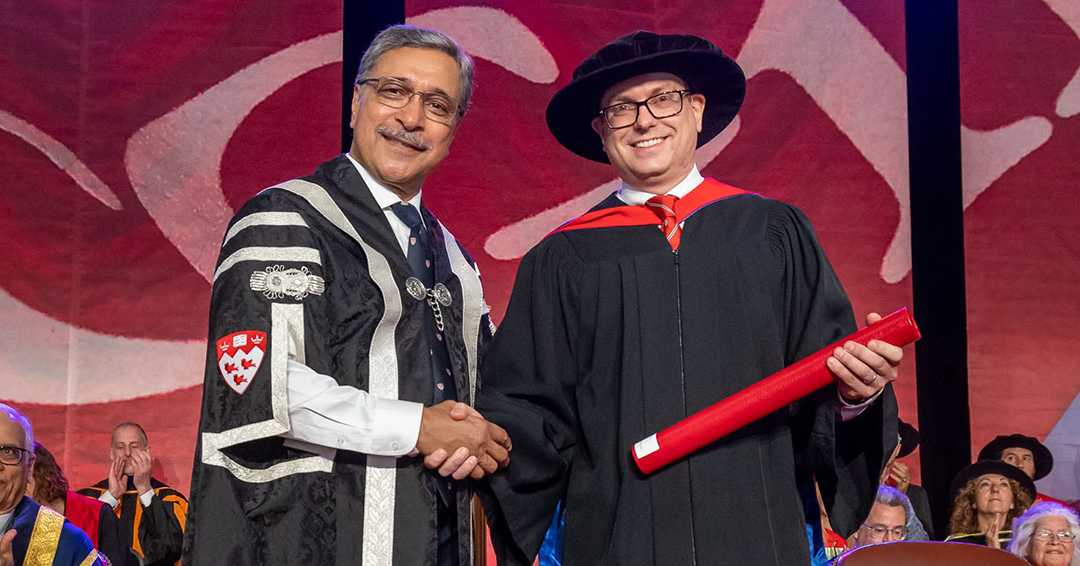 Mathieu Walker, pictured with McGill University Principal and Vice-Chancellor Professor Deep Saini, was presented the Osler Award during the Spring 2023 Health Sciences A Convocation on May 30, 2023. 
Mathieu Walker, MD, has been selected as the 2023 recipient of the Osler Award for Teaching Excellence. Selected each year by the graduating medical class at McGill University, the award recognizes an extraordinary educator who made a lasting impact on the cohort over the course of their four years of medical school. Mélanie Mondou, MD, Associate Dean for Undergraduate Medical Education, introduced Dr. Walker at the Health Sciences A Convocation ceremony when he received his award on May 30.  
Dr. Walker is now a two-time recipient of this award, having been previously selected by the Class of 2011. He was also named to the Faculty Honour List for Educational Excellence in 2017 and in 2021 he received the George Fraser Memorial award in recognition of excellence in teaching and dedicated patient care.  
Dr. Walker joined the Division of Cardiology at McGill in 2006, and is currently an Associate Professor of Medicine. He has been the course director for Circulation for UGME since 2006. He is also the co-director of the McGill cardiology residency program. He is currently the director of the cardiology division at St. Mary's Hospital Center.  
 "The Osler award means the world to me because it's the students themselves that choose the awardee," said Dr. Walker. "I am so grateful to the Class of 2023 for having chosen me. Participating in the Convocation ceremony was an unforgettable experience!" 
Congratulations Dr. Walker! 
Related:  
Watch the May 30 Health Sciences A Convocation ceremony and check out the Health Sciences Convocation program.