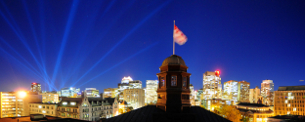 By McGill Reporter Staff
In light of continued funding uncertainty, McGill must preserve what it has achieved over the last year, Provost Anthony C. Masi told Senate on April 23. His presentation was the last of three updates on McGill's budget planning in the run-up to the Board of Governors' April 29 final approval of the budget for fiscal 2014-2015 (FY2015).
Last year got results
Masi's presentation focused on McGill's operating budget. He said the University is on track to closing FY2014 with an operating deficit of approximately $10.4 million, as projected in April 2013. This is in large part due to the effects of last year's cost-reduction measures. Departures from the Voluntary Retirement Program (VRP), a permanent reduction of operating budgets across the University, last year's forgone salary increases and a series of local measures undertaken by Faculties and Administrative units have resulted in expense reductions of more than $40 million thus far.
When asked how the University plans to maintain those savings, Masi responded that the focus will remain on maintaining the FY2014 reductions in the number of administrative and support staff, especially in central units. Principal Suzanne Fortier added that one of McGill's main priorities will be to become more agile as an organization. "We want to look carefully at how we work," she said. "We want to look at our processes and evaluate if some of them can be cumbersome, we want to put our resources in the right places and into the right processes."
Read the full story in the McGill Reporter.
April 28, 2014