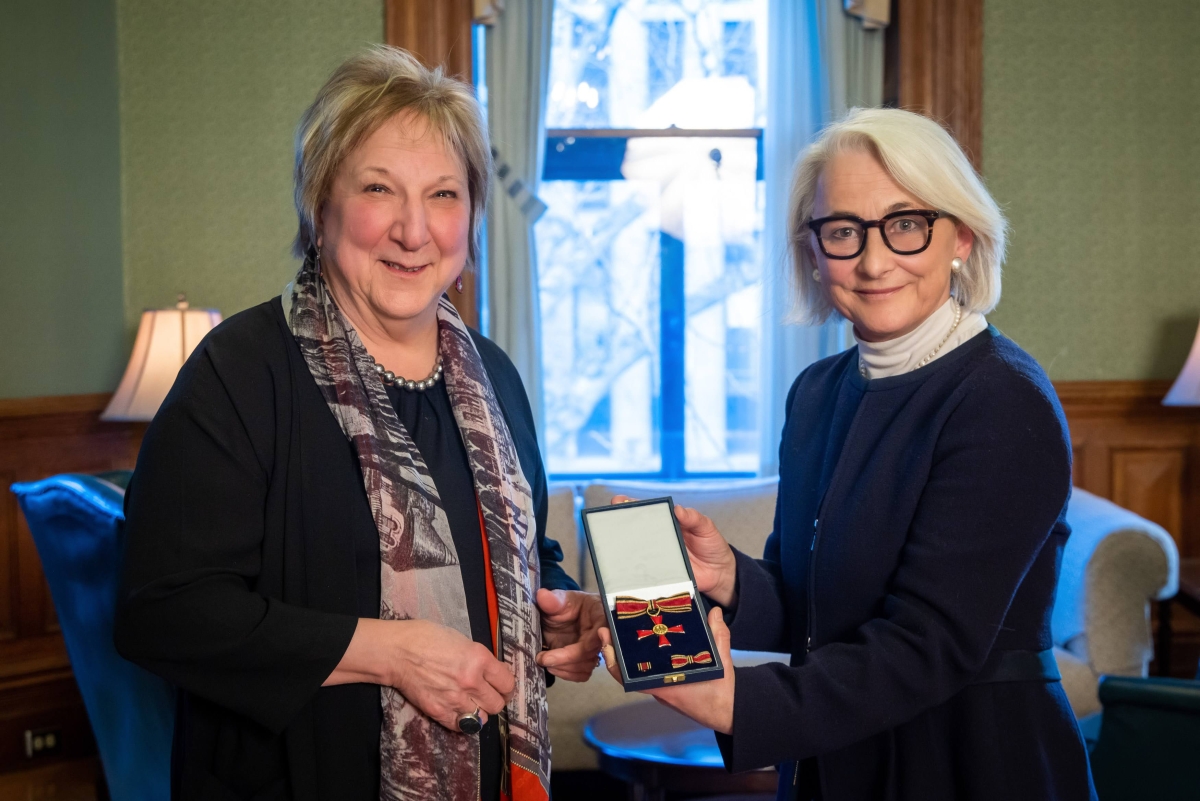 Germany's high honour goes to Martha Crago for her career-long commitment to promoting research and scientific collaboration between Canada and Germany.
On March 22, Martha Crago, PhD, Vice-Principal, Research and Innovation, was presented with the Knight's Cross of the Order of Merit of the Federal Republic of Germany. The award was handed over by Germany's Ambassador to Canada, Sabine Sparwasser, at a special ceremony at McGill University. The Order of Merit is awarded to Germans as well as foreigners for outstanding achievements in the political, economic, social, or intellectual realms.
"Striving for excellence, extending the frontiers of knowledge and investing into research – these are the factors that will enable our nations to be successful and free in the next century," said Ambassador Sparwasser. "We honour those who promote science and research. Martha Crago has shown extraordinary dedication to fostering cutting edge Canadian-German science and research relations during her long and outstanding career. She played a key role in advancing flagship projects for the bilateral research collaboration. Among these projects are the Helmholtz International BigBrain Analytics and Learning Laboratory, an undertaking of Healthy Brains, Healthy Lives at McGill University, Helmholtz International, Forschungszentrum Jülich (FJZ), and Mila, which is mapping the human brain by using technologies such as artificial intelligence."
Prof. Crago (née Borgmann) has a close relationship to Germany, stemming from long-standing professional and family connections. At McGill, she has facilitated several research partnerships between Canada and Germany. Under her leadership, McGill, and its affiliate the Douglas Research Centre, have formed an international partnership with the Max Planck Institute of Psychiatry. This collaborative initiative is the first international effort devoted to understanding the relational biology of early-life adversity and psychiatric disorders.
As the Vice-President (Research) at Dalhousie University, Prof. Crago spearheaded a MOU between the Helmholtz Institute of Marine Sciences (IFM-GEOMAR), formerly known as Leibniz Institute of Marine Sciences, in Kiel, Germany, and the Halifax Marine Research Institute (HMRI). She hosted a visit by Chancellor Merkel to the University to celebrate the partnership.
In 2015, when families fled from war torn Syria and found refuge in Germany and Canada, Prof. Crago was influential in establishing funded partnerships between Canadian and German child development researchers and refugee and immigration scholars.
Prof. Crago was appointed a Member of the Order of Canada in 2017 and awarded an Honorary Doctorate by the University of British Columbia in 2020. In 2009, she was made a Chevalier de l'Ordre des Palmes Academiques by the French government. She was named a Woman of Excellence by the government of Nova Scotia in 2015 and Femme de Mérite de Montréal in 2000. She is also the recipient of a McGill University Prize for her contributions to research.
"I am deeply touched to receive the Knights Cross," said Prof. Crago. "My connection to Germany has been woven throughout my life, decade by decade, from childhood summers spent with my German Canadian grandmother to my work connecting excellent Canadian researchers with outstanding German counterparts. I was in Berlin in August 1961 the day the Berlin Wall went up and I was also there on November 9, 1989, the day it fell. These life-defining moments continue to inspire me in the pursuit of ideas that transcend boundaries."