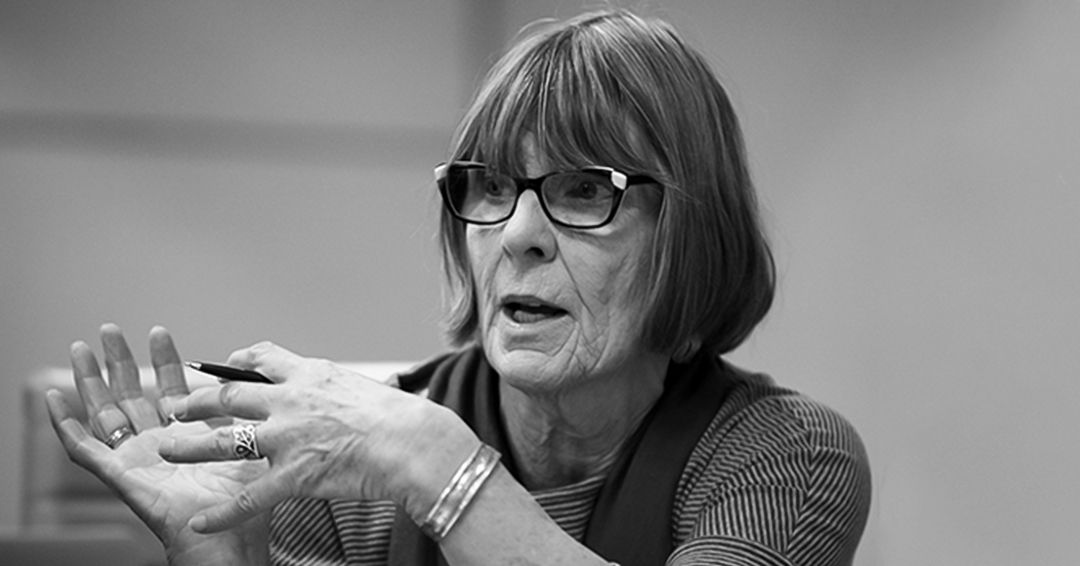 It is almost impossible to sum up the accomplishments of a career that spans more than five decades and has contributed so much to our understanding of the relationships among emerging medical knowledge and cultural, social, and political variables. Margaret Lock, PhD, Marjorie Bronfman Professor Emerita, Department of Social Studies of Medicine at McGill, is a world-renowned medical anthropologist and one of the pioneers in the discipline. Nearly 30 years ago she published ground-breaking work on menopause, making a profound contribution to women's health.
Prof. Lock began her studies in biochemistry, graduating with a BSc from the University of Leeds. She eventually moved to San Francisco and worked at the University of California, San Francisco (UCSF). An extended trip to Japan sparked her interest in anthropology, and upon returning to San Francisco she enrolled in the Anthropology Department at University of California, Berkeley, where she earned a PhD in Cultural Anthropology in 1976.
"The discipline of medical anthropology was being formulated and set up at that time in the Bay area," says Prof. Lock, who went on to do post-doctoral work in the Medical Anthropology program at UCSF.
An enormous innovation
In 1977, Donald Bates, MD, PhD, recruited Prof. Lock to McGill. "Don was an MD and PhD, and an imaginative and insightful historian," says Prof. Lock. At the time, he was head of the Department of the History of Medicine at McGill and wanted to expand it into an interdisciplinary social studies and humanities department embedded in the medical faculty. "Step by step he hired a sociologist, an anthropologist, another historian and turned it into a very outward looking department, one of the first, if not the first, to be created inside a medical faculty in order to expand the horizons of medical students and situate them in something bigger than simply basic scientific medical training. It certainly was an enormous innovation at the time." Her Medical Anthropology course, which she began teaching her first day in the Department, attracted students from across McGill.
Ground-breaking research on menopause
Cross-appointed in the Department of Anthropology, Prof. Lock's research on menopause resulted in one of the most important insights of her career and changed the thinking surrounding women's experiences about the end of menstruation. Prof. Lock spent a year conducting research in Kyoto, Japan, and worked with colleagues in Manitoba and the Boston area. "The reason our research has become very important and widely recognized is that we used very large samples and were able to present it in a way that epidemiologists and medical people could not refute, notably that the expression of symptoms of menopause were not overwhelming for the majority of women even though the medical profession kept saying it was," she says.
"Particularly in Japan, the number of women reporting symptoms at the end of menstruation was very small indeed. It also became clear that something going on in Japan was protecting these women in some way from having hot flashes and other unpleasant symptoms as they went through the end of menstruation." Prof. Lock worked with colleague Melissa Melby, PhD, and they were able to show through numerous interviews and questionnaires that certain significant parts of the diet, most notably soybean consumption, was protecting them. Prof. Lock's book Encounters with Aging: Mythologies of Menopause in Japan and North America has won nine awards including the J. I. Staley Prize for outstanding scholarship and writing in anthropology.
Prof. Lock is the author or co-editor of 18 books and more than 200 published papers. Her 2002 book Twice Dead: Organ Transplants and the Reinvention of Death examined the differing application of the concept of brain death in Japan and North America to procure organs for transplant. In 2013, she authored The Alzheimer Conundrum: Entanglements of Aging and Dementia, a critical investigation of knowledge about dementia and its management.
In recent years, Prof. Lock became interested in epigenetics. "It's a huge area which is showing very clearly that although genes do indeed determine certain diseases early in life, from then on the environment has a massive impact, and can actually be protective in very positive ways."
Change for the better
Prof. Lock retired from teaching more than 10 years ago but she continued to supervise post-doctoral and other students up until two years ago. "Over the years, I think my students have managed to change the world a little in fundamental ways for the better and I'm pleased with what we've done. I couldn't have done this without support, and McGill has always been a very supportive environment, particularly my department," she says. "I think the reason is that we are of different disciplines and we've learned to talk across these disciplines to communicate effectively."
Prof. Lock is a Life Member of the Royal Society of Canada, Academy of Arts and Sciences, and a fellow of the American Academy of Arts and Sciences. She is an Officer of the Order of Canada as well as L'Ordre national du Québec, and has received both the Killam Prize and the Molson Prize from the Canada Council for the Arts.