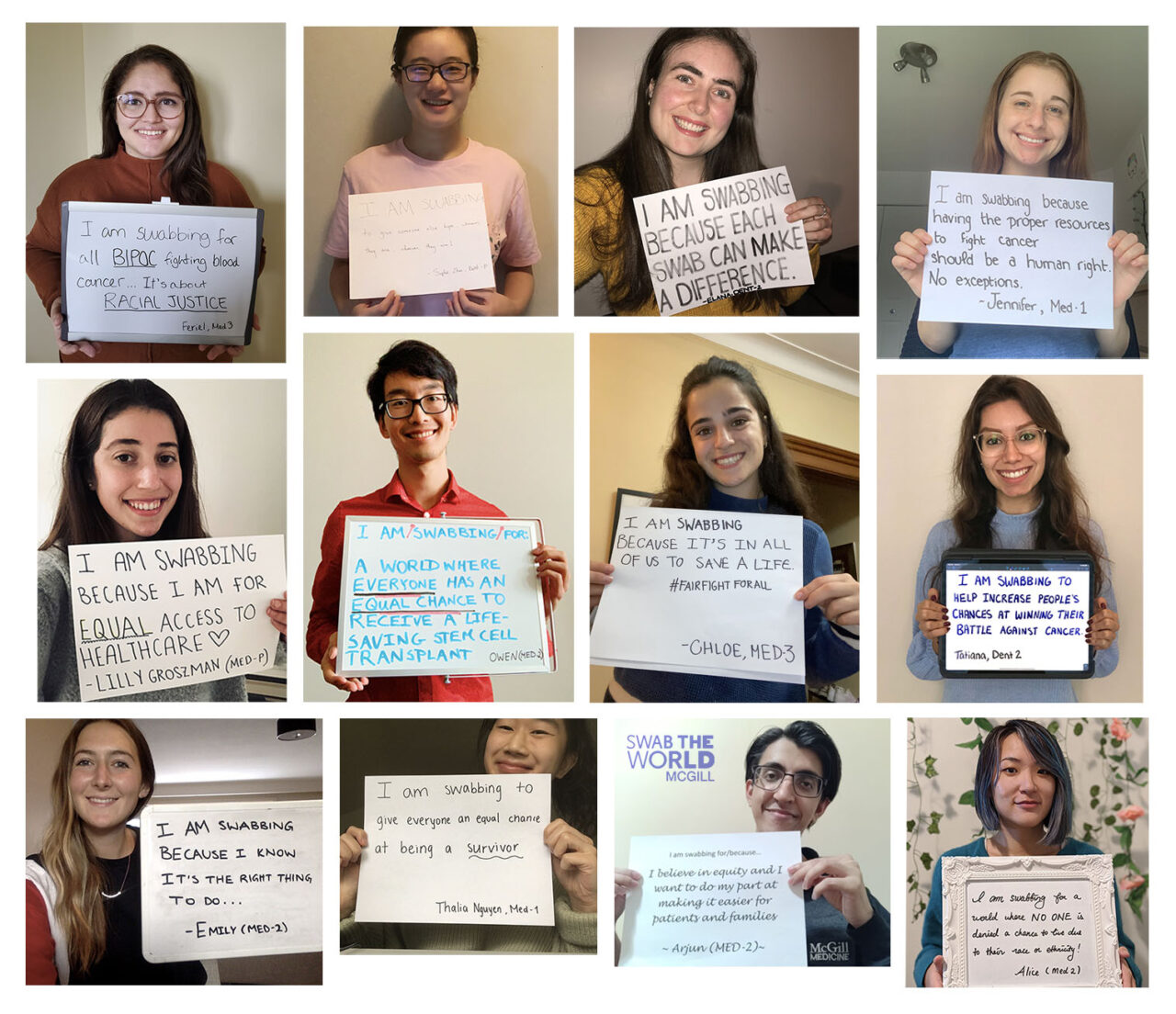 McGill medical and dental students launch virtual campaign
 By Swab The World McGill team

For many patients with blood cancers or hematological diseases, stem cell transplantation represents hope, and often, a second chance at life. At any point in time, approximately 1,000 Canadian patients await life-saving stem cell transplants. However, the world's stem cell donor registry is 70% white, while 88% of the world is not; in Canada, only 15.2% of the registry is Asian, 1.4% is Black and 1% is First Nations. This discrepancy makes it incredibly difficult for Black, Indigenous and People of Colour (BIPOC) to find suitable stem cell donors, as the precise genetic compatibility required between donor and recipient is most likely found between two people that share the same ethnic and racial background. For patients in need of stem cell transplantations, finding a compatible donor in a timely fashion can be a matter of life or death.

Recognizing these racial inequities that exist in the care of patients with blood cancers or blood-based diseases, a team of medical and dental students at McGill University decided to take action, founding the McGill chapter of Swab The World (STW). STW is a movement borne from the struggle that its founder Mai Duong experienced as a Vietnamese patient looking for a compatible stem cell donor amongst a registry severely lacking Vietnamese representation while battling leukemia in 2014.

With the ongoing COVID-19 pandemic, the STW McGill team got creative in developing ways to encourage interested and committed people to register as stem cell donors, planning an all-virtual stem cell donor recruitment campaign beginning in the fall semester.

On Friday September 25, 2020, STW McGill kicked off their campaign with the presentation of their first virtual "Swab Talk." The STW McGill team delivered an evidence-based presentation via Zoom, allowing the 19 attendees from the McGill and Montreal communities to learn about the need for stem cell donors and the troubling racial inequities undermining good outcomes in BIPOC patients requiring stem cell transplants. A stem cell donor and a recipient of a stem cell transplant also shared first-hand testimonials of their experiences.

Dean Mendel, a philanthropist and businessperson, shared his inspiring journey with the attendees – starting with him joining the registry, and then eventually being notified that he was in fact a match for someone needing a stem cell transplant. Mr. Mendel emotionally described his extremely rewarding experience with peripheral blood stem cell donation as, "Truly a gift, a chance to help someone, really a chance of a lifetime," and reinforced how important and meaningful the act of stem cell donation truly is. Finally, Mai Duong closed the event by recounting the worst day of her life, "When my doctors told me that they couldn't find me a match because of my ethnicity," and projecting her passion and dream to, "Swab everyone —across the entire world." All interested audience members were directed to register online at https://swabtheworld.com/en/become-a-donor to receive a cheek swab collection kit delivered to their doors and become stem cell donors.

Owen Dan Luo and Chloe Gordon, the founders and Co-Presidents of Swab the World McGill, second and third year medical students respectively, recognize that, "Now more than ever, we must confront the systemic inequities deeply rooted in our healthcare system, especially when all it takes to address racial inequities among patients in need of stem cell transplants are big heart and 10 minutes to swab and register to become a stem cell donor." The students pledge to have their all-virtual fall stem cell donor recruitment campaign, "Help people of all ethnicities and skin colours to regain their health, one swab at a time." As stated on the Swab The World Foundation website, "The world is a colourful place, we want to keep it that way."

Anyone interested in becoming a stem cell donor or learning more about the process of registering, matching and donating, is encouraged to reach out to the students at swabtheworldmcgill@gmail.com.

The following resources may also be of interest:
October 8, 2020