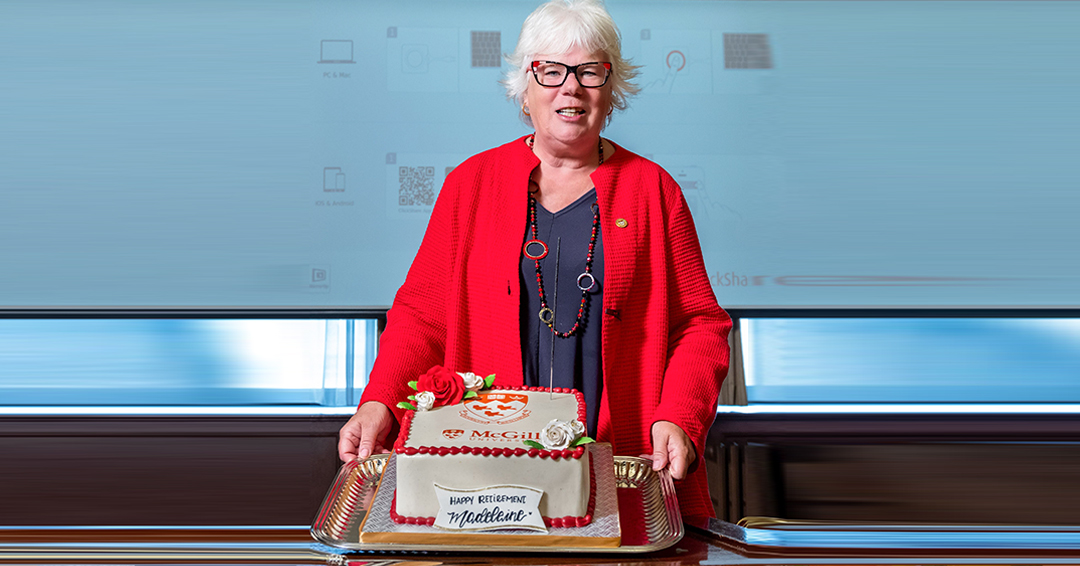 The Ingram School of Nursing (ISoN) recently hosted a memorable send-off for Professor Madeleine Buck, RN, who retired after an illustrious 35-year career as an outstanding educator, advisor, mentor and role model.
Throughout her career, Professor Buck remained laser-focused on transmitting best practices to the School's students.  As noted by Associate Dean and Director Anita Gagnon at the September 22 event, "Madeleine nurtured a stimulating, positive and safe learning environment, where she empowered her students to take charge of their learning. With her encouragement, our students developed the confidence to find and enhance their nursing voices, to participate in research and to present at conferences."
During her 18-year tenure as Program Director of the Bachelor of Science in Nursing, Professor Buck led many important initiatives, including an in-depth curriculum review and revision process that resulted in the design and launch of a dynamic new curriculum in 2017.  In addition, she led four accreditation reviews, and had major input into the design of the ISoN's ultra-modern Satoko Shibata Clinical Nursing Laboratories.
In 2006, Professor Buck initiated the ISoN's popular Ambassador Program.  This program enables students do their final clinical rotations outside the McGill system, where they have the opportunity to experience the challenges and rewards of nursing in low resource settings. These experiences in global health have been transformative for the more than 200 students who have participated in this program to date.
While she continues to be justifiably proud of her McGill connection, Professor Buck's influence reached far beyond our borders. She forged a rewarding and mutually respectful partnership with nurses in Tanzania, which led to the establishment of McGill Nurses for Highlands Hope. With funding from Stars in Global Health, the group created and ran a highly successful site-specific HIV/AIDS youth peer health education program in primary schools in rural Tanzania.
Madeleine Buck believed that nurse educators are more than just transmitters of knowledge – they are the safeguards of public health. "I was always conscious of the fact that with every student I teach, I am nursing hundreds of thousands of patients," she explained.
Professor Gagnon concluded her tribute by thanking Professor Buck for her exceptional leadership and for contributing immeasurably to "McGill's reputation as a university that advances the art and science of nursing, one student at a time."
In her touching and often humorous remarks, Professor Buck thanked the many extraordinary colleagues and visionary leaders she had the privilege of working with for close to four decades. "I treasured all my years here. Both the university and the School of Nursing have broadened my horizons, and created opportunities that enriched my life."