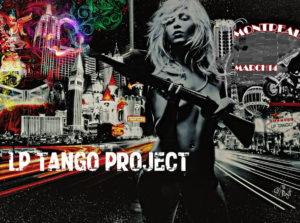 LIVE MUSIC! LIVE PAINTING! LIVE ART!
LP TANGO PROJECT VIDEO

Lee Park's new world music group features Canada's musical laureates: on trumpet Ron Di Lauro, faculty of University of Montreal and McGill University; on Stand Up Bass Solon McDade, of the Juno award winning group the McDades; on Baby Grand Piano, rising star artist, Mcgill Music Alumni Andrew Boudreau; on percussion, internationally renowned Mark Wheaton on percussion; national award winning violinist, Lee Park.

LP Tango Project combines elements of new tango music with traditional and contemporary painting with esteemed artists, Kevin Jenne and Alex Produkt. LP Tango Project Art Exhibit features Montreal's benchmark artists, Denise Buisman Pilger and Pazit Perez.

Talents Karina Max-Brown, pop artist; Geena Glowicki, sketch artist, present favourite pieces.

For more information about the LP Tango project, go to LP Tango Projects website www.leepark.ca

LP Tango Project takes place Saturday, March 14, with two shows at 3:00pm and 8:00pm on level two at Sofitel Hotel's Monet-Chagall Salon, 2nd floor 

1155 Sherbrooke Street West H3A 2N3

Tickets are $25 and proceeds (minus expenses) will be donated to the Old Brewery Mission: http://www.oldbrewerymission.ca/en/

Buy tickets here: http://www.leepark.info/#!tickets/cjg9

Don't miss this unique event!!

NB: Doors open one hour before each concert!

Contact: Lee Park: 514 746 4673

March 10, 2015