Diagnosed over almost two decades ago, Marc Vaillancourt refused to change his lifestyle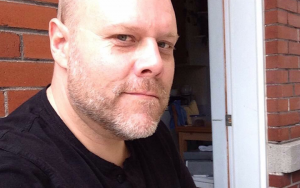 Victor Swoboda, The Neuro

Marc Vaillancourt remembers his defiant reaction when Dr. Liam Durcan, a neurologist at The Neuro, confirmed a diagnosis of multiple sclerosis (MS).

"I told the doctor, 'This disease is not going to change my life.'"

That was about 18 years ago. Since then, Marc, now 49, has dutifully taken medicine to manage his relapsing-remitting MS, but stubbornly has not altered his lifestyle.

"I was told to avoid the sun — I often had my MS symptoms in summer — but I love summer and the heat. That's why I go south every winter," says Marc, a creative director in advertising who works from home.

Nonetheless, as a result of MS, he had to relent and give up rugby, a sport that he played while living in Australia as a university student in the mid-1990s.

"When I returned to Canada, I played rugby in a West Island Montreal league but I had to quit because my dexterity was bad."

Marc first noticed that something was wrong in his final year at university.

"I began getting severe pain in my eye. My vision was blurry. I had a headache that lasted four or five weeks."

Australian doctors speculated that it might be a brain tumour or other form of cancer, but it was not until a year after Marc returned to Canada that the disconnect between his mind and muscles noticeably bothered him.

"I was at a computer and my brain was saying, 'Move the mouse,' but my hand wasn't moving it. I saw my general practitioner and he sent me at once to Dr. Durcan."

Marc underwent magnetic resonance scans as well as a lumbar puncture, a diagnostic procedure in which cerebrospinal fluid is removed from the lower spine with a needle. Born and raised in the francophone area of northern Ontario, Marc came from a family with no history of MS.

"I didn't know anything about MS," recalls Marc. "The only thing I knew was Annette Funicello."

Funicello, a Hollywood actress who became famous in the 1950s as a TV Mouseketeer and later as a teen star in California beach movies, publicly revealed in 1992 that she had MS. A Canadian documentary profiling her in 2012 showed her in a wheelchair, unable to walk or talk. She died a year later at age 70.

Under the care of Dr. Amit Bar Orr, another neurologist at The Neuro, Marc participated for more than a decade in a clinical trial of the drug Aubagio.

"My remissions were always unpredictable," recalls Marc of those years. "I could be in remission for a couple of days or a week. Everybody who has MS has different symptoms. When I had my lumbar puncture, I became friendly with a girl who was diagnosed with MS at the same time. She's been in a wheelchair for almost ten years. It's weird how this disease differs among men and women. And there's a higher incidence of MS among women than men."

Health Canada approved Aubagio in 2013 but approval was not to Marc's benefit.

"I was on the seven milligram version of Aubagio but Health Canada approved only the 14 milligram version," he notes. "I began the 14 milligrams, but it wasn't doing well for me."

Marc subsequently fell into "a little depression" and was less active, which caused him to put on weight. Dr. Bar Orr prescribed a different MS drug, Lemtrada.

"I finished my second cycle of Lemtrada last October and now I feel like a new man," says Marc. "I go to the gym four or five times a week, and take hour-long walks."

But there were side effects related to the drug.

"My sleep patterns became completely different. I have trouble falling asleep. Dr. Bar Orr prescribed me a medication if I can't sleep. I'm a creature of habit and routine and still rise at seven. I'd like to try and see about going back to a nine to five job and how my body would react."

Marc describes himself as "the kind of person who always sees the positive in everything." Oddly enough, he finds that his approach can work against him.

"Friends have told me, 'You're too positive sometimes because people don't know if you need help.' I don't ask for help because I don't want to be a burden. I'd rather people offer help."

Marc also finds that his normal appearance and behaviour can belie his condition.

"My friends and others who have MS say that just by looking at me, they wouldn't guess I had MS. At other times, they know right away that I'm having an episode, but they know I'm still Marc. Some friends wonder, 'Should we invite you over?' and I say, 'Just extend the invitation and I'll say yes or no.'"

Marc says that people sometimes make the mistake of believing that they should leave someone with a disease alone because "he needs to rest."

When Dr. Bar Orr left The Neuro last year, he left Vaillancourt in the hands of his colleague, Dr. Alex Saveriano. Marc now sees Dr. Saveriano every six months.

With regular clinical care, effective medication, and an understanding circle of friends, Marc can honestly say, "I have a good life."
May 10, 2018