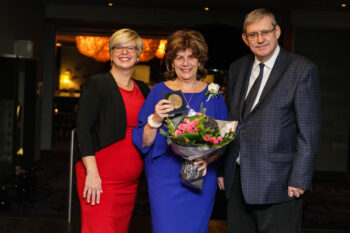 By Christina Kozakiewicz, Ingram School of Nursing

The Conseil interprofessionnel du Québec (CIQ)—Quebec Interprofessional Council—is a co-operative (member-funded) organization tasked with the mandate of grouping together all of Quebec's professional orders, serving an advisory role to the provincial government, and providing a collective voice for all of Quebec's professional orders, including nursing.

Upon the commendation (10 letters of recommendation, in fact) of the Ordre des infirmieres et infirmiers du Quebec (OIIQ)—Quebec Order of Nurses—McGill Nursing Faculty Lecturer and Neonatology Nurse Practitioner Program Coordinator Linda Morneault was awarded the CIQ Merit Award. Morneault's groundbreaking work as a neonatal nurse practitioner was recognized on November 19, 2017 at an official awards ceremony.

The CIQ Merit Award was created in 1990 and is awarded each year to specially nominated professionals to recognize their outstanding work in their fields. The goal of the CIQ Merit Award is to acknowledge and celebrate the careers of members of a professional order, individuals who have distinguished themselves through their contribution to their profession.

"It is quite an honour," says Morneault. "I thank the OIIQ for this recognition, and my peers as well, who recommended me for this award." Morneault is a graduate of Stony Brook University in Long Island, NY, and has been working as a neonatal nurse practitioner since 1994, at the Montreal Children's Hospital and the Royal Victoria Hospital. Morneault's practice sees her caring for premature and oftentimes gravely ill newborns and infants, and she is considered by many of her peers as a neonatology nurse practitioner pioneer in Quebec.

Morneault has been coordinating the Neonatal Nurse Practitioner program at McGill since 2008. "Recruiting and training the next generation of neonatal nurse practitioners is a major focus for me right now," she says.

Neonatal nurse practitioners work in collaboration with health care teams on the assessment, diagnosis and treatment of neonatal health conditions that fall within the scope of their practice, providing care to newborns and their families in intermediate, acute and critical care neonatal settings. The Ingram School of Nursing offers a Neonatology Nurse Practitioner program stream, the only one of its kind in Canada, to help train nurses for this advanced practice role.

Visit www.mcgill.ca/nursing and follow @McGillNursing on Facebook and Twitter for the latest news from the Ingram School of Nursing.

December 7, 2017