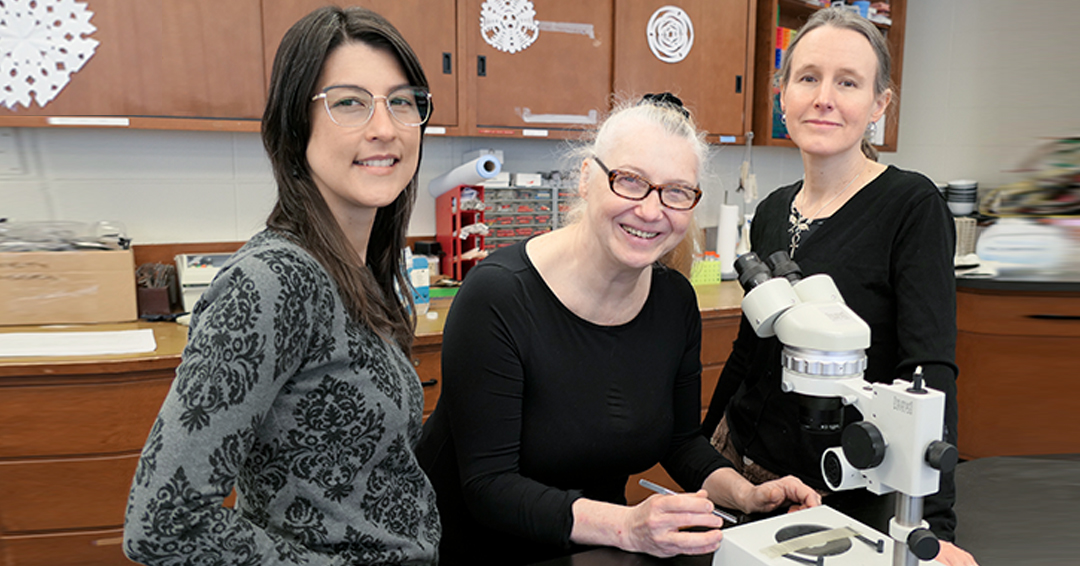 We are delighted to announce the recipients of the second annual Learner and Faculty Awards for Teaching Innovation. These awards were created by the office of the Vice-Dean, Education, Annette Majnemer, PhD, as part of the Faculty's ongoing Proud to Teach campaign to recognize faculty members and learners who developed and implemented innovative teaching strategies that are learning- and learner-focused.
"Congratulations to all the recipients of this year's awards!" says Prof. Majnemer. "Your commitment to finding ways to improve our learners' educational journey is an inspiration, especially given that your projects were developed and implemented under very difficult circumstances during the pandemic. We are so fortunate to have such a resourceful and talented group of creative and dedicated educators in our Faculty."
The winners were announced during Teacher Appreciation Week, which takes place annually in Quebec during the first week of February.
LEARNER Award recipients
ICU Bootcamp for Family Medicine Residents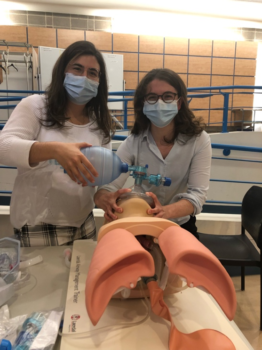 Recipients: Margo Abi Hanna, MD, and Paola Moresoli, MDCM, PGY II residents in family medicine and co-chief residents at St Mary's Hospital Center
Project: ICU Bootcamp for Family Medicine Residents at St-Mary's Hospital
In their own words: "We are honoured to have been bestowed the Learner Award for Teaching Innovation. Receiving this award is particularly meaningful considering how much the pandemic has impacted teaching in medicine, especially hands-on and simulation learning, which is paramount to our training as physicians." – Margo Abi Hanna and Paola Moresoli
Suturtise, a medical education platform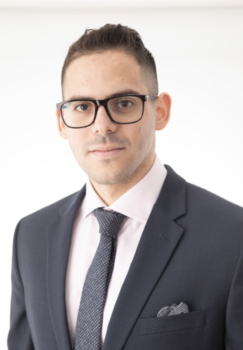 Recipient: Hassan Elhawary, MDCM, surgical resident at McGill University
Project: Suturtise, a medical education platform that provides a structured set of surgical skills workshops aimed at teaching medical students different types of suturing.
In his own words: "I have been mentored all my life, whether it was my parents, my older brother, or the various other mentors who all had an integral part in my development.  Therefore, as someone who truly understands the importance of mentorship and values propagating knowledge, our team established Suturtise, a hybrid online platform, that helps cultivate students' surgical skills and prepare them for their surgical rotations and careers." – Hassan Elhawary, MDCM
McGill Scientific Writing Initiative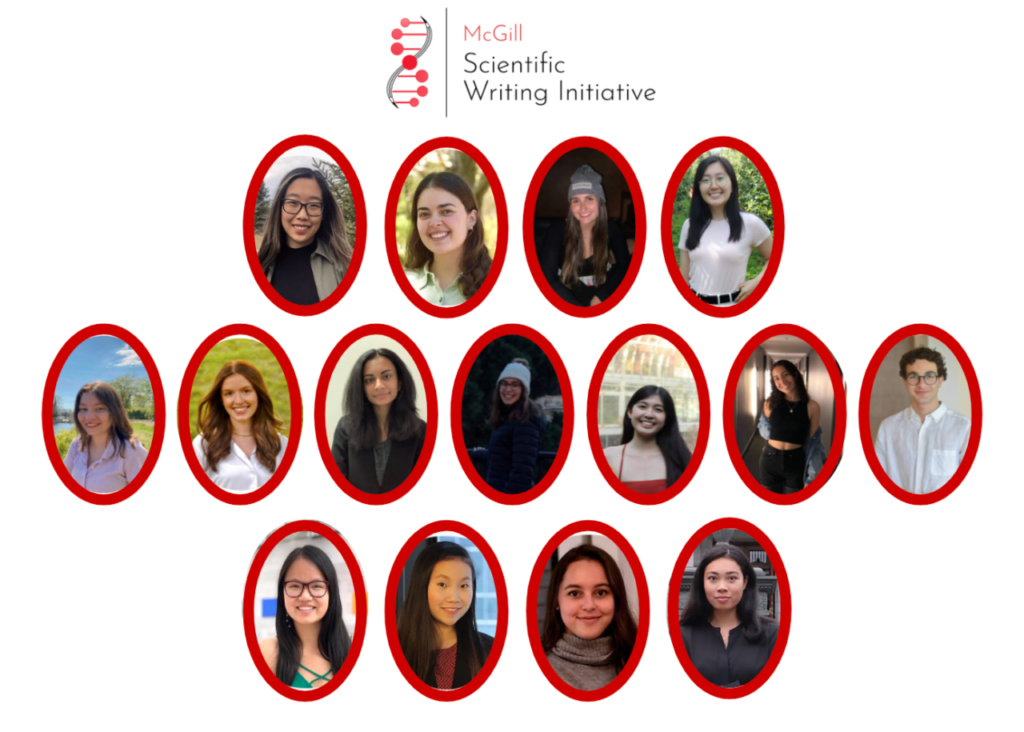 Recipients: Sydney Wasserman, RN, graduate student in the Advanced Clinical Practice in Nursing MSc(A) program and a registered nurse clinician, in the Emergency Department, Montreal General Hospital
Kate Kim, undergraduate student in Honours Neuroscience with a minor in Computer Science at McGill University.
Project: McGill Scientific Writing Initiative (MSWI)
In their own words: "Being selected for the Learner Award for Teaching Innovation means the world to us at MSWI. As a student initiative born from a passion for science communication, this truly is a reflection of our goal coming to life. We are honoured to be the recipients of this award and look forward to growing our exposure and expanding student knowledge for scientific writing for years to come." – Sydney Wasserman, Kate Kim and MSWI team
FACULTY Award recipients
Supporting student project WeCanVax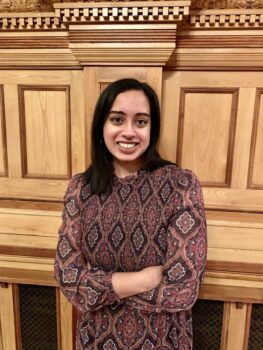 Recipient: Ananya Banerjee, PhD, Assistant Professor, Department of Epidemiology, Biostatistics and Occupational Health
Project: Supporting student project WeCanVax, a public health promotion project in Foundations of Health Promotion class
In her own words: "I am humbled and honoured to have received the Faculty Award for Teaching Innovation. Public health students are the heart of my academic career and are the passport to a better future grounded in equity and social justice. The biggest reward for me is to see them take their skills beyond the walls of the classroom and into the community to collaborate, engage and transform." – Ananya Banerjee, PhD
Complete revamp of a rheumatology resident program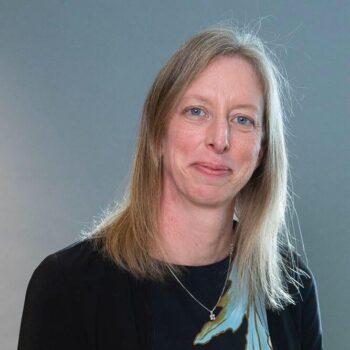 Recipient: Elizabeth Hazel, MD, Rheumatologist, Residency Training Program Director
Project: Complete revamp of Canadian Rheumatology Association (CRA)'s flagship program for rheumatology residents
In her own words: "The COVID-19 pandemic has been particularly stressful for our trainees with their teaching often taking a back seat to service obligations.  In many ways, this award recognises the importance of their training and finding ways to adapt to this changing world. I am so lucky to work with dedicated teachers at McGill and at the Canadian Rheumatology Association who have supported my ideas and allowed us to pilot projects to help rheumatology residents reach their academic goals.  I am especially grateful to Dr. Dharini Mahendra from the University of Toronto, who co-directs the National Rheumatology Resident Curriculum project with me, and to Dr Sasha Bernatsky, who tirelessly celebrates excellence in her colleagues." – Elizabeth Hazel, MD
3D Anatomy Factory and reconfiguration of McGill's Anatomy Laboratory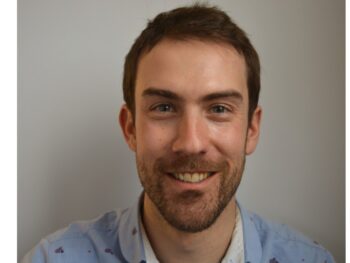 Recipient: Gabriel Venne, PhD, Assistant Professor, Department of Anatomy and Cell Biology and Associate Member, Institute of Health Sciences Education
Project: 3D Anatomy Factory and reconfiguration of McGill's Anatomy Laboratory to enable small-group teaching
"If education is the foundation of society, as educators, we directly impact its evolution. We can teach our subject, but we can also promote constructive values and humanize the learning experience. Our classroom has to represent what we would like our society to be: equitable, fair, non-judgmental, positive, emancipating. At McGill, we are privileged to have tremendous support helping us, educators, to contribute to the advancement of the next generation; this award highlights the importance of this team effort. If it takes a village to raise a child, it takes a whole University and education system to raise a generation. – Gabriel Venne, PhD
The Hospital Elder Life Program (HELP)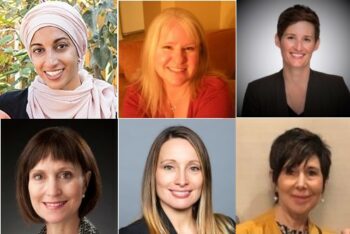 Recipients: Crystal Garnett, PT, Academic Coordinator of Clinical Education and Faculty Lecturer, School of Physical and Occupational Therapy, McGill
Marie-Lyne Grenier, OT, PhD, School of Physical and Occupational Therapy, McGill
Aisha Khan, OT, Occupational Therapist at CIUSSS de l'Ouest-de-l'Île-de-Montréal
Isabelle Lamontagne, H.E.L.P. coordinator, Jewish General Hospital
Maxine Lithwick, Director of Social Services, Jewish General Hospital
Cynthia Perlman, OT, Assistant Professor (Professional, School of Physical and Occupational Therapy, McGill
Project: The Hospital Elder Life Program (HELP) at the Jewish General Hospital, a comprehensive, evidence-based, patient-centered program that provides optimal care for hospitalized older adults (age 75 years +)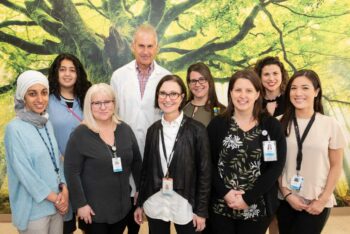 In their own words: "This community partnership reflects our commitment to creating collaborative, sustainable, and preventative healthcare for hospitalized older adults in our Montreal community, as well as providing undergraduate healthcare students with hands-on, community-rooted and equitable learning opportunities. We hope that this curriculum-integrated community partnership continues to grow as a model for innovative healthcare delivery and educational opportunities. Thank you to the students and faculty who nominated our team, we are deeply humbled and look forward to growing this initiative even more in the years to come!" – Crystal Garnett, Marie-Lyne Grenier, Aisha Khan, Isabelle Lamontagne, Maxine Lithwick and Cynthia Perlman
"I am profoundly touched to receive this award along with my colleagues Aisha, Maxine, Marie-Lyne, Crystal and Cynthia. Our collaboration has always been – and continues to be – pleasant and productive, which allowed us to get this project going three years ago and to offer students a chance to be in contact with hospitalized older adults and to offer them their invaluable support." –Isabelle Lamontagne
Interactive case-based pediatric surgical education for a global audience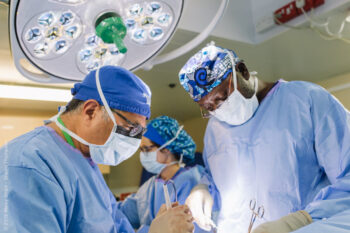 Recipient: Sherif Emil, MDCM, Professor of Surgery and Pediatrics, McGill University and Director, Division of Pediatric Surgery, Montreal Children's Hospital
Project: Interactive case-based pediatric surgical education for a global audience
In his own words: "I have received many teaching awards in my career but this award for Teaching Innovation is particularly meaningful because it recognizes my passion for teaching, as well as my passion for global health. Sharing interactive case-based pediatric surgical education with a global audience of learners and practitioners through multiple web-based platforms has been truly a blessing. This effort has allowed me to extend my educational outreach into all corners of the world, particularly to low and middle-income countries, creating a global learning community. As medical educators, we are also global citizens and we can further the cause of educational equity and inclusion by thinking past our institutional and national borders, working to democratize medical education." – Sherif Emil, MDCM
Transitioning the landscape of telesupervision in Speech-Language Pathology trainees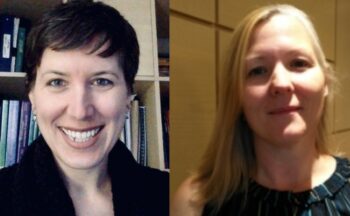 Recipients: Lauren Tittley, SLP, Faculty Lecturer (Professional) and Coordinator of Clinical Education, School of Communication Sciences and Disorders, McGill
Mariska Burger, SLP, Faculty Lecturer (Professional) and Clinical Education Associate, School of Communication Sciences and Disorders, McGill
Project: Transitioning the landscape of telesupervision in Speech-Language Pathology trainees
In their own words: "It is a great honour to receive the Faculty Award for Teaching Innovation. Quickly adapting our clinical teaching approaches when faced with the Covid-19 pandemic was a significant challenge and I am very proud of what my colleague, Mariska Burger, and I achieved. We put tremendous efforts into ensuring that our students received high quality clinical education experiences and learned new skills that would benefit them in the transition more remote/virtual clinical work. It is very rewarding for our work to be acknowledged with this award." – Lauren Tittley, SLP 
Production of Video Modules for labs taught in PHGY212 and PHGY213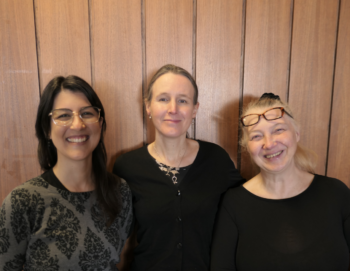 Recipients: Melissa A Vollrath, PhD, Assistant Professor, Department of Physiology
Elizabeth Matthes, Lab Course Coordinator, Undergraduate Teaching Labs, Department of Physiology
Marta Bakinowska, Lab Technician, Department of Physiology
Project: Production of Video Modules for labs taught in PHGY212 and PHGY213
In their own words: "Our team produced a large set of videos and online content to provide students in the Physiology labs with the best possible learning experience during the pandemic. We appreciate having this effort recognized by the selection committee and the positive feedback we received from our students. These materials will continue to be a valuable teaching resource for years to come." – Melissa Vollrath, PhD, Elizabeth Matthes and Marta Bakinowska