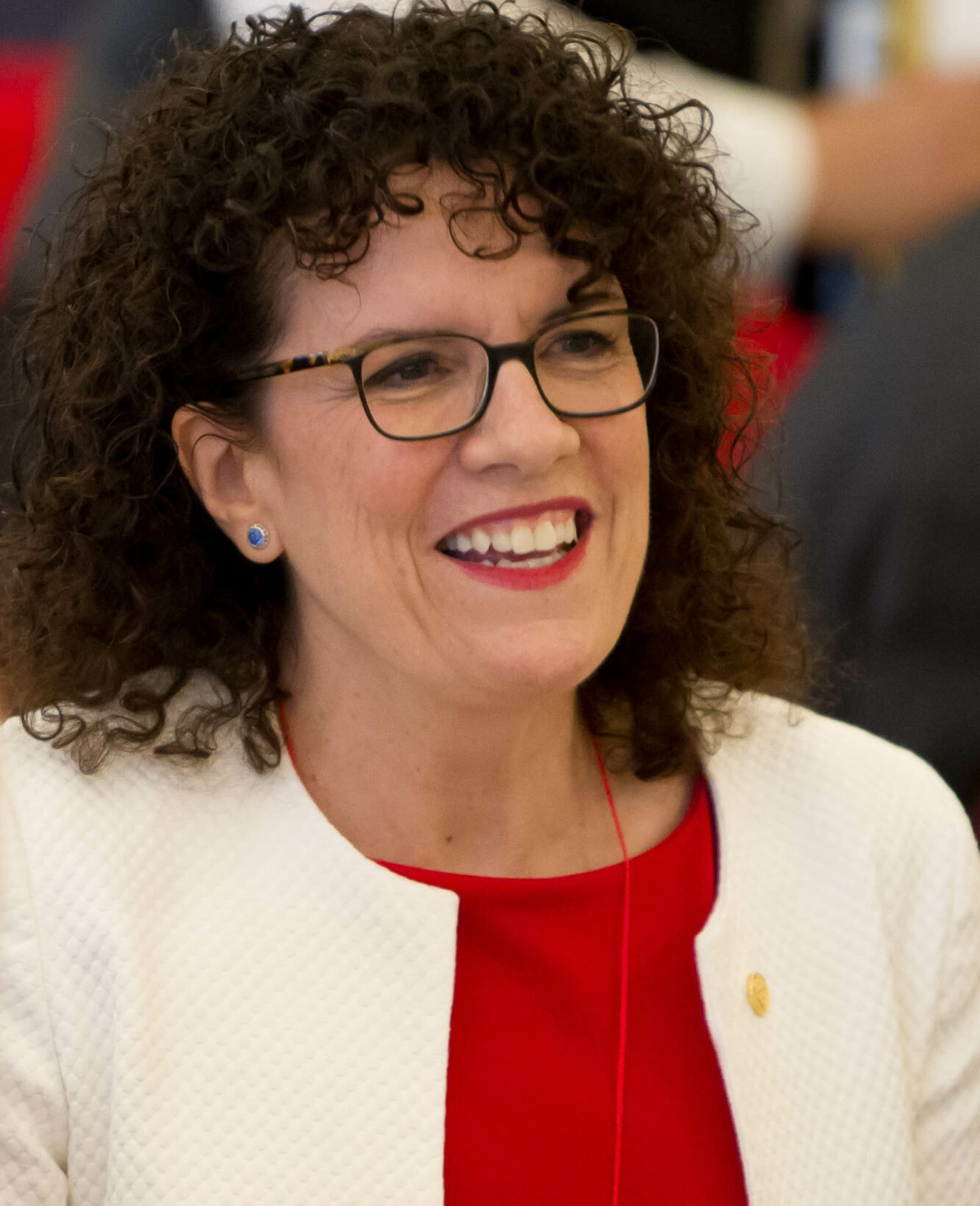 By Christina Kozakiewicz, Ingram School of Nursing

"Caring". "Compassionate" "Trustworthy". "Hardworking". These are just a few of the words you might commonly hear when it comes to describing nurses and the nursing profession. Not surprising, since nurses have been voted the most respected professionals in the country two years in a row, according to Insights West polling.

If you ask Lynne McVey, Associate President & Chief Executive Officer of the West Montreal Integrated University Health and Social Services Center, there are some additional words she'd like to see more commonly associated with nursing, such as "leader", "CEO", and "decision maker". For McVey, nurses can—and should—be taking their rightful place in the highest echelons of leadership in health care administration and policy. Delivering 90% of all health care services to the world's 7 billion people (and counting); nurses are well-poised to take on and excel in leadership and decision-making roles.

In celebration of National Nursing Week in Canada starting May 7, Lynne McVey shared her thoughts with us about nursing, how nurses can effect change in health care policy, what has sustained her over her more than 25 years in health care administration, and what her vision for the future of nursing looks like.

Why did you become a Nurse?
As an undergraduate student in Physiology at McGill, I was very fortunate to be offered a position as a research assistant on a large epidemiology study. Collecting data on hundreds of newborns in the homes of their parents taught me that there are critical moments when young families need professional support in order to prevent illness and to cope with unexpected symptoms. The
Direct Entry Masters Degree in Nursing
at McGill program provides that kind of professional training. I chose to enroll in that program and to become a nurse.Additional training and a Fellowship in Health Care Administration at the Wharton Business School, University of Pennsylvania prepared me to further my career as a health care executive, a CEO and now Associate President Chief Executive Officer. No matter what position I hold in the health care system, I am always mindful to proudly add the letters 'RN'
(registered nurse)
at the end of my signature.
What do you think is the number one misconception about nurses or nursing?
It is a common misconception that most people do not believe that nurses' interventions save lives and contribute significantly to the recovery of the patient. It is scientifically proven that when nurses and doctors partner together more effectively in their work, fewer people die, and mortality rates can be reduced by up to 40%! This is powerful and has not yet been fully understood or put into action for the benefit of the health of the population.
When, as nurses, we succeed in making the headlines about the importance and the life-saving nature of our work, young people will select nursing as a top career choice.

Regarding headlines about nurses being overworked, exhausted, etc., what do you think needs to change
Headlines about nurses being overworked do not necessarily make our profession attractive to younger generations. We have a responsibility and a role to play in highlighting the life-saving work of the nursing and health care professions. Nurses, doctors and other health care professionals for that matter, are, at various points in time overworked and exhausted. I have felt that way as well on many occasions throughout my career. In the vast majority of cases, this is due to budgeted, vacant positions not being filled leading to a shortage of staff. Attracting young people into the health care professions as a career choice is a responsibility we all have as citizens wishing to preserve our publicly funded health care system.
 What needs to happen in terms of policy when it comes to nursing?
Thanks to the leadership of our current provincial Director of Nursing, Mme Sylvie Dubois, we are witnessing policy being influenced through three provincial pilot projects studying the impact of nurse-patient ratios on health outcomes for patients. There is plenty of research to demonstrate the positive impact on preventing deaths and reducing complications when nurses take care of not more than five patients at a time. These pilot projects in Quebec are where we are seeing, for the first time, research results influencing policy through concerted leadership. Similar policy development for the future of nurse practitioners in Quebec is also needed.I am very excited to witness the creation of nurse practitioner positions in mental health in our province. Although we have succeeded in reducing the rates of death by suicide in recent years, it still represents
between 22% and 30% of all deaths in young persons aged 15 to 24 years
. Nurse practitioners joining the ranks with family physicians, psychologists, psychiatrists and other health care professionals will make a difference in the prevention of suicide.
How can nurses be more involved in policymaking?
Nurses who choose career paths in health care administration and who compete for and are appointed to CEO and/or senior government positions have a real opportunity to be involved in policy making. We have not yet reached maturity in rallying around members of our profession who achieve these positions. Building consensus is imperative amongst administrative, clinical and university stakeholders in order to then influence and lobby for policymaking that will position the important role nurses play in saving lives.I believe we have much to learn from our physician colleagues in this regard.
What are some of the different ways you have witnessed nurses effecting change in policy?
As
Annette Kennedy
, president of the
International Council of Nurses
said in Barcelona in May 2017, "We must be at every table to influence health policy, and it is only by working together that we will achieve our goal." I have witnessed and been directly involved in influencing a movement among the Directors of Nursing in the province of Quebec when, in 2009, we were the only province not to have a provincial Director of Nursing influencing policy at the ministerial tables. As founding co-president of the Association of Quebec Directors of Nursing, I co-lead a series of meetings with government, and provided leadership that led to us mobilizing our efforts in influencing government to create such a position. As a result, in September 2011, we witnessed the very first nomination of a Director of Nursing to the Ministry of Health and Social Services in Quebec. As nurses, this type of rallying together to reach our goals is essential going forward into the future.
What has sustained you throughout your more than 25 years in health care administration?
As a citizen of Quebec and Canada, over the years I have come to understand the value of our publicly funded health and social services system, which is a national treasure whose preservation requires investment and for each one of us to make a decision to support it, every single day. This support is provided either through the taxes we pay or through the decisions we make on how we receive our health care when needed. Our publicly funded health and social services system is the backbone of our democratic society and the envy of citizens from other countries around the world. It is the privilege of working to preserve this national treasure that provides meaning, and motivates and sustains me as a health care administrator. Knowing that a patient and their family is receiving life-saving care without the additional burden of potential personal bankruptcy to finance that care motivates me on a personal level.
If you could go back, what would you tell yourself at the beginning of your career?
I would tell myself to never, never give up, and to embrace the career path of a nurse becoming a CEO and/or senior government administrator.
What is your vision for the future of nursing, and what does that vision require to become a reality?
My vision is twofold. One, I see nurses as true partners at policymaking tables and in the taking care of patients. Inter-professional education at the University level is a promising way forward to achieve this goal. Thanks to the combined leadership of Dean Eidelman, MDCM, and the Associate Deans and Directors of the Faculty of Medicine schools including Anita Gagnon, RN, PhD, there are currently many efforts underway at McGill to put this into place, which is very exciting. When nurses, doctors, physio- speech- and occupational- therapists learn together in the same classrooms, partnering with each for the good of patients will follow naturally into the health care system. Then, we can finally break down some of the misconceptions that currently exist about our respective professions, and ultimately save more lives. Two, I see nurses "leaning in" to achieve CEO and senior government positions in our publicly funded health and social services system. I see all members of the nursing profession rallying around these leaders to influence policy leading to a future where we may ultimately witness a nurse being elected as Minister of Health and Social Services in Quebec!
May 2, 2018