Neurobiologist garners international award for research on how childhood experiences affect brain development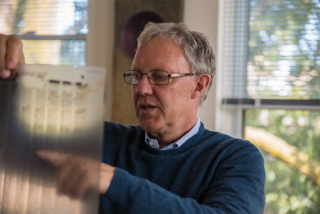 McGill University Professor Michael Meaney has been selected as the 2014 Klaus J. Jacobs Research Prize Laureate in recognition of his groundbreaking achievements in the biology of child development. A jury of experts selected Prof. Meaney, who is also Scientific Director at the Ludmer Centre for Neuroinformatics and Mental Health at the Douglas Mental Health University Institute, for this honor for his pioneering, cutting edge research on the biological mechanisms by which parental behaviour affects brain development and lifelong function. 
The Klaus J. Jacobs Awards was established in memory of its founder, entrepreneur Klaus J. Jacobs, who passed away in 2008, each year since 2009 the Jacobs Foundation has presented two awards for outstanding achievements in research and practice in the field of child and youth development. The Klaus J. Jacobs Research Prize, which includes an award of one million Swiss francs, (1M USD) honours scientific achievements that are of exceptional social relevance in promoting the development of children and youth. The Jacobs Foundation attaches great importance to the practical application of scientific findings achieved through interdisciplinary research.
"I am profoundly touched to receive this incredible honour from the Jacobs Foundation," says Prof. Meaney, "Now that we know that childhood experiences change how genes are expressed, we may be able to identify the children who are most at risk and put in place appropriate interventions at ages early enough to provide sustained benefits. This will make it possible to develop therapies tailored to the needs of each child – therapies that are likely to produce the greatest benefits and to be most cost-effective over the long term".

"On behalf of the entire McGill community, I want to congratulate Prof. Meaney for his remarkable achievements and thank the Jacobs Foundation for this prestigious award," said Prof. Suzanne Fortier, Principal and Vice-Chancellor of McGill. "Prof. Meaney's trailblazing research has important implications for social policy. His work may make it possible to put in place appropriate intervention programs for highly vulnerable children."

The Klaus J. Jacobs Awards will be presented on December 5, 2014, at an award ceremony at the University of Zurich, Switzerland.

Jacobs Foundation: http://jacobsfoundation.org/what-we-do/klaus-j-jacobs-awards/

Video
October 10, 2014