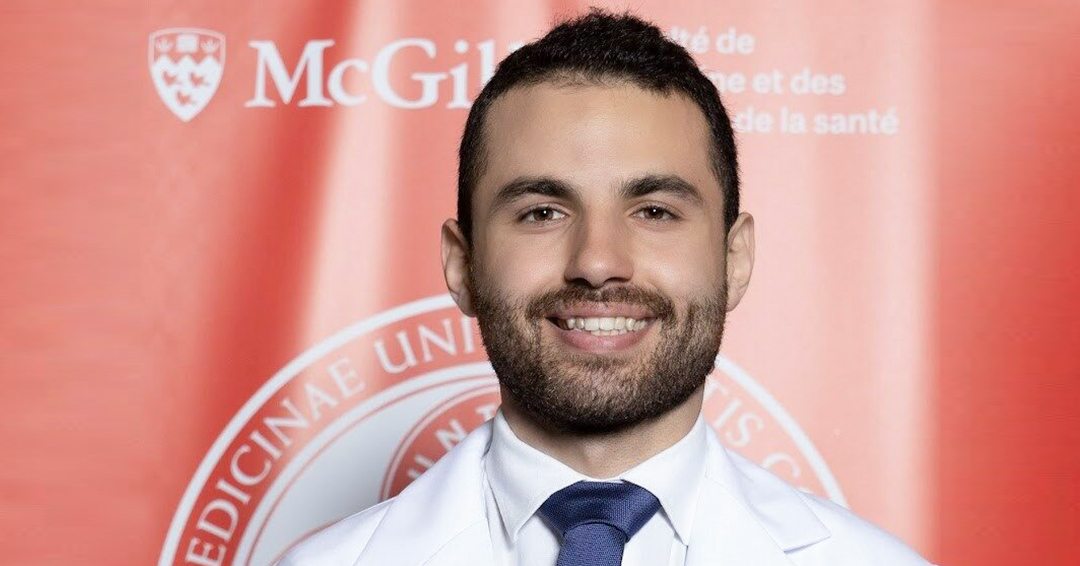 In 2018, the medicine student helped turn the Arab Students' Association, founded in 1962, into a SSMU student service
Second-year medical student Karim Atassi (BSc '20), the former president of the SSMU's Arab Student Network (ASN), is this year's recipient of the Dave Williams Leadership Award. The award from the Faculty of Medicine and Health Sciences recognized his contributions promoting harmony and understanding between Muslims, Christians and Jews at McGill.
"It is extremely impressive to see someone striving (and succeeding) for unity during these times of great division," wrote Dr. Joanna Caron, Physicianship Component Director, Faculty of Medicine and Health Sciences, in a letter notifying Atassi of his award. "We were humbled and inspired by your clear vision and what you have managed to accomplish.  Your work has clearly made and will continue to make a big impact on the McGill community."
The award was established in 2012 to recognize medical students in their first or second year of the M.D., C.M. program who exemplify "principles of leadership, such as setting direction, motivating people, and modelling the way" in areas of community outreach, education, research or student life. The award is named in honour of physician and former astronaut Dave Williams (BSc '76, MDCM '83; MSc '83, DSC'07).
Became SSMU service in 2018
The origins of the Arab Student Network can be traced back to 1962, and the creation of the Arab Students' Association, which hosted a wide variety of social, education and fundraising events aimed at sharing and promoting the richness and diversity of Arab culture and heritage to the wider McGill community – a vocation which continues today under its current name.
In 2018, the Arab Students' Association became an SSMU student service by way of a student referendum, and changed its name to the Arab Student Network. The SSMU operates 17 student-run services. Unlike clubs, which require membership, student services are resources open to all McGill students.
Atassi says the ASA was rebranded as the ASN in the midst of a tumultuous year which saw civil wars in Syria and Yemen leave tens of thousands of people dead; deadly clashes along the border between Israel and Gaza; the gruesome murder of journalist Jamal Khashoggi inside the Saudi consulate in Istanbul; and a pair of controversial moves by the Trump administration in the United States – moving the country's embassy in Israel from Tel Aviv to Jerusalem, and the end of the three-year old nuclear arms accord between the U.S. and Iran.
"This project began at a time when geopolitical tension in the Middle East was causing an uprise in anti-Semitism and Islamophobia on campus," Atassi said. "Therefore, we decided to raise our concerns to the SSMU legislative council and pass a motion to establish an inclusive service that would allow all students, irrespective of background, to feel comfortable and welcome to explore what the Arab culture has to offer without the fear of labelled-stigma and media narratives."
Atassi is inspired by growing up in a family which he says both respected and celebrated the diversity of all Abrahamic faiths.
"I learned from a very young age that focusing on what it is that we have in common, as opposed to amplifying any differences that we may have in views, is the optimal route for the pursuit of human connection," Atassi says.
Inclusion, equity, diversity
The Arab Student Network has spearheaded a number of initiatives, including continuing the Arab Student Association's ArabFest, a festival which brings together all MENA (Middle East and North African) organizations on campus in the name of celebrating the similarities between Arabs, including food, culture, and activities. It also offered students the first MENA networking event at McGill, featuring several big names from the corporate world, including Deloitte, SNC-Lavalin and Air Canada.
The group has also partnered with Welcome McGill to offer campus tours in Arabic, and also provides discounts for students at MENA businesses in Montreal, including Basha, Boustan and Shawarmaz.
"Receiving this award means a lot to me," Atassi said. "It makes me feel recognized for the efforts we invested in perpetuating a message of unity amongst Middle Eastern & North African students. It also acts as a solid reminder that when we remember that we are all human, homo sapiens, members of the same species, it is possible for us to look past any political and religious differences we may have in the name of inclusivity, equity and diversity."