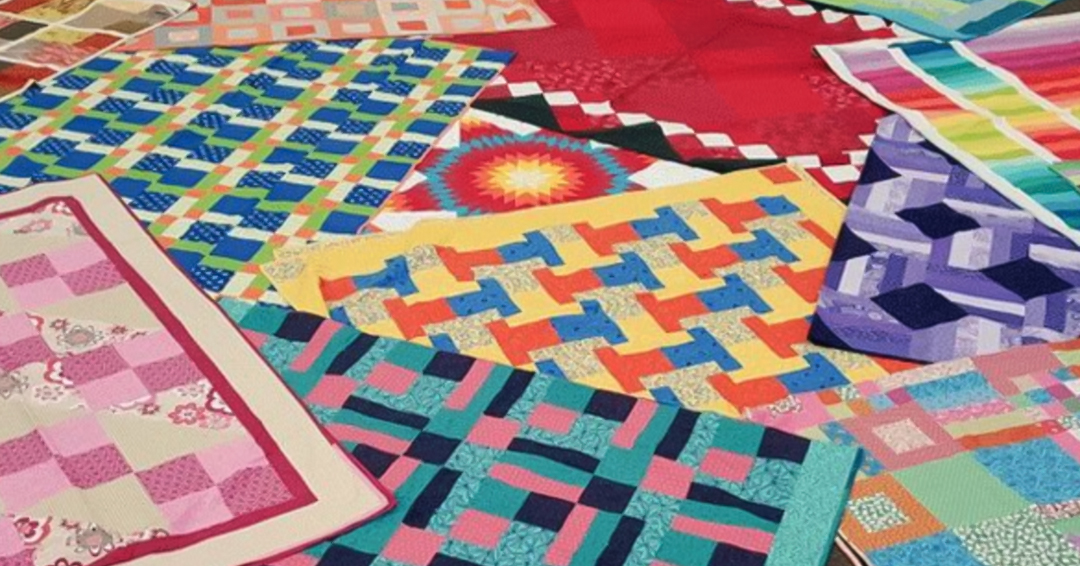 On November 17, the Department of Family Medicine held a participatory Indigenous history lesson called a KAIROS Blanket Exercise. The event was organized by Alex McComber, Assistant Professor of Family Medicine, as part of the coursework for students enrolled in his course FMED 506 Indigenous Perspectives Decolonizing Health Research. Faculty and staff from other units were also invited to join.
The event took place in a large room with the floor covered in blankets in different sizes and colours. Elder Amelia Tekwatonti McGregor, Kanien'keha:ka, performed the Ohenton Karihwateh'kwen (the Words Before All Else) to bring participants' minds together and open the event. Facilitator Vicky Boldo, Special Advisor, Indigenous Student Support at Bishop's University, invited participants to remove their shoes and step onto the blankets and circulate. Boldo and Richard Budgell, Assistant Professor of Family Medicine (in the role of a government agent), then began to recount Indigenous history, from its beginnings through to the arrival of settlers, right up to the present day. Participants were also asked to read texts that recounted experiences of Indigenous peoples at various moments in their history, including treaty negotiations, the creation of reserves, residential schools, imposition of the band system of governance, the spread of disease, the Sixties Scoop and present day Indigenous youth in foster care.
Throughout the event Boldo, who is of Cree/Coast Salish/Métis heritage and a survivor of the Sixties Scoop, and some of her helpers – Prof. McComber, Prof. Budgell, Sarah Konwahahawi Rourke, Director of the Indigenous Health Professions Program (IHPP) and Alex Allard-Gray, IHPP Program Manager – shared stories from their own lives and communities, deepening participants' understanding of the effects of colonization on generations of Indigenous people.
As participants circulated, Boldo and her helpers kicked at the edges of the blankets, making Indigenous lands smaller and smaller. When a blanket was empty, they would snatch it away, mimicking the Canadian government's appropriation of Indigenous lands. Certain participants were handed dolls, representing Indigenous children. The dolls were later taken away by the helpers and placed on a separate blanket representing residential schools. White cards were handed out to many of the participants. Later in the exercise, those holding white cards were ordered off the blankets as they had died of smallpox or tuberculosis. Still others had to leave the blankets because they had been disenfranchised due to their decision to train to become physicians, lawyers, teachers or clergy.
The physically aggressive act of ripping away blankets (lands) and wiping out the population through disease had a powerful effect on the group. Some participants tried to maintain their territory by spreading the blankets back out, or straddling them so they could not be snatched. At the end of the activity only a few folded up blankets remained. Their inhabitants were spread out and isolated from others. The message was distressingly clear: these deliberate acts aimed to annihilate Indigenous culture, sever their connection to one another and weaken their ability – through disease, isolation and poverty – to fight back. Yet, those folded blankets and dwindling inhabitants remained, which felt like a miracle of resilience, and offered hope.
At the end of the blanket exercise, supported by two facilitators, participants formed small groups in a safe space to unpack and reflect on what they had experienced and learned at this powerful and meaningful activity, which was both emotional and educational. Elder Amelia Tekwatonti McGregor closed the event and sent everyone on their way in peace, but with much to think about.
Testimony by Ruotong Wang, staff member at the Department of Family Medicine
"I loved it and I appreciate that we were invited to this event! It was an emotional experience. For the first time in my life, I was able to feel and understand what the indigenous communities went through in history. They took me on a rollercoaster ride of emotions. I felt their warmth, their open arms to the Europeans, sharing their knowledge and ways of life, but then I also felt their despair, sense of injustice, and resistance to preserve their culture and protect their land.
The Indigenous speakers, elders, and Professor McComber are very inspiring. Despite what they/their families have gone through and how it still affects them through inter-generational trauma, they are here sharing their stories, culture, and healing practices with us. I'm touched by their big hearts, resilience, and values.
I've been telling my friends, colleagues and families about this event and how it brought me closer to the indigenous community. I want to keep supporting them.
This exercise/type of learning experience should be incorporated into our educational system. The emotions, smell, the visuals, etc. It makes learning more meaningful!"
Learn more about KAIROS Blanket Exercise.
Learn more about Indigenous history at McGill's Indigenous Initiatives resource page.