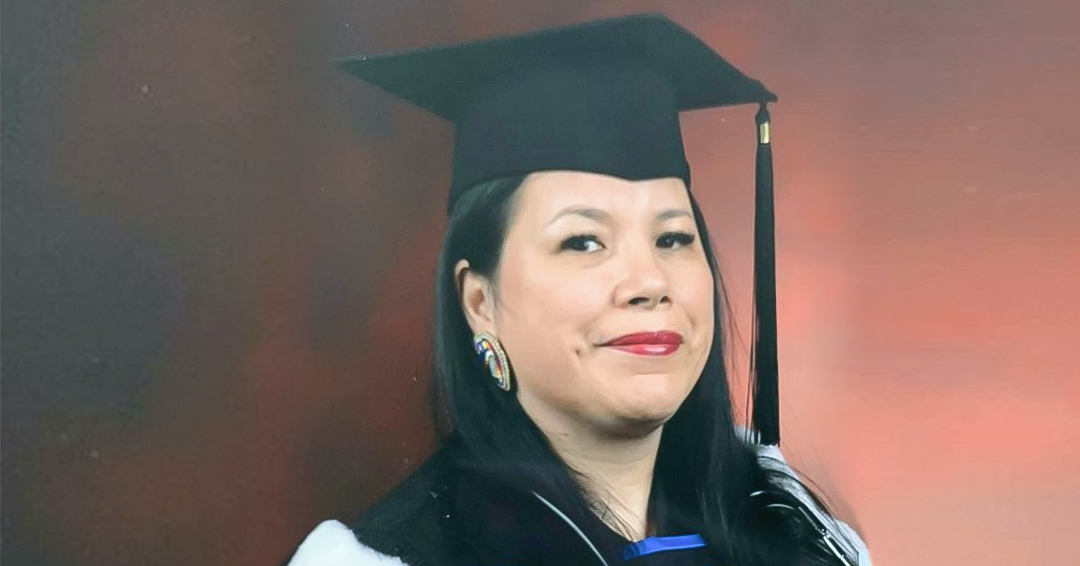 Christine Wahiaronkwas Jacobs, Kanien'kehá:ka, from Kahnawake Mohawk Territory, graduated with her Bachelor of Nursing (Integrated) in the Spring of 2022. We caught up with the newly qualified nurse and mother of six to hear why it was important for her to return to her community to practise nursing, what the National Day for Truth and Reconciliation means to her and her message to others considering the health professions.
Can you tell us why you decided to pursue your Bachelor of Nursing? I decided to pursue my BN in order to go back to my community and work.  It was also a personal goal of mine to complete a Bachelor of Nursing.
Why was it important to you to return to your community after completing your BN? Working in my hometown has always been my ultimate plan. We have many nurses in my community and I am proud to be a part of that.  I am hoping that I can help more in the future of our hospital by attaining my BN and taking on more responsibility.
Can you tell us about what you are doing now?  I am currently working in my community hospital, Kateri Memorial, in the Short Term Care (STC) unit.  I am also applying to be an assistant manager in the hospital so we will see what happens with that.
What attracted you to your role at Kateri Memorial? The cases and the patients are what attracted me to work in the STC unit. I love to work with our elders, it is very rewarding to give back in a way that helps others.
Why did you choose to study at McGill? I chose McGill because of its prestigious reputation for medical sciences.
How would you describe your experience at McGill, in general and as an Indigenous student? My experience is all positive. I felt supported throughout my years as a student. As an Indigenous student, I felt that McGill was a very inclusive and safe environment to study in.
Do you have any suggestions that could further improve the experience for Indigenous students? One thing that I would have enjoyed would be to see more First Nations guest speakers or even a First Nations teacher in the Nursing department.
We are coming up on the second National Day for Truth and Reconciliation. What does this day mean to you, as an Indigenous person and as a health professional? September 30th means more to me as an individual than it does as a healthcare professional. My family was not directly affected by the residential schools; however, it is sad to see the continuing effects of the residential school legacy in the community.  It is a day to heal and to bring awareness to the world saying you tried to kill us but we are still here!
Any words of wisdom for others? I would like to add a message for any First Nations person who is thinking of a career in health: Just do it! Do not be afraid to take a step forward. It is never too late. I had six children and lived half of my life before reaching my goals. I am happy I did and you will be too!