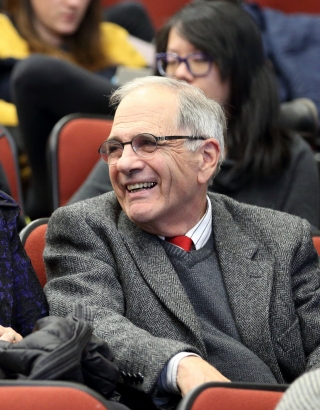 Source: Social Studies of Medicine

The Department of Social Studies of Medicine is sad to learn of the death of Dr. Joseph W. Lella (8 September 1936- 28 October 2020), one of its four founding faculty members.

Hired in 1975 by the late Dr. Don Bates, Lella was the second appointment to the department; he was soon followed by medical anthropologist Dr. Margaret Lock (1977) and medical historian Dr. George Weisz (1978). He served as Chair of the then "Department of Humanities and Social Studies in Medicine" from 1982 to 1987.

A medical sociologist, Lella received his PhD from the University of North Carolina at Chapel Hill in 1969. He had earned a B.A. (1958) in Philosophy from St. Joseph's Seminary and College and an M.A. (1960) in Sociology from Fordham University.

"Joe," as we called him, admired and studied William Osler. In 1971, he wrote and produced Willie: A Dream, a Dramatic Monologue Portraying Sir William Osler, in which he portrays salient aspects of Osler's character and personality in the form of a dream sequence. He served as President of the American Osler Society in 2008-09 and received its Lifetime Achievement Award in 2019. He recently served as a Curator of the Osler Library and always returned to McGill University for Osler Day, including the Osler Lecture and annual banquet.

Lella's contribution to medical ethics was noted in a departmental report in 1985: "One new direction of the department deserves special praise. In putting its foot forward into the field of medical ethics with Dr. Lella's efforts at the Montreal General Hospital, the department is most innovative. Such courses and clinical rounds are only just beginning around the country; they are a cutting edge of new efforts to bring not only ethical thinking into daily medical work but inevitably social, behavioral and clinical-decision thinking also."

In 1987, he became Academic Dean at King's College, University of Western Ontario.

Colleagues remember Joe's special talent for teaching medical students, notably his ability to use language that fully engaged students, free of social-science jargon and emphasizing ethical issues such as those likely to arise in everyday medical practice.

Margaret Lock recalls Joe's presence with admiration:

"Joe had an engaging tone of voice when addressing students, one that allowed them to recognize themselves as future doctors who would be reflective and pay close attention to what their patients were saying."

In recent years, Joe fully and enthusiastically engaged with McGill medical students over their presentations as part of the annual essay competition.

The Department of Social Studies of Medicine sends deepest condolences to his family and many friends at McGill University and beyond.

November 4 2020