Report confirms excellence of JGH's clinical and financial performance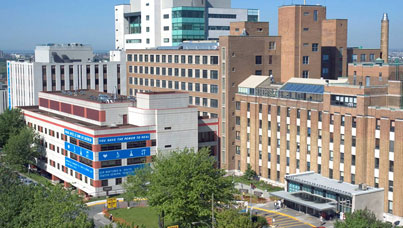 The Jewish General Hospital (JGH) has been ranked as the most efficient hospital in Canada in its ability to channel the maximum funds into health care by saving on administrative costs. These findings are contained in a report released on March 6 by the Canadian Institute for Health Information (CIHI), an independent, not-for-profit organization that collects, analyzes and publishes nation-wide data about the healthcare system.

According to the CIHI's Canadian Hospital Reporting Project, the JGH is #1 among Canadian teaching hospitals when administrative service costs are measured as a proportion of a hospital's total expenses. The Project also places the JGH among the country's top hospitals in the quality of its care and the success of its medical outcomes. In particular, it ranks the JGH in the sixth-best spot in "cost per weighted case"—that is, the overall cost of treatment, when variables are adjusted to allow for accurate comparisons among different types of patients and medical specialties.

More than 600 healthcare institutions are listed in the report, encompassing a total of 27 indicators—21 clinical and six financial—that gauge such areas as clinical effectiveness, patient safety, appropriateness of care, accessibility, and financial performance.

The JGH also numbers among the country's best institutions in several other categories, including the 30-day readmission rate for patients who have undergone surgical and medical procedures; and the efficiency in the management of the total number of hours that the clinical laboratory and the hospital's pharmacy spend on each patient.

"We are very pleased that the JGH ranks among Canada's top healthcare institutions, many of which are located right here in Quebec," says Dr. Hartley Stern, Executive Director. "Quebeckers should be reassured that some of their hospitals are, indeed, among the best in this country."

The Canadian Hospital Reporting Project, a national quality improvement initiative of the CIHI, provides interactive information that enables hospital decision-makers, policy-makers and average Canadians to view results for more than 600 facilities in every province and territory. The CIHI publishes data in a standardized manner to allow every jurisdiction to understand, compare and effectively use the information to make the decisions that improve health and well-being.

March 7, 2013