Tree-planting ceremony honours eight decades of compassionate care
Montreal, July 16, 2014 – In recognition of the strength, commitment and ideals that the founders of the Jewish General Hospital (JGH) embraced and pioneered in 1934, an oak tree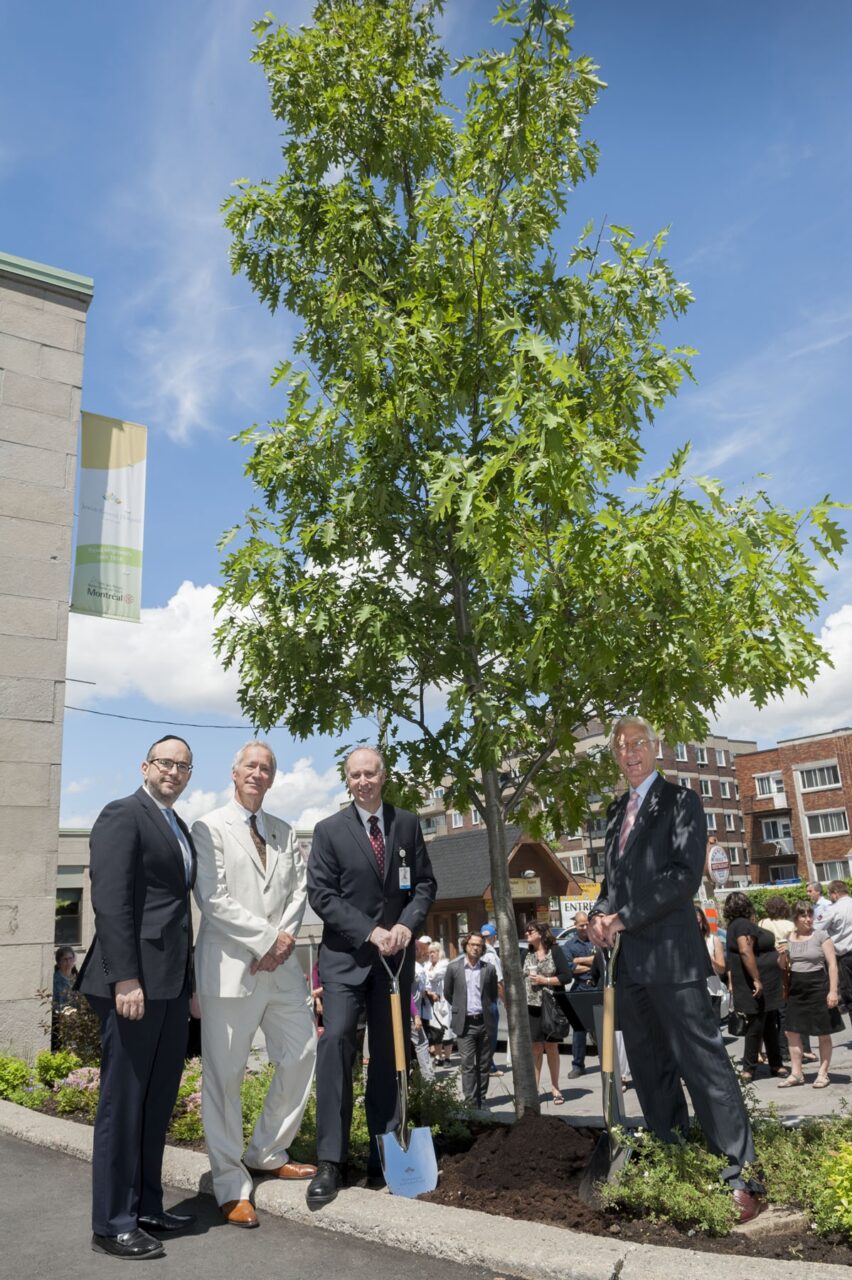 will now grace the Côte-des-Neiges entrance, marking the hospital's 80th anniversary. The oak, which was planted today, is a symbol of strength, hope and optimism, representing the JGH's deep roots in Montreal, as well as reaffirming its commitment to the health and well-being of patients for decades to come.

Members of staff, hospital leadership and community representatives—including David Birnbaum, MNA for D'Arcy McGee, and Lionel Perez, Councillor for the district of Darlington in the borough of Côte-des-Neiges/NDG—gathered around a garden at the Côte-des-Neiges entrance to watch the ceremonial tree planting and the unveiling of a special plaque. Inscribed with the date of the tree planting, the plaque also states that the tree "honours the abiding legacy of the founders of the JGH and those who have given of themselves for the health of everyone."

"On behalf of the Board of Directors, I would like to express my deepest gratitude to all those who have enabled the JGH to grow and thrive over the years—doctors, nurses, members of staff, our partners in government and in other healthcare, research and academic institutions, our generous donors and our legion of selfless volunteers," said Rick Dubrovsky, President of the JGH. "I wish every one of you a happy 80th anniversary. May we grow healthy and strong in the years and decades to come."

"The act of planting this oak tree represents our commitment to taking a living thing into our care, nurturing and strengthening it," said Dr. Lawrence Rosenberg, JGH Executive Director. "This is precisely how the JGH has envisioned its medical and personal relationship with its patients since it opened its doors in 1934. Like this tree, the JGH will be here both in mild conditions and in stormy weather, so that we can continue to protect those who seek shelter beneath our branches."

In celebrating 80 years of achievement and service, the JGH continues to look to the future and its commitment to providing an exceptional patient experience. The JGH is dedicated to making improvements and adapting to the changing landscape of health care to meet the constantly evolving needs of its patients.

"Although this tree is fairly young, as we look to the future and the next chapter in JGH history we can count on seeing it grow tall and strong, much as this hospital has done for the past 80 years," said Mr. Dubrovsky. "In a symbolic sense, the JGH has served as a tree of life for eight decades—a legacy we're extremely proud to acknowledge here today."

July 21, 2014