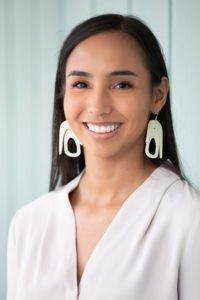 Jessica Barudin, Program Manager for the Indigenous Health Professions Program (IHPP) at McGill University's Faculty of Medicine, was recently honoured as one of Health Promotion Canada's 2018 Rising Star Award recipients. The recipients were celebrated during the organization's annual general meeting on December 13, 2018.

Health Promotions Canada's Rising Star Award is given to recognize health promoters who have an exceptional track record of professional achievements, display exemplary personal leadership qualities, and exhibit strong potential for making future contributions to health promotion in Canada or globally. "It is an honour to be nominated by my colleagues and selected by Health Promotion Canada as a Rising Star," says Jessica. "I am grateful for the opportunities I have had on my path with a supportive family and community"

Jessica is Kwakwaka'wakw from the 'Namgis First Nation in Alert Bay, British Columbia. She is a proud mother of two daughters, an Indigenous health advocate, and yoga teacher. Her role in the IHPP involves supporting Indigenous students at McGill, encouraging youth to pursue post-secondary education, guest lecturing and speaking in health professional training courses and conferences, advocating for Indigenous health education and policy development at McGill as well as promoting healing and cultural-safety for all health care providers for Indigenous individuals, families and communities to thrive.

Jessica holds a Master's degree in Applied Science in Physical Therapy from McGill and an Undergraduate Degree in Human Kinetics from the University of British Columbia. Education has provided Jessica with an enriched understanding of the human body and its healing capacity. She has completed yoga training in Vancouver, Montreal and New York City and offers yoga classes and health workshops to Indigenous communities.

Ceremonies have provided a balance and to her own healing and education. Through her yoga practice, traditional wisdom from her Kwakwaka'wakw roots of the Potlatch system, teachings from the Chippewas of the Thames Thunderbird Sundance lodge, participating in Tipi and Sweatlodge ceremonies, Jessica integrates the natural and supernatural realms to create a sacred space for individuals to connect to themselves, their community and environment. Her passions integrate her work in health, education and community-driven initiatives with Indigenous communities and organizations.

"I am inspired by so many Indigenous youths, women, men, and Elders," notes Jessica. "I hope to continue uplifting other Indigenous young people to persevere on their path and shine brightly for all of our Nations"

Congratulations Jessica!

December 14, 2018