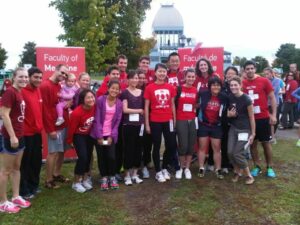 Sent on behalf of McGill medicine participants in the Terry Fox Run:

Join McGill medicine students, residents, academics and staff at this year's Terry Fox Run, Sept. 14, 9:30 a.m. in Old Montreal (8:30 a.m. for registration)! The goal: to raise money for cancer research. Participants can run, walk or even push strollers for the 5 or 10 km course. Join as a group, come as individuals, invite your friends, neighbours and family. No donation is necessary to participate. Wear red and represent McGill!

To join the McGill medicine 2014 team:
https://secure.e2rm.com/registrant/TeamFundraisingPage.aspx?teamID=570718&langPref=en-CA&Referrer=%26Referrer%3dhttp%253a%252f%252fwww.terryfox.org%252fRun%252fQuebec_.html#&panel1-1
Event day information:

https://secure.e2rm.com/registrant/LocationHome.aspx?eventid=134920&langpref=en-CA&locationID=135336&Referrer=http%3a%2f%2fwww.terryfox.org%2fRun%2fQuebec_.html
Meeting place:

Location is 357 de la Commune West, corner of McGill street, with the closest metro station being Square-Victoria.  Parking at any city meter in the Old Port is also free on Sundays until 1pm!

If you have any questions, don't hesitate to contact barry.slapcoff@mcgill.ca, Samantha.Liauw@mail.mcgill.ca or Kirsten.Gust@mail.mcgill.ca